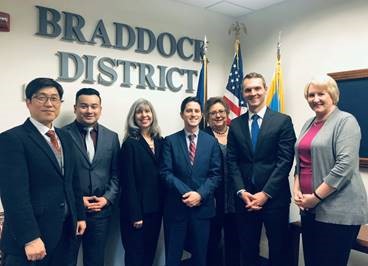 Frank Anderson, Chief of Staff: Office Management, Legislative Committee, County Budget, and Office FOIA Representative.
Email: Frank.Anderson@Fairfaxcounty.gov
Ann Sharp, Senior Staff Assistant for Constituent Services: Braddock District Council, Homeowners Associations and Civic Associations, George Mason University and Northern Virginia Community College, Code Compliance and Health Code Violations, Road Maintenance, Traffic Calming and Parking Districts, Pedestrian and Bicycle Connectivity, Utilities and Public Works, Public Safety and Crime, Animal Control, and County History.
Email: Ann.Sharp@Fairfaxcounty.gov
Marcia Pape, Senior Legislative Assistant for Land Use: Land Use, Housing, and Affordable/Workforce Housing, Zoning Applications, Development Process, Storm water, Transportation and Transit Projects, and Braddock Road Improvement Project.
Email: Marcia.Pape@Fairfaxcounty.gov
Linda Bufano, Senior Legislative Assistant: Diversion First, Human Services, Mental Health, Suicide Prevention, and Domestic Violence/ Sexual Assault Awareness and Prevention, Tax Issues, Community Non-Profit Organizations, Disability Services, Seniors, Aging in Place and Older Adults Committee, Braddock Nights Concert Series and Arts in the Park Kids' Series, and the Arts.
Email: Linda.Bufano@Fairfaxcounty.gov
Brian Garcia, Communications Director: Public Relations, Media Inquiries, Website and Social Media Administrator, Braddock Beacon Newsletters and Walkinshaw Advisories, Climate Change, Environment (parks, trails and watersheds), and LatinX and African-American Community Outreach
Email: Brian.Garcia@Fairfaxcounty.gov
Joon Park, Staff Aide: Scheduler, Braddock Hall Reservations, Appointments to Boards, Authorities and Commissions,and Asian & Pacific Islander American Community Outreach
Email: Joon.Park@Fairfaxcounty.gov