Summary
Verizon is currently engaged in a long-term project to eliminate its traditional copper-based telephone lines in favor of fiber-optic lines.  The company intends to move all its customers in the area, including Fairfax County customers, to fully fiber-optic connections over the next several years.  The change has a number of advantages but will also change the way telephones behave in a power outage.
Background
Traditionally, telephone companies such as Verizon provided "plain old telephone service" (POTS) over thin, twisted-pair copper lines.  These lines ran from the central office or "wire center" to each home.  Multiple telephone extensions were served by copper wiring inside the home.
Because copper conducts electricity, it was possible for the telephone network to provide power to each individual telephone unit from the central office.  As a result, if electrical power to the home failed, telephones would still work.  This extra reliability was especially important if the customer needed to make a 911 emergency call.
In modern systems, more and more of this copper plant is being replaced with fiber.  Fiber-optic lines – a type of glass – transmit light, rather than electricity.  Fiber provides vastly greater capacity and reliability than copper.  However, it does not conduct electricity.
Traditional cable systems use heavier "coaxial" copper lines, together with fiber, to provide broadband service.  Fiber runs from a central headend to a node, which typically serves one to two hundred homes in a neighborhood.  Coaxial cable then takes the signals from the node to the individual home in such a "hybrid fiber-coax" (HFC) system.
When Verizon refitted its network for its Fios products (video, Internet access, and voice), it extended fiber all the way to the individual home, rather than merely to a neighborhood node.  This design is referred to as "fiber to the home" (FTTH) or "fiber to the premises" (FTTP).  
 Verizon's "Network Transformation Project"
Verizon has already implemented its copper-to-fiber "Network Transformation Project" in New York, New Jersey, and Pennsylvania.
Verizon's network transformation project in Fairfax County initially affected about 11,500 customers in Falls Church, Springfield, and Burke.  The project has since progressed to cover additional areas of the County, including Alexandria, Annandale, Mt. Vernon, Fairfax and Great Falls.  Eventually, all residential copper customers in the County will be switched to fiber connections.  Over a period of time, businesses will be added.
When Verizon installs fiber to a single-family home, the copper line is replaced with fiber up to the side of the house, where an "optical network terminal" (ONT) converts the light signal on fiber to an electrical signal on copper.  The existing in-home copper wiring then distributes the signal within the house.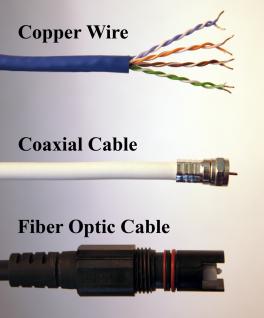 The ONT for an apartment may be installed in the apartment itself, or in a building common area.  Verizon installs the new fiber and equipment without charge to the customer.
An FTTP network offers significant benefits.  Fiber supports much greater bandwidth (capacity) than copper.  It is more reliable and provides higher-quality service.  Fiber lines are not subject to water damage and electrical interference the way copper lines are.  Communications signals travel farther over fiber than over copper without amplification, so a fiber network requires fewer powered components.  Greater reliability – fewer points of failure – means fewer service dispatches, which minimizes fuel consumption and air pollution.
Verizon benefits from these cost savings in its own operating expenses.  It also gains the ability to sell additional services to customers, since it is easy to add broadband services once the fiber is in place.
When Verizon switches a customer to fiber, it does not necessarily move the customer to its brand-name "Fios" service.  The customer is offered standard telephone service, at the same price, terms and conditions.  According to Verizon, customer service representatives are not supposed to bring up converting to Fios unless the customer asks first.
However, some customers have reported that Verizon representatives are promoting a switch to Fios.  Lowell McAdam, Verizon CEO, has spoken candidly about the sales potential: "when a customer goes, even to FiOS digital voice, they very quickly see the difference on copper and we have seen the ability to sell up."  (Thomson Reuters Streetevents, Edited Transcript, VZ - Verizon at Citi Global Internet, Media & Telecommunications Conference (Jan. 7, 2013)
By removing the copper network, Verizon also eliminates DSL Internet service, which runs over the copper lines.  DSL users will have the opportunity to switch to fiber-based Fios Internet access and the associated faster data speeds, but likely at a higher price.  
Backup Power
Traditionally, conventional telephones continued to work in a power outage, because they were supplied with power from the central office (unless the phone unit itself required a separate electrical outlet, as with cordless models).  This is no longer possible with fiber to the home.  Similarly, security alarm systems that depend on connecting to a service center via telephone lines will not work if the phone connection is down.  This change in the way power is provided has raised concerns about the ability to make 911 emergency calls in a power outage.
To address this problem, Verizon provides a "battery backup unit" (BBU) that maintains power to the ONT for a limited time during a power outage.  The original Fios installations used a special 12-volt rechargeable battery that lasts about eight hours (of wait time, not talk time) after power goes out.  For residential customers (two lines or fewer), Verizon now offers a BBU that uses twelve conventional D-cell batteries.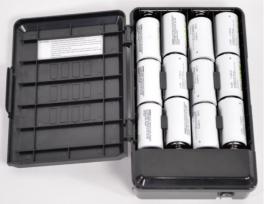 This D-cell tray unit provides power for twenty hours of talk time, or twenty-five hours on standby.  It has an on-off switch, allowing the customer to control battery usage.  Verizon estimates the batteries will last about seven years with the switch in the off position, or about one year if the unit is on, as long as no actual power is being drawn.  Moreover, a customer can keep a stock of D-cell batteries on the shelf and replace them for additional battery life if a power outage extended beyond twenty-five hours.
Customers with more than two lines use the older BBU with the rechargeable battery.
When Verizon requires copper customers to migrate to fiber, it will provide the BBU free of charge.  Existing Fios customers who wish to retrofit their homes with the newer BBU, or new Fios customers, pay $39.99 for the unit, plus a service charge for the installation.
In addition, according to Verizon, the BBU can be plugged into a generator, or an "uninterruptible power source" (UPS) such as might be used for a computer, using a normal 3-prong plug, for additional backup power.  
Verizon's Authority to Switch Customers to Fiber
As a general matter, Fairfax County does not have regulatory authority over telephone or DSL service which are the primary services offered over copper lines.  Those services are regulated by the Virginia State Corporation Commission (SCC) and the Federal Communications Commission (FCC).
Virginia state law allows Verizon to change its transmission technology, at least within the category of wireline (as opposed to wireless) methods.  "A telephone company may meet its duty to furnish reasonably adequate service and facilities through the use of any and all available wireline and terrestrial wireless technologies; however, a telephone company, when restoring service to an existing wireline customer, shall offer the option to furnish service using wireline facilities."  (Va. Code Ann. §  56-234(A)(2)  
 FCC Regulations
As noted above, the FCC regulates telephone service, including Verizon's network transformation project.  Over the past several years, the FCC has issued three orders addressing copper-to-fiber migration and backup power.
First, on August 7, 2015, the FCC issued its  911 Continuity Report and Order, FCC 15-98, governing telecom providers' obligations to provide residential customers with backup power options (¶¶ 3-4).  The provider must offer for purchase a backup option that enables 911 calls but need not provide it without charge.  At least one option must supply a minimum of eight hours of backup power (matching Verizon's original BBU capabilities).  A 24-hour option was required to be made available within three years (by February 23, 2019).  The provider also was required to disclose information about the backup options at the point of sale, and annually thereafter but was not required to retrofit existing customers.  The backup power rule sunsets in 2025.  47 C.F.R. § 12.5.  The FCC has not modified these BBU regulations and they remain in effect.
Also on August 7, 2015, the FCC issued its Technology Transitions Report and Order, FCC 15-97, allowing a communications provider such as Verizon to switch from copper to fiber without FCC approval as long as that change did not "discontinue, reduce, or impair the services provided" (¶ 5).  At that time, the provider was required to provide 90 days' notice to residential customers and 180 days' notice for businesses (¶ 62).  However, the FCC has since changed the rules to be less favorable to consumers.
On November 16, 2017, the FCC adopted an order rolling back consumer protections in connection with the retirement of copper lines and the discontinuance of traditional telephone services.  In the Order, the FCC eliminated the requirement that retail customers must be notified 90 days before their copper facilities are retired. As of August 8, 2018, providers like Verizon can transition customers from copper to fiber simply by providing notice to the FCC, not to retail customers.  Retail customers subject to copper migration should no longer expect to receive advance notice of Verizon's proposed copper retirement plans.
Consequences for County Residents
As a consequence of the FCC's regulations, as noted above, residents who still subscribe to copper-based service will need to be prepared for Verizon to move them to fiber without advance notice.  Residents will be able to continue paying for the same kind of telephone service at the same price (at least initially) but will need to make decisions about backup power.
The copper migration work probably will involve digging in a homeowner's yard.  Although Verizon will be responsible for obtaining "Miss Utility" markings of the major utilities (gas, water, electricity), residents should mark any sprinkler system invisible fence, or similar underground equipment locations to make sure they are not cut by the dig.
Customers who are absent from their homes for long periods of time – for example, on overseas work assignments – may come home to a disconnected telephone line.  However, once they get in touch with Verizon, they should be able to get the same phone number back, rather than having to switch to a new number.  Verizon states that it holds a customer's phone number for at least a year before reassigning the number.
If you are concerned about Verizon transitioning your copper service without notice to you, there are only a few options.  First, you can regularly check the FCC's copper retirement public notices  or Verizon's Web site regarding copper retirement notices.  Verizon's FCC filings related to copper retirements affecting Fairfax County customers are listed and linked below.  As required by § 51.325 of the FCC's rules, the notices list the Verizon wire centers, the addresses affected by the copper retirement and the timing of the changes.  You can look to see if your address is included in the notice.
Second, you can reach out to Verizon by calling the customer service number listed on your bill and ask them about the timing of their plans to transition you to fiber.  Finally, If you feel particularly aggrieved by Verizon's conduct, you can file an informal complaint with the FCC.  
FCC Filings by Verizon
The following FCC filings through December 2019 relate to Verizon's copper migration in Fairfax County.  (Note that public notices released prior to 2018 refer to § 51.332 of the FCC's rules, which was removed and replaced by § 51.333 in the 2017 order).
• Verizon Public Notice of Network Change(s) (10/2/15) Falls Church Phase II
• Verizon Public Notice of Network Change(s) (2/23/16) Falls Church Phase III
• Verizon Public Notice of Network Change(s) (9/15/16):  relates to some locations served by the Columbia Pike, Merrifield, and Springfield wire centers.
• Copper Retirement ID No. 2017-01-A-VA (February 28, 2017) (West Springfield)
• Copper Retirement ID No. 2017-01-B-VA (February 28, 2017) (Arlington, Reston, Falls Church, Merrifield)
• Copper Retirement ID No. 2017-02-A-VA (June 1, 2017) (West Springfield)
• Copper Retirement ID No. 2017-02-B-VA (June 1, 2017) (Arlington, Reston, Falls Church, Merrifield)
• Copper Retirement ID No. 2019-01-A-VA (3/20/19) relates to 67 wire centers and associated addresses in Virginia, including some in Alexandria, Annandale, Mt. Vernon, Fairfax, McLean, Vienna and Great Falls.
• Copper Retirement ID No. 2019-01-B-VA (3/20/19) (Lewinsville, McLean)
•Copper Retirement ID No. 2019-01-A-VA (12/27/19) (Annandale, Barcroft, Burgundy Road, Mount Vernon, Fairfax, Great Falls, Lorton, Lewinsville, Vienna)