For Immediate Release
February 6, 2023
Fairfax Connector customers now have more travel options when they ride Route 660 a new, limited-stop, weekday express service that operates from Centreville to the Tysons Metrorail Station, via the Fairfax County Government Center and Vienna Metrorail Station.  Route 660 operates in the I-66 Express Lanes every ten minutes in both directions. 
"I'm so happy to be here at the Stone Road Park and Ride to launch Fairfax Connector's new service. Route 660 begins today!  I'm excited about this route because it offers Fairfax County residents a host of new travel possibilities with more frequent service during rush hour, " said Sully District Supervisor Kathy Smith. 
Watch the video of the launch on Fairfax Connector's Facebook page.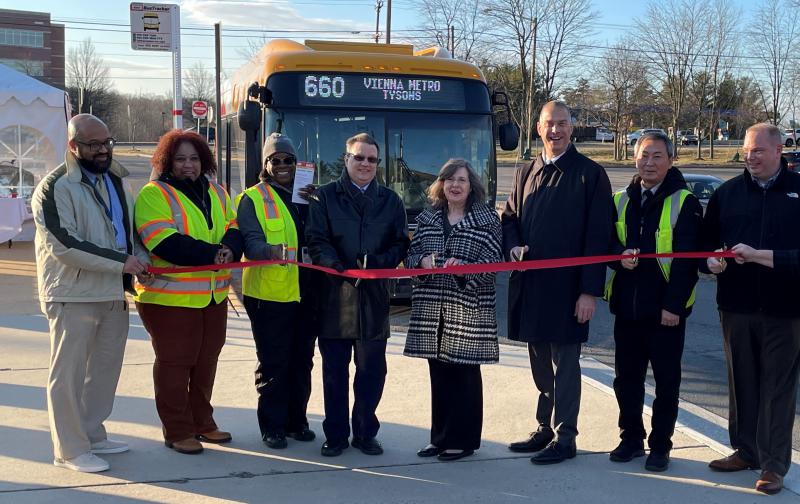 Route 660 connects riders with additional service and travel choices at its three stops. At the Fairfax County Government Center, riders can connect with Fairfax Connector express service Route 699 to DC and at the second stop, Vienna Metrorail Station, customers can connect with Fairfax Connector local service, Fairfax City Cue and Orange Line Metrorail service. At the final stop at Tysons, Connector riders can complete their commute to work in Tysons or transfer to Silver Line service.  
New Route 660 is funded and made possible through a partnership between Fairfax County Department of Transportation (FCDOT), Department of Rail and Public Transportation (DRPT), Virginia Department of Transportation (VDOT) and Express Mobility Partners (EMP). 
###