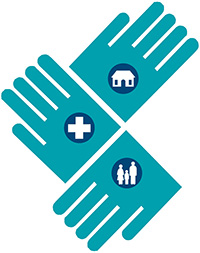 Fairfax County receives federal and state funds through the Community Services Block Grant program to provide services to individuals and families with incomes of less than 125 percent of the federal poverty guidelines. The grants, along with matching funds from Fairfax County, are used to support community and neighborhood-based initiatives identified through the county's Consolidated Community Funding Pool competitive grant process. The Fairfax County Community Action Advisory Board (CAAB) is responsible for administering the CSBG funds. For the 2019-2020 fiscal years, the CAAB has designated five priority areas for which these funds should be used: Education and Cognitive Development, Employment, Health and Social/ Behavioral Development, Housing, and Support Services. This brochure describes projects in Fairfax County that are receiving full or partial CSBG funding in FY 2019 and FY 2020.
Fairfax County
Community Action Advisory Board
Department of Family Services
12011 Government Center Parkway
Fairfax, VA 22035
703-324-7800; TTY 703-222-9452
Education and Cognitive Development
Second Story
Springfield Safe Youth Project
Second-Story.org
Provides out-of-school time activities for low-income, at-risk children in grades 4-6 who live in the Springfield area of Fairfax County. Activities include supervised recreation, homework assistance, enrichment activities, community service opportunities, counseling and workshops.
Second Story
Culmore Youth Outreach Program
Second-Story.org
Provides low-income youth who live in the Culmore area of Fairfax County with supervised recreation, homework assistance, enrichment activities, job training/counseling and a safe place to go outside of school hours. The program is open from the time school lets out until 9pm during the school week. As a result of participation, youth will have stable or improved behavioral health, improved academic performance and obtain job skills.
Employment
ECDC
Step Project
Ecdcus.org
Provides customized, client oriented and progressive small business loans and technical assistance to targeted clients to help increase their income, assets, and business know how, and to create and retain jobs, enabling them to achieve financial empowerment and stability.
Health and Social/Behavioral Development
Food for Others
Food for Others/Fairfax
Foodforothers.org
Provides emergency and supplemental food to low income residents of Fairfax County through various distribution programs. Provides clients referred by county staff and other service providers with food estimated to last 3-5 days allowing time for other sources of assistance to be arranged or the crisis to pass.
Housing
Shelter House
Domestic Violence and Supportive Housing
Shelterhouse.org
Provides housing location assistance, rental assistance, and comprehensive case management services to victims of domestic violence experiencing homelessness. As a result of supportive services, clients are empowered to stabilize in safe, permanent housing away from their abuser.
Shelter House
Community Case Management
Shelterhouse.org
Provides prevention and rapid re-housing services to families at risk of homelessness or experiencing homelessness in Fairfax County. The program is designed to support Fairfax County's Continuum of Care goal of decreasing the number of households becoming homeless and increasing those who exit literal homelessness into permanent housing.
Second Story
Assisting Young Mothers
Second-story.org
Offers a transitional living program for homeless, pregnant and parenting young women ages 18-22. In addition to safe housing, the program provides life skills and parenting education, assistance in completing educational goals, employment assistance and therapy to overcome traumatic experiences and acquire skills needed to move on to successful independent living.
Second Story
Homeless Youth
Second-story.org
Addresses the needs of young people ages 18-21 who are homeless, without the support of a parent or guardian, and trying to finish high school. The program provides customized packages of housing assistance and support services to these students to complete high school and become a productive member of the community.
Support Services
Cornerstones
Affordable Housing Plus Program
Cornerstonesva.org
Provides supportive services to individuals to ensure they do not return to homelessness once they enter permanent housing.
United Community Ministries
Early Learning Center
Ucmagency.org
Provides an affordable, licensed, full-day early care and learning program that meets the developmental needs of children ages 6 weeks to 5 years from low income families.
Download the Community Services Block Grant Programs brochure pdf.
Fairfax County is committed to nondiscrimination on the basis of disability in all county programs, services and activities. To request reasonable accommodations or to receive this information in an alternate format, call 703-324-7800 or TTY 703-222-9452.