Search the Health Department
Get a Flu Vaccine
The flu vaccine offers the best protection against flu. It's not too late to get it if you haven't already.
Safe Medicine Disposal
Get rid of unused or expired medicine the right way to help prevent misuse and accidental poisonings.
Know Your HIV Status
Did you know that 1 in 7 people living with HIV in the U.S. do not know they have the virus?
Caring for an adult with dementia or another cognitive or physical disorder? We can help.
Adult Day Health Care offers excellent care, transportation and a sliding fee scale. Come join us for lunch, and see what we're about.
November 17, 2017 | 11:38AM
Fairfax County's youth suicide prevention campaign continues to earn national recognition. It was recently given a Berreth Award for Excellence in Public Health Communication by the National Public Health Information Coalition (NPHIC).  The "Reach Out. Find Hope" campaign, a collaboration between the Fairfax County Health Department and its partners at Neighborhood and Community Services and the Fairfax-Falls Church Community Services Board, received a bronze award in the government/non-profit health marketing category of the Berreth Awards. The awards are named for the late Donald Berreth, former director of the Office of Public Affairs for the Centers for Disease Control and Prevention (CDC) and NPHIC's founder. The announcement was made as communication professionals from around the world gathered in Atlanta, Ga., last week for the NPHIC Advance Knowledge Track and the NPHIC/CDC National Conference on Health Communication, Marketing and Media. "We are extremely proud that the leading national organization for public health communication professionals has recognized our work," said Health Director Dr. Gloria Addo-Ayensu. "We value effective health communications, and this campaign raises an awareness about a significant public health issue in our community." The Berreth award program awards gold, silver and bronze awards for public health campaigns in three categories: Government/Non-profit Health Marketing Campaign, Corporate Health Marketing Campaign and Real Time Risk Communication. A panel of judges from the ranks of those professionals who have achieved Certified Communicator in Public Health status evaluate the submissions for the Berreth Awards. "As a recipient of a Berreth Award for Excellence in Public Health Communication, you have been recognized by your peers as among the year's best in public health communication," said NPHIC President Shelley Walker. "Congratulations on helping NPHIC pursue our common mission to 'make public health public.'" To view the winning entries in this year's awards program, go to https://www.nphic.org/2017ba-entry. If you or someone you care about may be at risk of suicide, don't hesitate to reach out for help. These resources are available 24/7: Call Community Services Board Emergency Services at 703-573-5679. Text "CONNECT" to 855-11 to contact PRS CrisisLink. Call PRS CrisisLink at 703-527-4077. In an immediate, life-threatening situation, call 911.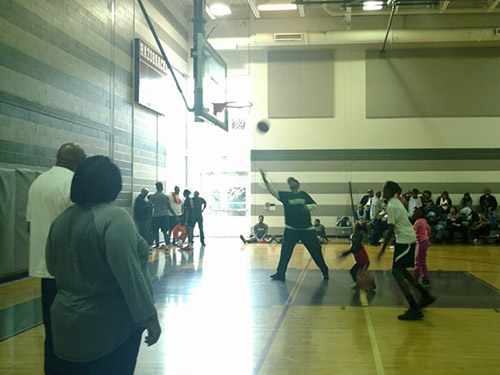 November 17, 2017 | 11:25AM
Event aims to break the silence and stigma surrounding HIV/AIDS in the black community For the third straight year, the Northern Virginia Clergy Council for the Prevention of HIV/AIDS will host HOOPS IN VIRGINIA, a 3-on-3 basketball tournament and HIV summit. The event is November 18 from 9 a.m. to 3 p.m. at the James Lee Recreation Center, 2855 Annandale Road. It is free and all are welcome. Registration for the 3-on-3 basketball tournament is $30 per team and is due by November 11. The Clergy Council is a coalition of local Baptist ministers created to support, encourage and empower the faith community to take action toward stopping the spread of HIV/AIDS, which disproportionately impacts the African-American community. While African-Americans represent about 14 percent of the population, they account for 44 percent of all new HIV infections in the United States. The rate of HIV infection among African-Americans is almost five times as high as that of all other race categories combined. Most recent data from 2016 show that in Northern Virginia, 46 percent of the 6,789 HIV/AIDS cases are African-American. For the council, the idea of hosting a basketball tournament to raise awareness about HIV in the black community seemed like a slam dunk. Rev. Jim Harden, Chaplain of the Northern Virginia Clergy Council for the Prevention of HIV/AIDS, is quick to quote Hosea Chapter 4, Verse 6 (KJV), which says 'My people perish from a lack of knowledge.' "We have found this to be a great way to reach our community," said Rev. Harden. "The past two events were fun for both the athletes and their families. We hope this one will equal the mark." The aim is to encourage healthy behaviors that prevent the spread of HIV among the most at-risk populations and to motivate people to seek early diagnosis and treatment for HIV. Besides the basketball, the day will consist of presentations from persons living with HIV/AIDS and health educators as well as FREE and confidential HIV testing. Breakfast will be provided at the start of the summit and lunch will be served midday. The event is co-sponsored by the City of Alexandria Commission on HIV/AIDS, Inova Juniper Program, Fairfax County Health Department and Fairfax County Department of Neighborhood and Community Services. For more information, or to register, go to www.nvccpha.org or call Nechelle Terrell at 703-746-4933. For a list of confidential testing locations in Northern Virginia, go to https://www.fairfaxcounty.gov/health/hiv-aids. About the Northern Virginia Clergy Council for the Prevention of HIV/AIDS The Clergy Council was established in 2008 as an initiative of the Fairfax County Health Department, in partnership with Northern Virginia Clergy, to address the root causes fueling the HIV epidemic in the African-American community. In accordance with the National HIV/AIDS strategy, the Clergy Council's strategic goals are to reduce new HIV infections and HIV-related disparities by actively engaging and assisting churches in adopting community HIV prevention ministries that reduce stigma and encourage personal responsibility, testing and treatment.
About the Health & Human Services System
This agency is a part of the Fairfax County Health & Human Services System (HHS). The HHS System is a network of county agencies and community partners that support the well-being of all who live, work and play in Fairfax County.