Search the Health Department
Fight the Bite: Keep Mosquitoes and Ticks Away
Help Spread the Word
Share our free materials to educate residents in your community about mosquitoes and ticks.
Health Inspections: Keeping Food Safe
Environmental Health Specialist Ebonie Miller discusses health inspections for food trucks and temporary food vendors operating in Fairfax County and what you should look for when eating at these establishments.
Parents, Get Ready for the 2018-2019 School Year
Fairfax County Health Department offers school required immunizations and tuberculosis (TB) screening free of charge.
Avoid long lines! Visit us in June and July.
RELATED RESOURCES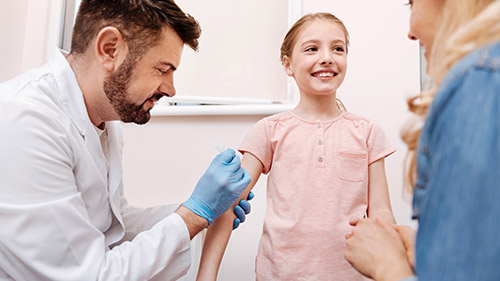 Suicide Prevention
Suicide can be prevented. Text REACHOUT to 85511 or call 703-527-4077 to get help.
Travel Immunizations
Traveling abroad this summer? Don't forget to get any needed travel vaccines before your trip.
Swim Healthy. Stay Healthy.
Most people have a safe and healthy time enjoying the water, but illnesses and injuries can occur. Find out how to stay safe.
Caring for an adult with dementia or another cognitive or physical disorder? We can help.
Adult Day Health Care offers excellent care, transportation and a sliding fee scale. Come join us for lunch, and see what we're about.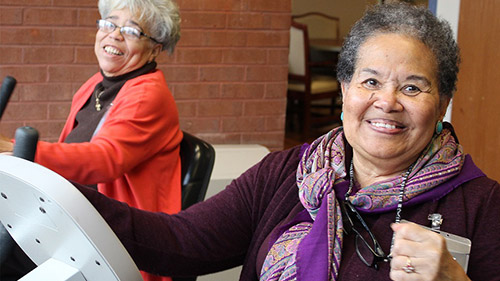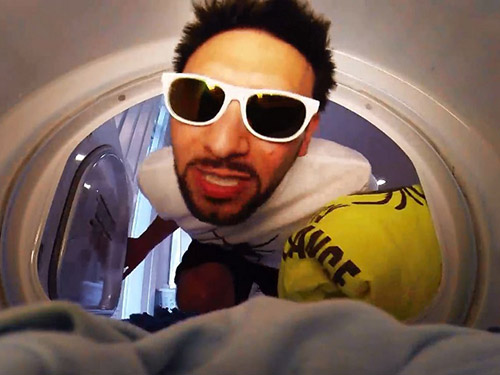 May 17, 2018
MC Bugg-Z is back, and this time he's using his rhymes to target Lyme. In an effort to educate the public about Lyme disease and other tick-borne illnesses, the Health Department has released the music video "Tick Check 1-2." The three-minute song, written and performed by Environmental Health Specialist Andy Lima (aka "MC Bugg-Z"), details ways to avoid ticks, particularly blacklegged ticks which can spread Lyme disease. Lima was also behind the catchy "Zika 101" rap in 2016. The videos are an example of how the department is using new outreach methods to motivate and empower people to improve their health. The number of illnesses from tick, mosquito, and flea bites has more than tripled in the United States between 2004 and 2016. Of the tickborne illnesses, Lyme disease is the most commonly reported in Virginia and throughout the U.S. There were 214 human cases reported in Fairfax County in 2016 and 178 cases in 2017. Many more cases go unreported every year because people don't see a doctor or don't get tested. As the latest video highlights, there are simple steps residents can take against the tiny bloodsuckers: Avoid wooded and brushy areas with high grass and leaf litter, and walk in the center of trails. Maintain a tick-free yard by keeping grass mowed. Use repellent that is proven to be safe and effective at keeping ticks away: DEET, picaridin, or IR3535 on exposed skin for protection that lasts several hours. Use products that contain 0.5% permethrin on clothing and gear, such as boots, pants, socks and tents. Always follow label instructions. Bathe or shower as soon as possible after coming indoors (preferably within two hours) and conduct a full body check to find ticks that may be crawling on you. Carefully remove ticks you find with fine-tipped tweezers. Seek medical attention if you have symptoms such as fever, headache, fatigue and rash and have had a tick bite, live in an area known for Lyme disease, or have recently traveled to an area where Lyme disease occurs. "Tick Check 1-2" was produced by Fairfax County Government's Channel 16 and is available for viewing at www.fairfaxcounty.gov/health or on YouTube.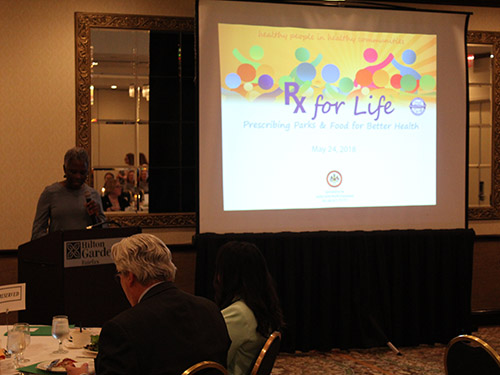 May 25, 2018
Local health care providers learned how to integrate a food and parks prescription program into their practices to help their patients achieve better health at a conference hosted by the Fairfax County Health Department. The event, Rx for Life, was held on May 24 at the Hilton Garden Inn in Fairfax and featured two of the leading experts on parks prescribing and food insecurity: Robert Zarr, MD, Founder and Medical Director for Parks Rx America, and Kofi Essel, MD, attending physician with the Children's Health Center in Anacostia and Assistant Professor of Pediatrics at George Washington School of Medicine and Health Sciences. Robert Zarr, MD, Founder and Medical Director for Parks Rx America Dr. Zarr discussed how viewing and spending time in nature can improve mental and physical wellbeing by lowering blood pressure, reducing stress and anxiety, and boosting attention and physical activity. His presentation made it easy for attendees to start prescribing nature to their patients in real time during routine office visits. Dr. Essel explained the use of a screening tool called Hunger Vital Signs to identify patients who experience food insecurity and recommend interventions to improve their nutrition, physical and mental health. One in six children in the U.S. lives in a food-insecure household, which means there is limited or uncertain access to enough food. His presentation showed attendees how to implement an Rx for Food program in their practice and connect patients to local food resources and programs. Kofi Essel, MD, Children's Health Center Anacostia, George Washington School of Medicine and Health Sciences "We need new approaches if we are going to reduce the burden of chronic disease in our communities, and the parks and food prescribing programs are just what the doctor ordered," says Fairfax Health Director Gloria Addo-Ayensu, MD, the event sponsor. "We are so grateful to our expert panelists and to our local providers for making time for this important event." Other panelists included: Kirk Kincannon, Executive Director of the Fairfax County Park Authority; Cindy Walsh, Resources Management Division Director with the Fairfax County Park Authority; Annie O'Neill, Outdoor Recreation Planner with the National Park Service; Matthew Scribner, Chief Technology Officer with Park Rx America; Terri Siggins, Project Manager for the Fairfax Food Council; Carmen Gill Bailey, Fairfax County Health Department School Health physician; Annie Turner, Executive Director of Food for Others; and Cecelia Vergaretti, Senior Director of NOVA Region Capital Area Food Bank. Attendees could earn Virginia Commonwealth University continuing medical education credits. For more information on prescribing parks, visit ParksRx. To learn about other community health initiatives in Fairfax County, go to www.fairfaxcounty.gov/health.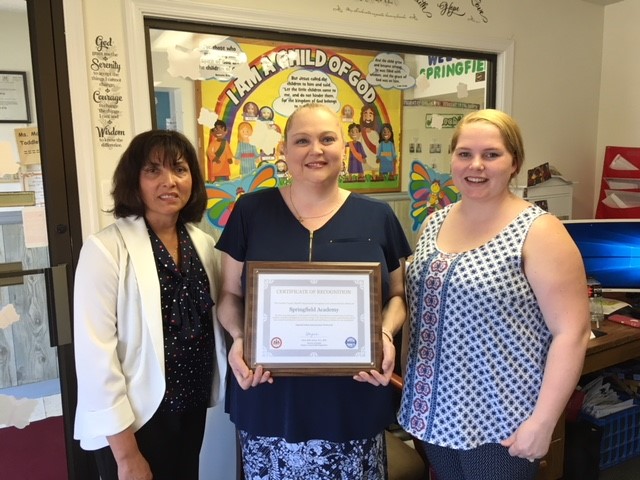 April 26, 2018
  Springfield Academy earns praise for efforts to protect the health and wellbeing of children For their contributions to protecting health and well-being of children in our community, Springfield Academy was recognized by the Fairfax County Health Department today as part of its National Infant Immunization Week activities. Watch the recognition event on Facebook. National Infant Immunization Week (NIIW) is an annual observance to highlight the importance of protecting infants from vaccine-preventable diseases and celebrate the achievements of immunization programs and their partners in promoting healthy communities. Since 1994, hundreds of communities across the United States have joined together to recognize the critical role vaccination plays in protecting our children, communities, and public health. Springfield Academy's compliance with state immunization requirements earned them congratulations from the Health Department. The family owned and operated school requires an up-to-date immunization record for every enrolled child every six months until the child is 2 years old. After age 2, the school requires updated records at the beginning of the year and includes reminders in its monthly newsletter. "When parents know it is a common practice within the school and are held accountable many times we do not even have to request the documents as they just automatically get a copy for us at the child's well check appointments," said Angela Todd, Administrative Support Professional. In celebration of NIIW, the Health Department and its community partners participated in these additional activities: Each District Office is giving gift bags to the parents of infants who are immunized in our clinics this week; gift bags include a sippy cup, a bib, and an educational handout on the immunization schedule; and Christine Carlock, RN, the Health Department's Immunization Action Plan Coordinator, performed a puppet show for the Main Street Child Care Development Center, 4401 Sideburn Road, Fairfax, as a fun way for kids to learn about the importance of immunizations; and Children at the Fairfax KinderCare, 9749 Main St., colored pictures to show why vaccines help give them a healthy start in life. "Young children rely on the champions in their lives to keep them safe and healthy," Carlock said. "We commend Springfield Academy, KinderCare and the other businesses, community-based organizations and service groups who ensure all children are fully protected from vaccine-preventable diseases through immunization." "Vaccines are the most successful and cost-effective public health tool available for preventing disease and death. They not only protect individuals, but they protect entire communities by preventing and reducing the spread of infectious diseases." For more information on immunization services available at the Fairfax County Health Department, visit www.fairfaxcounty.gov/health/immunizations. For more information on NIIW, go to www.cdc.gov/vaccines/events/niiw. ###
About the Health & Human Services System
This agency is a part of the Fairfax County Health & Human Services System (HHS). The HHS System is a network of county agencies and community partners that support the well-being of all who live, work and play in Fairfax County.