Search the Health Department
#HealthyHolidayTips From the Health Department
Watch this new video with advice on keeping up the ho-ho-ho spirit and your health this holiday season. The Health Department's team of experts offer ideas on stocking stuffers, maintaining your energy, cooking food safely and more. Make it a happy and HEALTHY holiday!
Share your #HealthyHolidayTips with us! Tag us with @fairfaxhealth on Twitter and @fairfaxcountyhealth on Facebook.
It's Not Too Late to Get a Flu Vaccine
It's that time of year again — flu season. As family and friends are gathering for the holidays, flu activity is increasing. Get a flu vaccine now if you have not gotten vaccinated yet this season.
Are You Eligible for Medicaid Now?
The Commonwealth of Virginia has expanded the list of those who are eligible for Medicaid. Applications are now being accepted for coverage, which will go into effect January 1, 2019. Adults without children are now eligible for Medicaid, and income caps have been expanded for families and people with disabilities.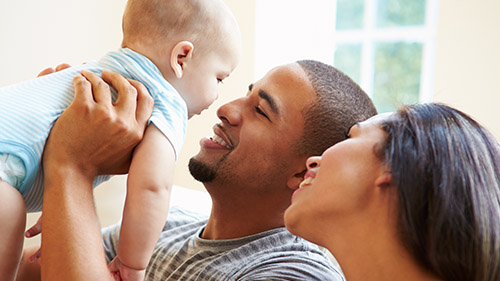 Comment on Food Code
Send us your comments on proposed amendments to 43.1, Food and Food Service Establishments of the Fairfax County Code by December 31, 2018.
En Español
Carla Paredes joins La Voz del Condado de Fairfax to discuss dental hygiene and the importance of using licensed dental professionals.
Provider News
Get the latest health alerts and communicable disease and epidemiology news from the Health Department.
Caring for an adult with dementia or another cognitive or physical disorder? We can help.
Adult Day Health Care offers excellent care, transportation and a sliding fee scale. Come join us for lunch, and see what we're about.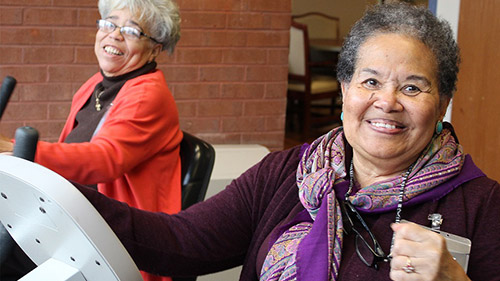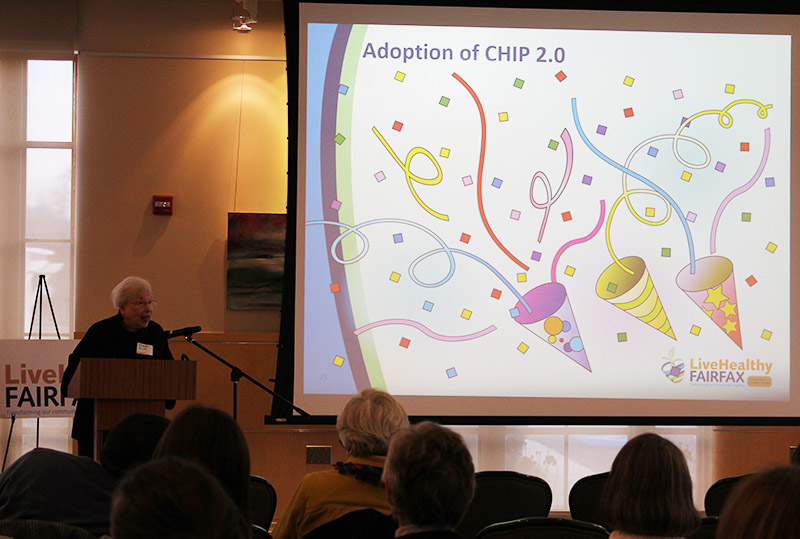 December 14, 2018
Notable successes from the first plan formed the foundation for CHIP 2.0 Departing Co-Chair Marlene Blum announces the formal adoption of the 2019-2023 Community Health Improvement Plan The Partnership for a Healthier Fairfax elected a new co-chair and adopted a new Community Health Improvement Plan this week — the culmination of a year-long collaborative effort by a diverse coalition of residents, community organizations, schools, healthcare providers, businesses, faith communities and government agencies. One decade ago, the Fairfax County Health Department convened stakeholders from across the Fairfax community to explore new approaches for addressing critical public health issues. Once the Partnership for a Healthier Fairfax was established, its primary objective was to create and spearhead the implementation of a wide range of community-owned, multi-sector health initiatives. A resulting five-year Community Health Improvement Plan, referred to as CHIP 1.0, included goals and objectives across seven priority areas, including healthy and safe physical environment, active living, healthy eating, tobacco-free living, health workforce, access to health services, and data. Some of the achievements under the first CHIP included: Creation of the Fairfax Food Council which advocates and promotes healthy eating and access to healthy foods, particularly in areas of highest need. The council's work supports community gardens, nutrition education programming and emergency food assistance. Establishment of Tobacco Free Play Zones at all athletic fields, playgrounds and skate parks in the Fairfax County Park Authority system. Fairfax County Public Schools and the department of Neighborhood and Community Services have adopted similar policies. Training and awareness around trauma-informed care practices, ensuring that community-based organizations recognize the presence of trauma symptoms in clients and acknowledge how trauma can impact their lives. Fairfax's Trauma Informed Community Network is now a model in the region and across the Commonwealth. A video highlighting these accomplishments is available on the county's YouTube channel. More than 90 percent of the key actions outlined in the original plan were either completed or in progress, said Partnership co-chair Dr. Robert M. Weiler, Chair and Professor of the George Mason University Department of Global and Community Health. While these results are impressive, achieving improved health outcomes takes a sustained commitment of time, resources, and effort from community stakeholders and county partners. The new plan reflects opportunities to build on existing initiatives as well as to launch new and innovative collaborations to address critical community health needs. We are excited about the journey ahead. For CHIP 2.0, the Partnership used information from a dozen data resources, assessments, and reports to identify the most pressing health concerns in the community. Three priority issues — healthy eating, healthy environment and active living, and behavioral health — were selected for inclusion in the 2019-2023 CHIP, indicative of the Partnership's intention to target its resources and efforts on fewer initiatives. Each of these three priority issues includes goals, objectives and key actions that will be implemented over the next five years through the Live Healthy Fairfax initiative to promote optimal health and well-being for all who live, work and play in the Fairfax community, which includes Fairfax County, the cities of Fairfax and Falls Church, and the incorporated towns of Clifton, Herndon and Vienna. During its annual meeting on December 13, the Partnership also elected Ondrea McIntyre-Hall to serve alongside Dr. Weiler as co-chair. McIntyre-Hall is the Director of Health Access & Nutrition Services at Northern Virginia Family Service, where she is involved in policy and promotion work around the issue of access to health care. She replaces Marlene Blum whose second three-year term as co-chair ended this month. By involving experienced and trusted community leaders like Ondrea McIntyre-Hall, the Partnership has the best chance for reaching those most in need and achieving positive, sustainable changes for our most vulnerable populations, Weiler said. CHIP 2019-2023 is available for viewing now on the Community Health Dashboard. To learn more about the Partnership for a Healthier Fairfax, visit www.fairfaxcounty.gov/livehealthy or email to livehealthy@fairfaxcounty.gov.
December 7, 2018
The Virginia Department of Health has released results from the 2016-2017 Virginia Adult Tobacco Survey. Conducted in 2016-2017, the Virginia Department of Health (VDH) Tobacco Control Program (TCP) launched the first Virginia Adult Tobacco Survey (VATS) to guide the state's tobacco control activities. VATS assessed tobacco use as well as attitudes and opinions on tobacco such as perception of harm, tobacco taxation, smokefree air and users' desire to quit. The use of menthol and other tobacco products such as pipes, hookahs and Electronic Nicotine Delivery Systems (commonly known as e-cigarettes) were also assessed. Read the full news release: Virginia Health Officials Release Adult Tobacco Use Survey Results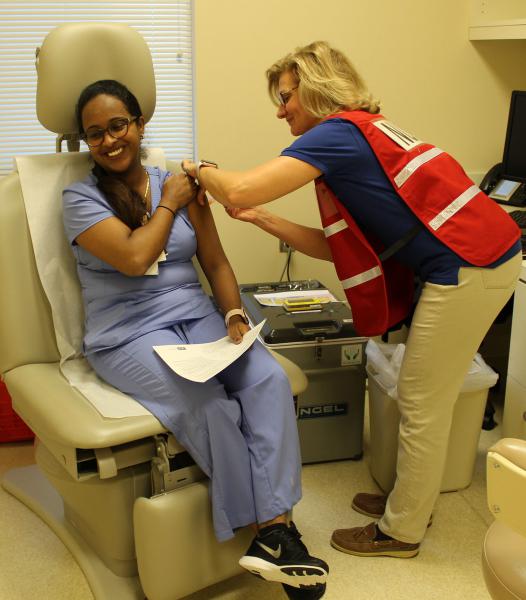 October 23, 2018
More than 600 people working at skilled nursing facilities in Fairfax County got their flu shot this month as part of a vaccination exercise conducted by the Health Department. Nine skilled nursing facilities participated in the exercise, which served two purposes: to increase vaccination rates among skilled nursing facility staff who work with clients who are particularly susceptible to flu and its complications, and to test the health department's emergency response capabilities for a potential flu pandemic. The event took place on Oct. 17 and 18 and was coordinated by the health department's Office of Emergency Preparedness and Response. Teams from the health department, George Mason University's nursing program, and the Fairfax Medical Reserve Corps visited five facilities to provide flu vaccines to employees on-site. Four other facilities were given vaccine to administer to their staff, contractors and volunteers. Skilled nursing facility residents are particularly at risk for severe flu due to their age and underlying illnesses. Vaccinating persons who care for these individuals reduces the risk that a healthcare worker would become ill and transmit infection to the high-risk residents, said Dr. Benjamin Schwartz, Director of Epidemiology and Population Health. "This point-of-dispensing drill was a great opportunity for the Health Department to test our ability to give vaccine in an efficient and timely manner while providing free shots to protect against the flu," Schwartz said. "We are very grateful to our partners who participated in this valuable exercise and understand the important role they play in preventing the spread of flu in our community." The flu vaccine was provided by the Virginia Department of Health for use in this exercise. The nine facilities that participated included: Burke Health & Rehabilitation. Dulles Health & Rehabilitation. Goodwin House Bailey's Crossroads. Leewood Healthcare Center. ManorCare Fair Oaks. Mount Vernon Healthcare Center. Powhatan Nursing Home. Sleepy Hollow Healthcare Center. The Virginian. Flu is a contagious respiratory illness caused by a virus. People who are sick with the flu will often experience symptoms such as fever, cough, sore throat, body aches, headaches and fatigue. Most people who get flu will recover in a few days to less than two weeks, but some people will develop complications (such as pneumonia), which can be life-threatening and result in death. Anyone can get sick with flu (even healthy people), and serious problems related to flu can happen at any age, but some people are at high risk of developing serious flu-related complications if they get sick. This includes people 65 years and older, people of any age with certain chronic medical conditions (such as asthma, diabetes, or heart disease), pregnant women and children younger than 5 years, but especially those younger than 2 years old. The U.S. Centers for Disease Control and Prevention recommends everyone age 6 months or older get a yearly flu vaccine. Flu vaccine is widely available in the community, including at all five Health Department clinics in Fairfax County. Other vaccines for children and adults, including for foreign travel, are available too for a fee. For faster service and shorter wait times, please call for an appointment. Learn more about flu prevention at www.fairfaxcounty.gov/health/flu.
About the Health & Human Services System
This agency is a part of the Fairfax County Health & Human Services System (HHS). The HHS System is a network of county agencies and community partners that support the well-being of all who live, work and play in Fairfax County.