Search the Health Department
MC Bugg-Z Is Back!
Our own MC Bugg-Z has dropped a new rhyme to target Lyme disease.
Healthy and Safe Swimming Week 2018
Know the Signs
Speech, language and hearing disorders often go undetected and untreated for too long. Parents, get help early for your child if you have concerns.
Safe Medicine Disposal
Get rid of unused or expired medicine the right way to help prevent misuse and accidental poisonings.
Flood Safety Tips
Following heavy rain events, it is important to avoid flooded areas and be aware of other potential health risks.
Caring for an adult with dementia or another cognitive or physical disorder? We can help.
Adult Day Health Care offers excellent care, transportation and a sliding fee scale. Come join us for lunch, and see what we're about.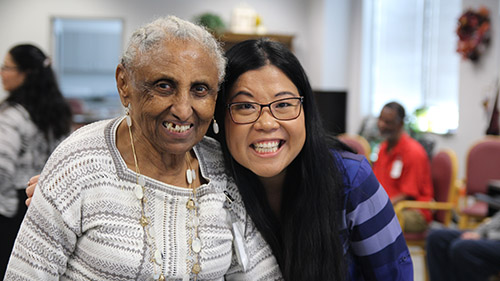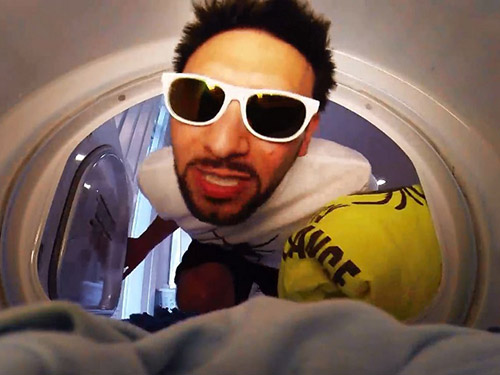 May 17, 2018
MC Bugg-Z is back, and this time he's using his rhymes to target Lyme. In an effort to educate the public about Lyme disease and other tick-borne illnesses, the Health Department has released the music video "Tick Check 1-2." The three-minute song, written and performed by Environmental Health Specialist Andy Lima (aka "MC Bugg-Z"), details ways to avoid ticks, particularly blacklegged ticks which can spread Lyme disease. Lima was also behind the catchy "Zika 101" rap in 2016. The videos are an example of how the department is using new outreach methods to motivate and empower people to improve their health. The number of illnesses from tick, mosquito, and flea bites has more than tripled in the United States between 2004 and 2016. Of the tickborne illnesses, Lyme disease is the most commonly reported in Virginia and throughout the U.S. There were 214 human cases reported in Fairfax County in 2016 and 178 cases in 2017. Many more cases go unreported every year because people don't see a doctor or don't get tested. As the latest video highlights, there are simple steps residents can take against the tiny bloodsuckers: Avoid wooded and brushy areas with high grass and leaf litter, and walk in the center of trails. Maintain a tick-free yard by keeping grass mowed. Use repellent that is proven to be safe and effective at keeping ticks away: DEET, picaridin, or IR3535 on exposed skin for protection that lasts several hours. Use products that contain 0.5% permethrin on clothing and gear, such as boots, pants, socks and tents. Always follow label instructions. Bathe or shower as soon as possible after coming indoors (preferably within two hours) and conduct a full body check to find ticks that may be crawling on you. Carefully remove ticks you find with fine-tipped tweezers. Seek medical attention if you have symptoms such as fever, headache, fatigue and rash and have had a tick bite, live in an area known for Lyme disease, or have recently traveled to an area where Lyme disease occurs. "Tick Check 1-2" was produced by Fairfax County Government's Channel 16 and is available for viewing at www.fairfaxcounty.gov/health or on YouTube.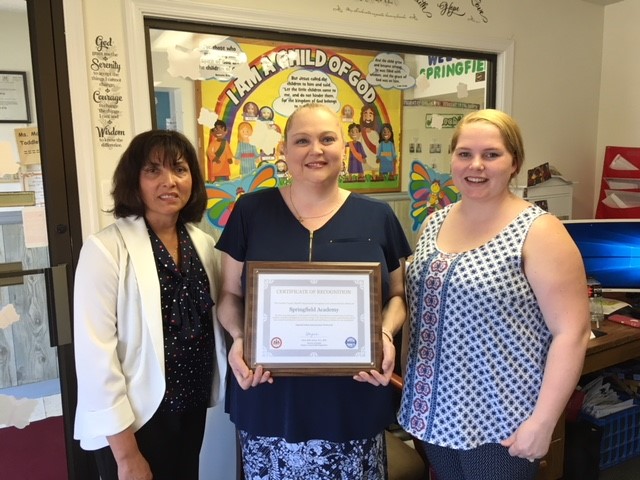 April 26, 2018
  Springfield Academy earns praise for efforts to protect the health and wellbeing of children For their contributions to protecting health and well-being of children in our community, Springfield Academy was recognized by the Fairfax County Health Department today as part of its National Infant Immunization Week activities. Watch the recognition event on Facebook. National Infant Immunization Week (NIIW) is an annual observance to highlight the importance of protecting infants from vaccine-preventable diseases and celebrate the achievements of immunization programs and their partners in promoting healthy communities. Since 1994, hundreds of communities across the United States have joined together to recognize the critical role vaccination plays in protecting our children, communities, and public health. Springfield Academy's compliance with state immunization requirements earned them congratulations from the Health Department. The family owned and operated school requires an up-to-date immunization record for every enrolled child every six months until the child is 2 years old. After age 2, the school requires updated records at the beginning of the year and includes reminders in its monthly newsletter. "When parents know it is a common practice within the school and are held accountable many times we do not even have to request the documents as they just automatically get a copy for us at the child's well check appointments," said Angela Todd, Administrative Support Professional. In celebration of NIIW, the Health Department and its community partners participated in these additional activities: Each District Office is giving gift bags to the parents of infants who are immunized in our clinics this week; gift bags include a sippy cup, a bib, and an educational handout on the immunization schedule; and Christine Carlock, RN, the Health Department's Immunization Action Plan Coordinator, performed a puppet show for the Main Street Child Care Development Center, 4401 Sideburn Road, Fairfax, as a fun way for kids to learn about the importance of immunizations; and Children at the Fairfax KinderCare, 9749 Main St., colored pictures to show why vaccines help give them a healthy start in life. "Young children rely on the champions in their lives to keep them safe and healthy," Carlock said. "We commend Springfield Academy, KinderCare and the other businesses, community-based organizations and service groups who ensure all children are fully protected from vaccine-preventable diseases through immunization." "Vaccines are the most successful and cost-effective public health tool available for preventing disease and death. They not only protect individuals, but they protect entire communities by preventing and reducing the spread of infectious diseases." For more information on immunization services available at the Fairfax County Health Department, visit www.fairfaxcounty.gov/health/immunizations. For more information on NIIW, go to www.cdc.gov/vaccines/events/niiw. ###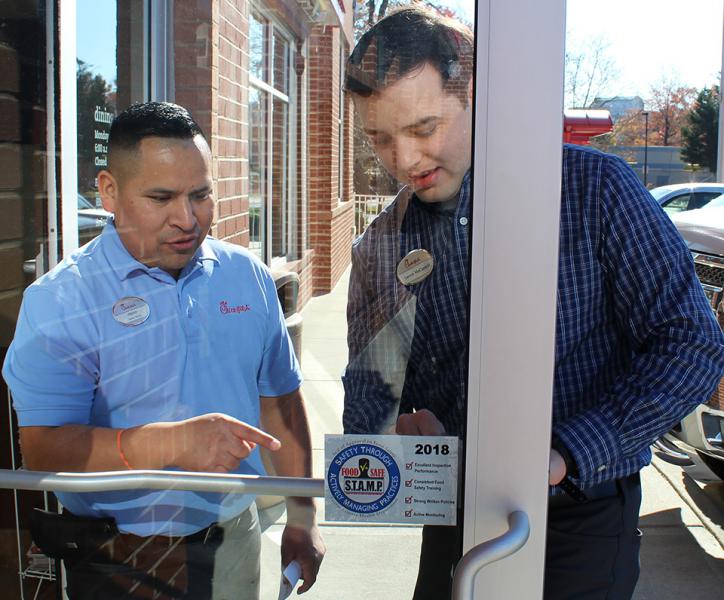 April 16, 2018
The Fairfax County Health Department has launched a new voluntary enrollment program, Safety Through Actively Managing Practices (STAMP), for food service operations that meet a set of standards developed by the department. STAMP requires that food service operations adopt a proactive approach to reduce foodborne illness risk factors through the use of Active Managerial Control (AMC). AMC includes having strong written policies, recurring employee trainings, and various monitoring activities such as the use of temperature logs. STAMP enrollees demonstrate AMC through a rigorous evaluation of their records and processes and by maintaining high performance on inspections. The Health Department modeled the standards for STAMP after best practices outlined by the Food and Drug Administration (FDA) in the FDA Food Code, the national model for food service sanitation standards. The FDA recognizes AMC practices as essential for controlling foodborne illness risk factors and encourages regulators to take an active role in assessing and facilitating the development of AMC in food service establishments. Through the STAMP Program, food establishments can partner with the Health Department to evaluate and strengthen their food safety management systems to make a positive impact on foodborne illness. Two food service operations, Chick Fil-A and Joe's Crab Shack in Fair Lakes, and two school pyramids, Westfield and Falls Church, are the first enrollees in the program. STAMP participants receive a certificate of enrollment, a window decal, and recognition on the Health Department's website and Food for Thought newsletter. "Dedication to AMC demonstrates that a food operator is meeting the standards of excellence in food safety," says Environmental Health Director Pieter Sheehan. "We congratulate our newest participants and we hope more food operators will adopt AMC practices and enroll in STAMP." Food service operators can apply to the STAMP program at https://www.fairfaxcounty.gov/health/food/awards-programs/stamp. Environmental health specialists from the Fairfax County Health Department review the application and supporting documents and make a site visit before deciding if the facility is accepted into the program. STAMP participants must also fulfill certain maintenance activities to remain enrolled in the program. The Health Department's Environmental Health division conducts close to 8,500 site visits at more than 3,400 restaurant and food service establishments annually in Fairfax County and the cities of Fairfax and Falls Church. The division also reviews food establishment plans; responds to citizen complaints and inquiries; investigates foodborne illness outbreaks to determine the source and to minimize the spread of disease; provides food safety information; and holds trainings and workshops to help food service establishments achieve excellence in food safety. For more information about the STAMP program or to learn more about food safety, visit www.fairfaxcounty.gov/health/food or call 703-246-2444, TTY 711.  
About the Health & Human Services System
This agency is a part of the Fairfax County Health & Human Services System (HHS). The HHS System is a network of county agencies and community partners that support the well-being of all who live, work and play in Fairfax County.