Emergency / Overdose
Call or text 9-1-1 if the situation is immediately life-threatening. Our Fire and Rescue personnel carry medication that can prevent death from an opioid overdose.
Our Detox Diversion Outreach team responds to police and community requests to intervene at the scene of a potential arrest. Available 3 p.m.-1 a.m. daily; call 703-502-7000.
This is a communitywide problem and requires a comprehensive approach to prevent future overdoses and connect individuals experiencing opioid and substance misuse to treatment and support services. Take action today:
Talk with your youth and other loved ones who are impacted by substance misuse about the dangers associated with drug use.
 
Attend Preparing Families for Difficult Conversations About Alcohol and Drugs, a presentation for parents offered by Fairfax County Public Schools in collaboration with the Fairfax County Police Department and Fairfax-Falls Church Community Services Board. Multiple sessions offered this spring throughout the County; schedule and location available from FCPS.
Take REVIVE! Training
The REVIVE! classes train individuals on what to do and not do in an overdose situation, how to administer naloxone and what to do afterward.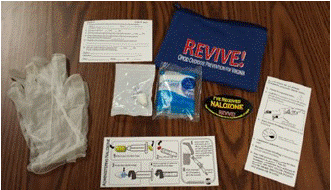 Each attendee receives a free REVIVE! kit, which includes all the supplies needed to administer naloxone.
Medication Safety
Keep medication safe with a free medication lock box from our Community Services Board.
Remove expired, unwanted or unused medicines from your home. Take advantage of free, convenient, confidential and safe disposal options.
Overdose Safety Plan
Complete an Overdose Safety Plan for either yourself or someone in need.
Being prepared can make all the difference.
Fairfax Prevention Coalition
The Fairfax Prevention Coalition is a community partnership working together to combat substance misuse in our community. 
The coalition includes parents, youth, schools, healthcare providers, government agencies, law enforcement, faith-based organizations, media, nonprofits, businesses, policymakers and volunteers.
Check out or join the coalition to:
Learn more about local prevention efforts.
Sign up for monthly updates.
Attend meetings and workgroups to help develop and implement solutions.
Be Aware & Share on Social Media
Be Aware & Share on Social Media
Our Opioids Communications Toolkit provides images and videos in multiple languages for you to share with friends and community partners.