Women who see a health care professional early and regularly during their pregnancy have healthier babies. They also are less likely to deliver their babies too early and are less likely to have other serious problems related to pregnancy.
Get care during your pregnancy to increase your chance of having a safe pregnancy and giving your baby a healthy start. Call a Fairfax County Health Department clinic to make an appointment and learn more about maternal and child health services for residents of Fairfax County and the cities of Fairfax and Falls Church.
AUGUST IS BREASTFEEDING AWARENESS MONTH!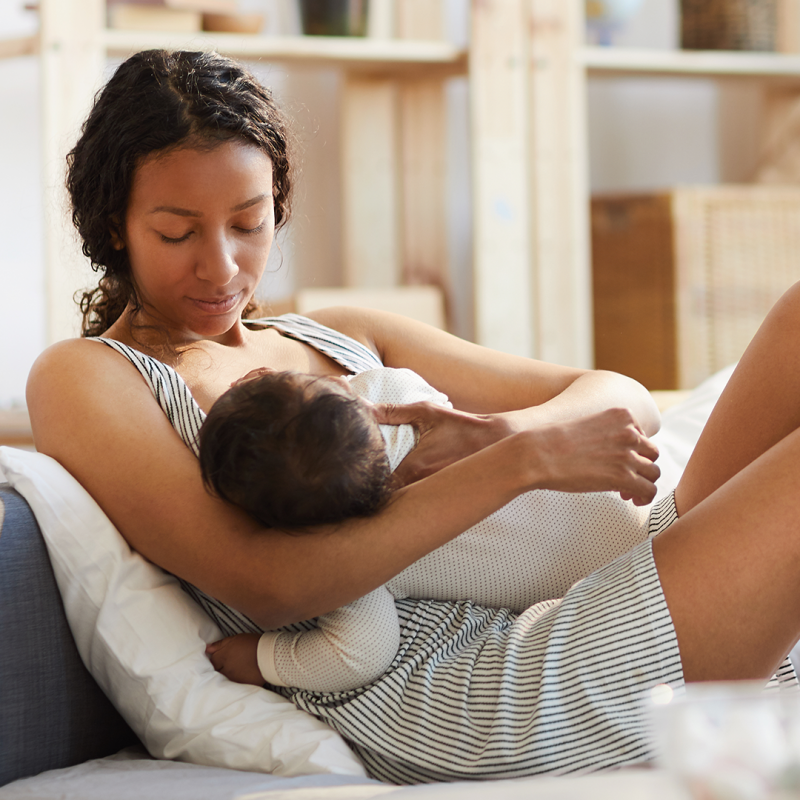 Breastfeeding is the best source of nutrition for most infants. It can also reduce the risk for certain health conditions for both infants and mothers.
Learn more about:
INFANT FORMULA UPDATES
Formula Shortage
We are continuing to navigate through the issues related to the nationwide infant formula shortage. If you have questions, check with your baby's physician or healthcare provider, especially if your baby is on a restricted diet or has any medical conditions.
Find tips, information and updates about the shortage. 
Formula Recall
There is a recall of potentially affected infant formula. Do not to use Similac, Alimentum, and EleCare or one lot of Similac PM 60/40 powdered infant formulas if: 
the first two digits of the code are 22-37; and 
the code on the container contains K8, SH, or Z2; and 
the expiration date is 4-1-2022 (APR 2022) or later.
Or, if the Similac PM 60/40 is Lot # 27032K80 (can) / Lot # 27032K800 (case).
To see if your powdered formula is part of the recall, visit this website or call Abbott Customer Service at 1-800-986-8540. For more information, see: FDA Investigation.
If you are a WIC participant, find more information on the WIC page.
If you have questions or need assistance, please call our call center at
202-519-4951, Monday – Friday, 9am – 5pm. 
Pregnancy, Breastfeeding and Caring for Newborns During COVID-19
Based on what the Centers for Disease Control and Prevention (CDC) knows at this time, pregnant and recently pregnant people are at an increased risk for severe illness from COVID-19 compared with nonpregnant people. Pregnant people are more likely to be hospitalized and require critical care including ventilation and admission to the intense care unit. COVID-19 during pregnancy also increases the risk for preterm birth of the infants. 
Current recommendations for pregnant people include:
Information about COVID-19 Vaccines
If you are pregnant, COVID-19 vaccination is recommended. The American College of Obstetricians and Gynecologists (ACOG), CDC, and the Virginia Department of Health (VDH) recommend vaccination based on new evidence on the safety of COVID-19 vaccines. 
Evidence about the safety and effectiveness of COVID-19 vaccination during pregnancy has been growing. Here are some important things to know:
If you are lactating, COVID-19 vaccination is recommended. 
If you are trying to become pregnant now or want to get pregnant in the future, COVID-19 vaccination is recommended. 
Learn more from the CDC:
Pregnant and Recently Pregnant People
Breastfeeding and Caring for Newborns
Maternal Health Services
Child Health Services
Home Visiting Services for Women and Infants
Public health nurses provide home visiting services to women during and after pregnancy and to infants through the Healthy Families Fairfax program, the Nurse-Family Partnership program and the Health Department's Maternal and Child Health Field Program. Services include:
Pregnancy support and education.
After-pregnancy follow-up.
Assessment and support for depression and intimate partner violence.
Parenting skills and parent-child bonding support.
Child development delay checks.
Call the Family Resources Referral Line at 703-246-8450 for more information about home visits.
You also can fill out and return the Family Resources Service community referral form to have a staff member contact you about home visiting services.