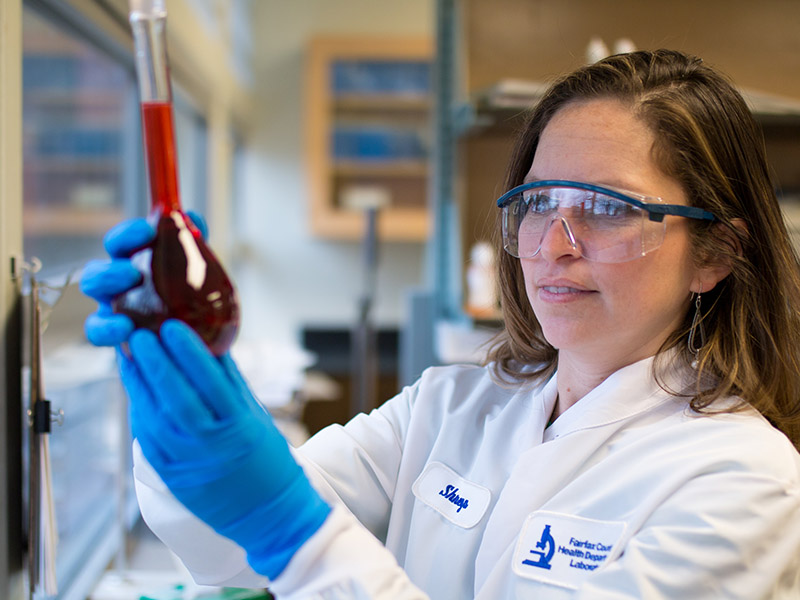 The Fairfax County Health Department's Public Health Laboratory is the largest local public health department lab in the Commonwealth of Virginia, performing over a quarter of a million scientific tests annually.
The laboratory is certified as Biosafety Level 3 (BSL-3), which confirms that the facility meets or exceeds national standards, established by the National Institutes of Health (NIH) and the Centers for Disease Control and Prevention (CDC), for bio-containment precautions required to isolate biological agents such as Tuberculosis (TB) in an enclosed facility. (Levels of containment range from the lowest biosafety level 1 to the highest at level 4.)
The laboratory provides quality clinical and environmental testing for the people of Fairfax County as well as a number of surrounding counties in Northern Virginia. The laboratory serves a range of clients including local health departments; the Fairfax-Falls Church Community Services Board; Adult and Juvenile Detention Centers; Court Services; Dulles International Airport; and national, regional and state parks.
The laboratory is located in the City of Fairfax at 10310 Layton Hall Drive, Fairfax, VA 22030 and can be reached by phone at 703-246-3218, TTY 711.
Laboratory Services
The laboratory uses several state-of-the-art robotic instruments in the analysis of both clinical and environmental samples. We continue to maintain certifications through the Clinical Laboratory Improvement Amendments (CLIA) and Environmental Protection Agency (EPA) to perform both clinical and environmental testing.
Clinical Laboratory
Bacteriology
Chemistry
Drugs of abuse
Food-borne outbreaks
Hepatitis
Parasitology
Sexually transmitted diseases
QuantiFERON
Tuberculosis
Environmental Laboratory
Drinking water

Inorganic testing
Bacterial testing

Streams
Rabies Laboratory
Molecular Biology Laboratory
Fairfax County Health Department Laboratory is composed of highly qualified scientists possessing degrees ranging from B.S. to M.S. to Ph.D. Laboratory staff are highly accomplished and trained in the latest cutting edge technology. The laboratory is:
The first public health laboratory in the Commonwealth of Virginia to implement the new HIV Algorithm in the spring of 2013.
The only public health laboratory in the Commonwealth of Virginia to offer West Nile virus testing of mosquito pools.
The only public health laboratory in Northern Virginia to offer TB drug susceptibility testing and rabies testing.
A Certified Drinking Water Laboratory.
Laboratory Resources
Association of Public Health Laboratories (APHL): APHL strives to provide public health laboratories with the resources to protect the health of U.S. residents and to prevent and control disease globally by promoting effective programs and public policy.
CLIA of 1988: The objective of the CLIA program is to ensure quality laboratory testing through accreditations. 
Lab Achieves Green Building Certification
In 2011, the JoAnne Jorgenson Laboratory became the fourth Leadership in Energy and Environmental Design (LEED) Gold© certified county building. The renovated facility received the rating from the U.S. Green Building Council. LEED is an internationally recognized green building certification system that provides building owners and operators with a framework for identifying and implementing practical and measurable green building design, construction, operations and maintenance solutions.
Fact Sheets