On this page
Required School Vaccines
Recommended Childhood Vaccines
COVID-19 Vaccines
Important Information and forms
On-time vaccination throughout childhood is essential because it helps provide immunity before children are exposed to potentially life-threatening diseases. Vaccines are tested to ensure that they are safe and effective for children to receive at the recommended ages.
Required School Vaccines
Schools require immunizations for entry into kindergarten, 7th grade, 12th grade, and when transferring into Fairfax County public schools. Failure to do so may impact a student's ability to return to school in the fall.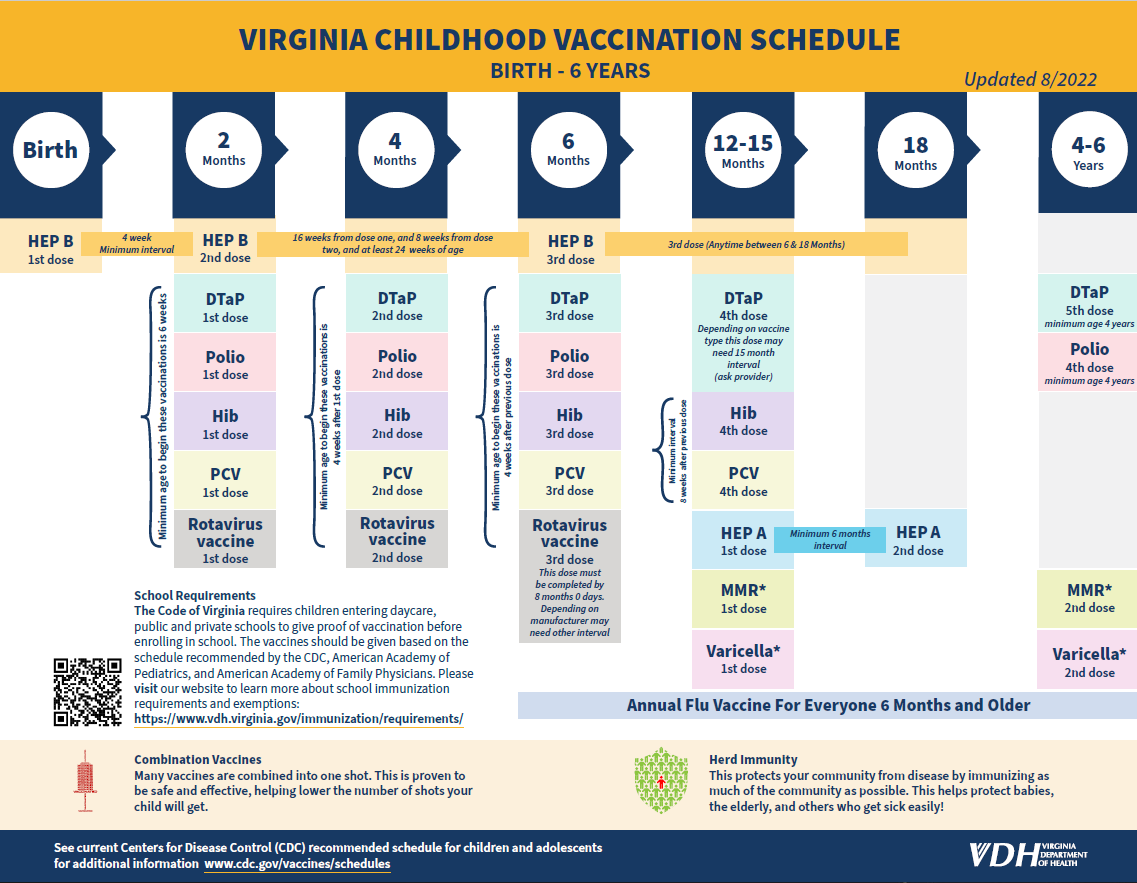 A list of required school immunizations and related forms/documents are available on the Virginia Department of Health website. See the Guide to Required/Recommended Vaccines by Age in English and Spanish. 
Parents of rising 7th and 12th graders should be aware of the following new requirements effective July 1, 2021:
Meningococcal Conjugate (MenACWY) Vaccine: The first dose should be administered prior to entering 7th grade. The final dose should be administered prior to entering 12th grade.  For related information, see Vaccine (Shot) for Meningococcal Disease
Human Papillomavirus (HPV) Vaccine: A complete series of 2 doses of HPV vaccine is required for students entering the 7th grade. The first dose shall be administered before the child enters the 7th grade. After reviewing educational materials approved by the Board of Health, the parent or guardian, at the parents or guardians' sole discretion, may elect for the child not to receive the HPV vaccine. See: HPV Vaccine is Cancer Prevention.
The Fairfax County Health Department offers school-required immunizations at the Health Department clinics free of charge by appointment only. Please call ahead to make an appointment.
At your appointment, bring the following items:
The child's immunization record and insurance card to the clinic.
Commonwealth of Virginia School Health Form, with Part 1 filled out by the parent or guardian.
Health Department forms (see Immunization Forms section below).
Vaccines are also available through private physicians, pharmacies, and clinics.