Protect infants and children with vaccinations early in life, when they are most vulnerable and before they are exposed to potentially life-threatening diseases. Vaccinations are available through your health care provider or Fairfax County Health Department clinics. For your convenience, the Centers for Disease Control and Prevention (CDC) Childhood Immunization Schedule is provided below.
Watch the Spanish-language video Protege la salud de su bebe con las vacunas.
The Fairfax County Health Department is offering free childhood vaccinations 
Available by appointment only, call: 703-246-6010, TTY 711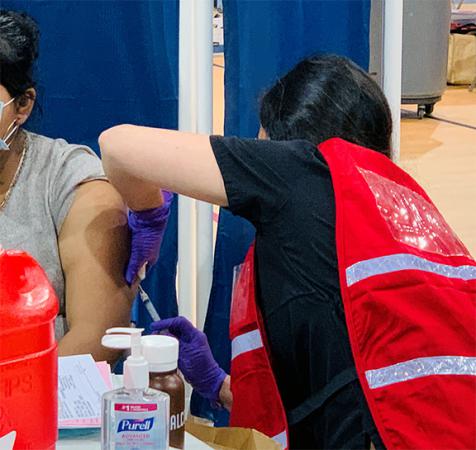 June 6, 2020, 10am - 2pm
June 11, 2020, 2pm - 6pm
Harvest Chinese Christian Church
4433 Brookfield Corporate Dr., Unit H, Chantilly, VA
Download the flier: English | Spanish
June 21, 2020, 10am - 2pm
July 16, 2020,  2pm - 6pm
Iglesia Adventista del Séptimo Día
13615 Coppermine Road, Herndon, VA
Download the flier: English | Spanish
June 25, 2020, 2pm - 6pm
Mt. Vernon District Office
8350 Richmond Hwy., #233, Alexandria, VA
Download the flier: English | Spanish
July 11, 2020, 10am - 2pm
St. Anthony of Padua Catholic Church
3305 Glen Carlyn Road, Bailey's Crossroads, VA
Download the flier: English | Spanish
July 25, 2020, 10am - 2pm
Bethlehem Baptist
7836 Fordson Road, Alexandria, VA
Download the flier: English | Spanish
Important Information for Parents
Bring your child's immunization record and insurance card to the clinic. If your immunization records are not in English, please seek the assistance of an appropriate translator to translate your record. Without an immunization record in English, your child may need to restart his or her immunization series. How do I find my child's immunization record?
Other Information
Required School Immunizations: Documentation of immunization is required for children entering kindergarten, children entering seventh grade, and new students transferring into schools in Fairfax County. Learn more about required school immunizations.
Prevent Whooping Cough: CDC is promoting the "Born with Protection" campaign. This campaign encourages pregnant women to get the whooping cough (Tdap) vaccine in the third trimester of every pregnancy.
Childhood Immunization Schedule (Birth to 18 Years Old)
View the immunization schedule on the CDC website to see the complete list of recommended immunizations and the ages at which they are given. Schedule is also provided below.
Immunization Forms
To shorten your wait, call ahead to make an appointment. Then fill out and print the following forms and bring them and your immunization records to your appointment at the Health Department.
If you are unable to print these forms, they will be provided to you at the time of your appointment.
Resources