If you are new to our processes, use the Residential Permitting Wizard to help guide you through each step you will need to take.
If you have gone through the process before, apply for your residential permit now.
News and Information
from Land Development Services...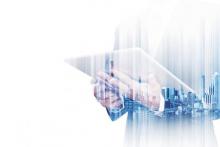 July 22, 2021
Almost a decade ago, Fairfax County began developing a new permitting system that replaces our outdated plan processing and permitting software systems. PLUS (the Planning and Land Use System) provides one comprehensive system where all permits and submittals related to entitlement cases, site plans, building permits, construction bonds, fire protection permits, health permits and more can be tracked and processed. The first and second phases of PLUS have already launched with more to come over the next two years. (Release 2 launched on July 1, 2021.) The PLUS system leverages modern technology to process plans and permits online, rather than processing paper plans and forms in person. With the full launch of PLUS right around the corner, the transition to all-digital processing is well underway. Land Development Services (LDS) began transitioning to digital submissions several years ago with the implementation of a few permit types in ProjectDox. The COVID-19 pandemic significantly accelerated the pace of conversion beginning in early 2020. To allow LDS to continue processing plans and permits with minimal human contact we implemented an all-digital plan and permit process nearly overnight. We are pleased that now 99% of submittals and permits are processed entirely digitally. Several benefits include: limited waste associated with plan sheets; the added convenience of submitting applications remotely at any time of day or night; and, plan reviews occur concurrently, reducing review time. This transition has been successful thanks to a partnership between LDS and its customers working together to usher in a new wave of environmentally sensitive, modern business practices.

July 21, 2021
The Land Development Services (LDS) agency has promoted Jay Riat to be Fairfax County's new Building Official and LDS Building Division Director. He began his new position on Monday, July 19. Riat has been with the county for the last nine years, almost all of it with LDS as a commercial plan reviewer and project manager in the Building Division. Prior to coming to the county, he spent six years as a project engineer in the design and construction industry. Riat is a certified building official (C.B.O.), registered engineer (P.E.) and a Project Management Professional (P.M.P.). The agency has promoted Matthew Hansen to be the Director of the LDS Site Development and Inspections Division (SDID). Hansen spent nearly seven years with the City of Falls Church with responsibilities ranging from site inspection and site plan review to management of capital projects and administration of the city's floodplain management and Municipal Separate Storm Sewer System (MS4) National Pollutant Discharge Elimination System (NPDES) illicit discharge programs. Since coming to Fairfax County in 2017, Hansen has worked in multiple capacities in SDID (Stormwater Reviewer and Branch Chief). Hansen is a registered engineer (P.E.), certified floodplain manager, Stormwater and Erosion & Sediment Control Dual Combined Administrator and holds a master's in business administration. Hansen begins his new role within LDS on Monday, Aug 2. 2021.  "I look forward to continuing to work with both Jay and Matthew in their new capacities," said LDS Director William D. Hicks, P.E. "The building and site divisions are in capable hands and will thrive under their leadership. Many thanks to Hiba Aziz and Bijan Sistani for their roles in maintaining momentum for the building and site divisions over the last few months," said Hicks.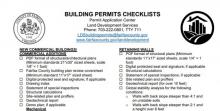 July 20, 2021
In an effort to improve our customer service, Land Development Services (LDS) has updated its Building Permits Checklist. This checklist serves as a reference to assist you in meeting minimum requirements for all building permit applications (e.g., commercial, residential, elevator). Please use this checklist to confirm you are providing necessary documents before submitting your application. In addition to this updated checklist to help you navigate through the permit application process, please visit the LDS operational status webpage for additional resources. If you have questions about the checklist or building applications, call 703-222-0801, TTY 711 or email. Click on image for full checklist online.  
Includes average review times and how many applications, reviews and inspections have been completed.