Search within Land Development Services
Popular Online Development Services
April 30, 2018
In May 2018, Fairfax County is participating in the 38th annual Building Safety Month, a worldwide campaign presented by the International Code Council, its members and partners to promote building safety. First observed in 1980, Building Safety Month raises awareness about critical safety issues from structural to fire prevention, plumbing and mechanical systems, and energy efficiency. Building codes and the officials who enforce them are making our families and communities safer and more resilient. Homes and buildings that are built in compliance with building safety codes result in resilient structures that minimize the risks of death, injury and property damage. In the wake of a disastrous hurricane season, rampant wildfires and devastating earthquakes, building safety is even more important. Building safety affects everyone, and modern, updated building codes save lives. This year's themes are: May 1–5, Partnering with Code Officials to Build Stronger, Safer Communities; May 6–12, Advancing Resilient Communities through Science and Technology; May 13–19, Protecting Communities from Disasters; May 20–26, Safeguarding Our Water; and May 27–31, Improving Education and Training Standards for a Safer Tomorrow. Local events to celebrate Building Safety are being organized by the Department of Land Development Services throughout the month of May. A full agenda can be downloaded here. You can hear from one of LDS's Building Division Supervising Combination Inspectors about the importance of Building Safety Month on this episode of the podcast Code Talk. The Fairfax County Board of Supervisors are scheduled to proclaim May as Building Safety Month on May 15. Learn more about Building Safety Month at www.buildingsafetymonth.org.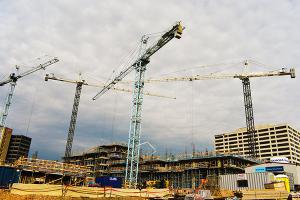 February 20, 2018
Fairfax County Land Development Service's Building Division has been awarded the highest achievable rating for building code effectiveness under the current Virginia Uniform Statewide Building Code. The division has been given a 1 / 2 (commercial / residential) rating by Insurance Services Offices, Inc. (ISO) on the Building Code Effectiveness Grading Schedule (BCEGS). Working on behalf of insurance companies, ISO uses the BCEGS to evaluate a jurisdiction's current building codes and how they are enforced. The evaluations place special emphasis on mitigation of losses from fire and natural disasters. The Building Division's achievement is remarkable especially considering the volume of work the division handles. In fiscal year 2017, its staff reviewed nearly 25,000 building plans and conducted more than 158,000 building inspections. A Class 2 rating is the highest achievable rating for Fairfax's residential code enforcement because a key factor in ISO ratings for residential construction is whether sprinklers are required. The Virginia Board of Housing and Community Development does not mandate sprinklers in single family dwellings and townhouses less than four stories, and Fairfax County is not permitted to enforce a higher standard than that set by the state. This latest ISO survey result shows an improvement in both the commercial and residential sectors. When last surveyed in 2014, Fairfax County received a Class 2 rating for building code enforcement in the commercial sector and a Class 3 for building code enforcement in the residential sector. The high rating has positive fiscal implications for property owners, who have the potential to pay lower property insurance premiums on structures in Fairfax that receive their initial occupancy permit after this ISO classification. Insurance premiums for existing properties will not be affected.   Media Contact: Anne Cissel Public Information Officer Fairfax County Land Development Services 12055 Government Center Pkwy., Suite 659 Fairfax, VA 22035 T: 703-324-2743 Anne.cissel@fairfaxcounty.gov
June 11, 2018
By Brian Foley and Mike Crawford When the weather dumps unprecedented amounts of rain on our region like it did two weeks ago, there are ramifications other than the rising banks of the Potomac. Basement walls feel the pressure too…62.4 lbs/ft3 of it to be exact. Two weekends ago, a basement wall in Fairfax County partially collapsed due to added water pressure. The house was condemned as unfit for habitation, and unfortunately, the occupants had to find other accommodations until repairs or shoring are complete. The building code requires new basement walls to be provided with adequate drainage to prevent this type of failure. Section R401.3 of the Virginia Residential Code requires surface drainage at a grade of 6 inches of drop over 10 feet horizontally away from the house. Section R405 prescribes methods to provide drainage against the basement wall in terms of crushed rock and drain tile. Homeowners are urged to ensure surface drainage remains positive away from the house including all gutter downspouts, sump pumps are in working order and drain tiles are clean and clear of debris.  
Land Development Services-Building Division

The Building Division ensures that all development in the county meets the required safety and health standards throughout the construction.