Most LDS records are available online. The resources listed below will help you navigate to those records.
Records Available Online
Planning and Land Use System (PLUS)
PLUS was fully launched on Oct. 31, 2022. As of that date, it is the central and only platform to create and submit permit and other applications online, pay fees, track application status and receive electronic notifications. Customers now complete their zoning, building, permitting or other land development and environmental health processes online through PLUS. Please note that legacy systems such as FIDO and PAWS have been fully replaced by PLUS and are no longer available.
SRV
The Site Records Viewer (SRV) provides access to thousands of approved site records. Download or view PDFs of approved site-related plan records, such as infill lot grading plans, resource protection area studies, and site plans. The SRV allows anyone to search for site development records geographically, or by a search function.
Watch a five minute video tutorial on using the SRV application.
LDIH
The Land Development Information History (LDIH) system consolidates building, site, zoning and complaint information from numerous county systems into a single repository. LDIH performs an overall search on land development records. These easy-to-use cataloging system features make this the simplest and quickest method to retrieve site- and building-related information. LDIH data is updated nightly. Please note that LDIH contains only those records that were uploaded prior to the launch of PLUS.
LDSNet
The LDSNet  system performs more specific research on zoning and site-related records. In addition, this database also contains bonding and escrow information, as well as building permits issuance information. The LDSNet system has multiple search function capabilities for plans, bonding, escrows, inspections and building permits. Searches can be performed by address or magisterial districts.
Land Development Records Request, Freedom of Information Act (FOIA)
The Virginia Freedom of Information Act (VFOIA) is the state law governing access to public records and meetings of public bodies by citizens of Virginia and representatives of the media.
VFOIA provides that, with some specific exemptions and exceptions, all meetings of public bodies shall be open to the public and all public records open for public inspection.
Email LDSFOIA@fairfaxcounty.gov or submit the VFOIA Requests for Records form under FOIA if unable to access the requested information using the online resources above. Learn more about FOIA.
Records Retained by Land Development Services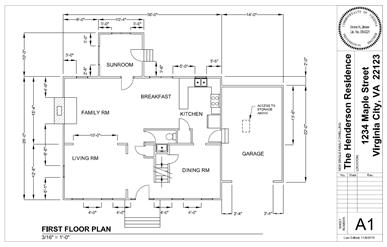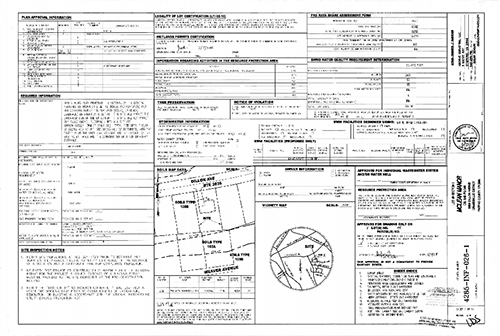 LDS retains building- and site-related plans and documentation for both commercial and residential projects either physically or electronically in accordance with the Virginia Public Records Act. 
Associated documentation associated with bonding of land development public improvements.

Destroyed five years after project complete status.

Building Plans:  Structural or non-structural architectural drawings.

Destroyed three years after final inspection.

Supporting Documentation for Building Plans: Permit applications, inspections, certifications, and architectural-related correspondences.

Destroyed three years after final inspection.

House Location Plat: Detailed mapping for the territory a single-family residence is built upon, as well as the territory's borders and intersecting easements.

Contact the Fairfax County Zoning Permit Review Branch at

703-222-1082

, TTY 711.
Fairfax County does not have a recorded plat for all properties in the county.

Site-Related Plans: Site-related plans include commercial, mixed-use, single-family detached, single family attached, multi-family, and public improvement project plans and plats. In addition, LDS retains related studies such as soils reports, floodplain studies and resource protection area studies.  These are available in PDF format in the Site Records Viewer. You can find recorded land records in Fairfax County's Court Public Access Network.
Supporting Documentation for Site Plans: Site-related correspondences (project files).

Destroyed five years after project complete status.

Videos and photographs received in support of inspection.

Deleted upon documentation of official County actions/determinations