As stewards of the county's land development and building construction codes and regulations, Land Development Services facilitates the safe and sustainable building of our communities. We achieve service excellence by building partnerships with stakeholders to create a thriving Fairfax County. We enforce the standards set forth in applicable codes such as:
Our Work
We protect the health, safety, welfare, and environment for those who live in, work in, and visit Fairfax County by:
Specialties
Review staff in LDS are assigned according to their specialties and the corresponding permit types.
For site review, the specialties include residential grading plans (i.e., infill lot grading plans) stormwater, geotechnical, streetlights, sewer, on-site wastewater, forestry, and fire safety.
For building review, the specialties include residential plan review, life safety, structural, mechanical, electrical, plumbing review for commercial tenant fit outs and new commercial buildings, elevators, special inspections, and solar review.
Our Guiding Principles
As members of the Land Development Services team, we accomplish our mission by embracing racial and social equity and protect the health and well-being of each other and the public.
Mission
Facilitate the safe and sustainable building of our communities
Vision
Be the best partner in creating a thriving Fairfax County
Values
Accountability: Fulfill your obligations and expect others to do the same
Collaboration: Work together towards a common goal and support innovation
Empowerment: Trust and support employees to lead and make decisions that align with our mission
Integrity: Consistently demonstrate honesty, sincerity, openness and moral uprightness
Respect: Value others by demonstrating fairness, appreciation and understanding
Safety: Adhere to safe working practices on and off the job

Environmental Stewardship: promote environmentally responsible development
Customer Bill of Rights
We value our partnership with the public and the building industry.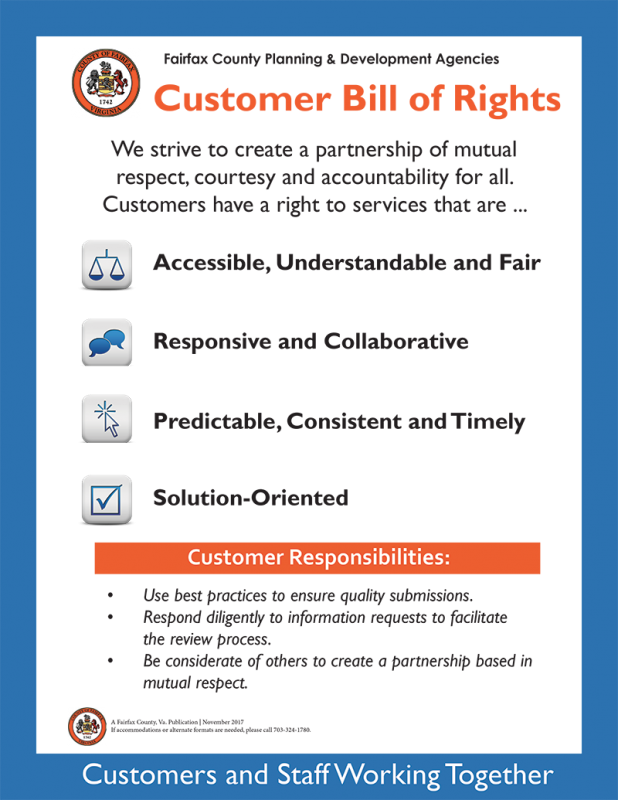 REVIEW comment policies
Permit applications and associated plans are reviewed in three of the divisions in LDS: Permitting and Code Administration, Site Development and Inspections and Building. The following policies provide guidance to LDS to follow when commenting on customer applications and plans.