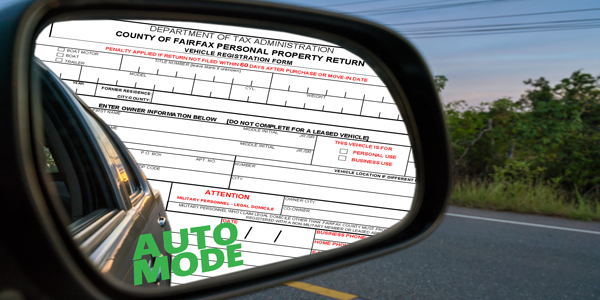 The Board of Supervisors approved changes today to make personal property tax return filing more customer friendly and easier for residents who buy a new car or move one into the county.
Effective Jan. 1, Fairfax County will now automatically file personal property tax returns for these residents, a change that will benefit owners of approximately 133,000 vehicles per year. The move to make the county's tax systems more effective and efficient for residents is possible thanks to updated technology that relieves the burden from taxpayers.
"The county is committed to efficient, effective government, and this action today is another way that Fairfax County is working to improve our services for residents," said Board of Supervisors Chairman Jeffrey C. McKay. "Thanks to investments in updated technology, we'll save residents from the unneeded time and effort to file a personal property tax return. This is the first of several steps I announced last month to modernize our tax filing and payment system."
Most vehicle owners know they must register their car, truck, trailer or semitrailer with the Virginia Department of Motor Vehicles when they buy or move one into Fairfax County. However, many don't know that they also must separately file a personal property tax return with Fairfax County. In fact, these returns are filed late for about 54% of cars that are moved into the county because residents are unaware of the requirement.
The Department of Tax Administration can now file these returns because new technology allows them to automate the process after the DMV sends registration data to the county. This improved service is possible given the investment in a new tax and business system that allows for enhanced functionality.
While the county will now file personal property tax returns for residents, they still must register their vehicles with the DMV within 30 days or face a 10% late-filing penalty.
All vehicle owners still must pay an annual vehicle registration fee.  This fee is automatically included on car tax bills. Under an agreement with the Towns of Clifton, Herndon and Vienna, the county collects this annual fee on behalf of these jurisdictions.
For more information or questions, contact the Department of Tax Administration at 703-222-8234, TTY 711. DMV information can be found on their website.