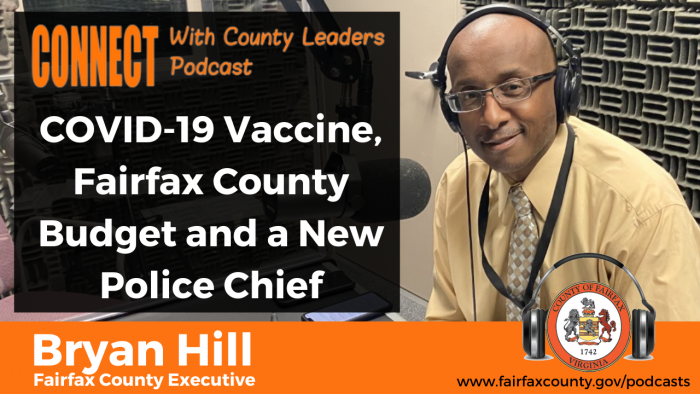 The county executive stressed the importance of everyone in the community getting vaccinated so that we can achieve "herd immunity" and return to some sense of normalcy in our lives.
"Over 700,000 doses are in people's arms as of right now. That does not mean that they all have second doses, but at least the first dose in the arms," said Hill. "But the big thing is we do have some hesitancy with individuals. I was able to get the two doses of the Moderna. My mother, who's 84, she received her two doses, she did very well. So the hesitancy should not be a factor."
When asked what he would say to someone who hasn't yet received a COVID-19 vaccination, Hill was emphatic.
"What message do I have? The message should be the lives that have been lost. I'm not trying to scare anybody, but the message should be, we are all working towards one goal, and that is to get back to normal."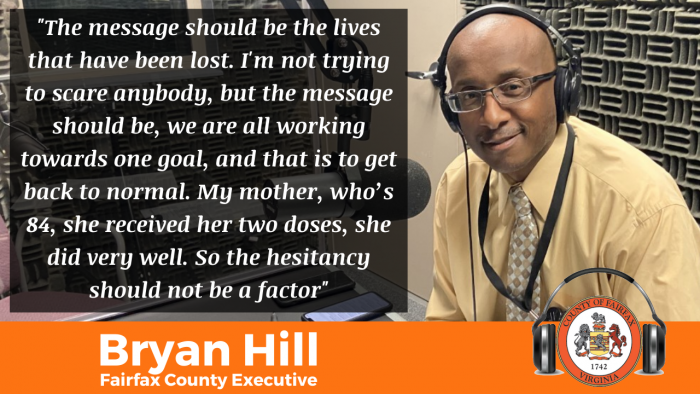 During the podcast, County Executive Hill also covered the Fiscal Year 2022 county budget, which the Board of Supervisors approved the budget mark-up package on April 27, and is scheduled to adopt the final budget on Tuesday, May 4.
Hill also discussed the Board's hiring of Kevin Davis, formerly the City of Baltimore's police commissioner, as Fairfax County's new police chief effective May 3. He replaces former chief Edwin C. Roessler who retired in February.
Podcasts
Listen to past episodes of " Connect with County Leaders ." For other Fairfax County podcasts, visit www.fairfaxcounty.gov/podcasts, and for additional audio content, tune in to Fairfax County Government Radio at www.fairfaxcounty.gov/radio.
The "Connect with County Leaders" podcast is an opportunity to meet and connect with Fairfax County leaders, to learn about the latest county news and information, and hear more on specific Fairfax County programs and services.