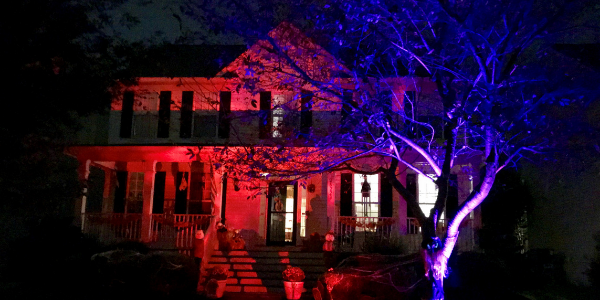 Find and explore some of the best-decorated houses in the county. 
Get the full list of trick-or-treating, costume, driving/walking and pet tips. 
It's time for scary, silly and all kinds of costumes in all corners of our community. Here are a few things to know about Halloween in Fairfax County.
🎃 When is Trick-or-Treating?
Some communities, cities and counties designate a day other than Oct. 31 for trick-or-treating. Fairfax County Government does NOT set a different date. Halloween is Tuesday, Oct. 31. Your homeowner's association or apartment complex may set other times for events, but neighborhood trick-or-treating is the evening of Oct. 31.
10 Halloween Houses
Looking for a safe and family-friendly way to celebrate the spooky season of Halloween? Buckle up and visit some of the most festive home haunts in Fairfax County, where local residents deck out their homes with ghosts, goblins, monsters and ghouls. Visit Fairfax has all the details and addresses.
🎃 Trick-or-Treating Tips
Keep an eye on the weather forecast and prepare accordingly.
Plan and discuss your child's route if you are not joining them.
Children should only visit homes with porch lights on or active Halloween decorations.
Remind children never to enter a stranger's house.
Carry a flashlight.
Make sure children know their phone number and address — and they should be able to provide this information in an emergency or if lost.
Watch for any power cords or other decorations that might cause kids to trip and fall.
🍬 Treat Tips
Inspect your children's candy before they eat it — especially for any food allergies.
When giving candy, consider treats WITHOUT nuts and other common food allergens. Some people use teal pumpkins to distribute allergy-free treats.
🚶‍♀️ Driving/Walking Tips
Cross at intersections or corners – not between parked cars.
Do not let children run in and out of the street -- keep them on sidewalks and paths.
Slow down and stay alert in residential areas on Halloween night. 
While driving, watch out for children darting into traffic. Some costumes may be hard to see.
Leave driveways and parking spaces slowly.
Drivers and walkers: Put your phone down and avoid distractions.
👻 Costume Tips
Wear costumes that are visible in the dark. Use reflective material, flashlights or glowsticks to ensure visibility. 
Make sure your child's Halloween costume is made with fire retardant materials.
The costume should be short enough so it doesn't interfere with walking.
Consider using makeup on children's faces instead of a Halloween mask that covers the eyes to allow the child to see clearly.
🏠 House Tips
Keep Halloween decorations away from open flames and other heat sources, such as light bulbs and heaters.
Keep exits clear of decorations so nothing blocks escape routes.
Use glow sticks or battery-operated candles for jack-o'-lanterns and other Halloween decorations.
Ensure power cords and other tripping risks are not present outside.
🐶 Tips for Pet Owners
Provide a safe, secure space during trick or treating time. Pets may not enjoy all of the noise, including ringing doorbells.
Keep chocolate away from your pet as it can be poisonous to them.
Not all trick-or-treaters like dogs – make sure to keep your pet on a leash or behind a gate away from the front door.
Make sure your pet has identification in case they accidentally get loose.
🎃 Compost Your Pumpkins
And when all the Halloween fun is over, don't throw your pumpkins away - compost them. Take your unpainted, unglittered pumpkins to: