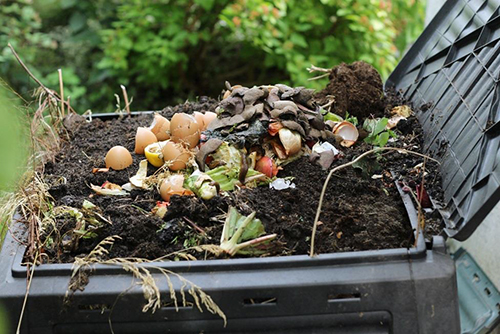 Composting is nature's way of recycling. It is the controlled breakdown of yard waste, food scraps, and other organic material. Composting is the way that nature recycles. In nature, when a leaf falls to the forest floor, it is consumed and digested by a host of creatures, from worms and insects to microorganisms such as bacteria and fungi.
Organic waste comes from plant or animal sources. Commonly, they include food waste, fruit and vegetable peels, yard waste; even the food left on your plate can be classified as organic waste. They are biodegradable (this means they are easily broken down by other organisms over time). Many people turn their organic waste into compost and use it in their gardens.
Compost improves the soil's porosity and reduces the frequency of watering. See more on the benefits of composting at these websites: Northern Virginia Soil and Water Conservation District and Virginia Cooperative Extension have information you can use to start composting.
Composting Options
Fairfax County residents now have several options for managing their organic waste. Whether you decide to compost at home, contract for curbside collection, or take your organic matter elsewhere, know that you will be doing your part to make the environment be a safer, cleaner place for everyone.