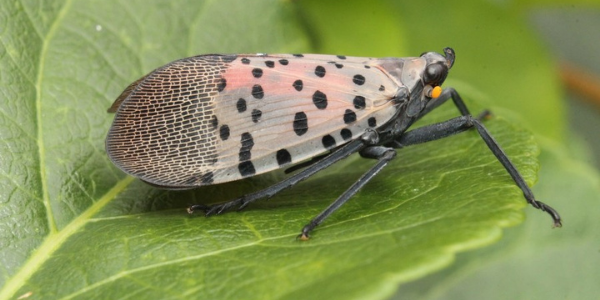 Now through November is the height of spotted lanternfly season. 
 
If you see adult lanternflies, squash them immediately or watch the video below for one way to capture them.
 
If you see egg masses on trees, cars and other outdoor surfaces, learn what to do. 
It's spotted lanternfly season. We need your help. 
The spotted lanternfly is an invasive species that poses a significant threat to peach, apple, grape and wine industries across Virginia and the country. They also have a negative effect on your yard plants. The spotted lanternfly has been found in areas throughout the county and we are asking for your help. 
Nymphs and adults are highly mobile, moving freely between plants and properties as they move through their life stages. They are therefore a moving target and there is no preemptive pesticide to keep them from coming on your property. Spotted lanternflies won't hurt or bite you or your pets. 
How to Help
If you see adult spotted lanternflies, stomp/kill them immediately. If they evade you, then scrape them into the bottom of a cut plastic water bottle, shake it to disorient them, then dump them on the ground and stomp on them.
If you see egg masses on trees, yard objects, vehicles and other types of outdoor surfaces into November, then scrape those masses. The egg masses are covered in a light gray colored wax that looks like mud when it dries.
Egg masses should be carefully scraped into a container and drowned in soapy water or rubbing alcohol.
Pesticides are unnecessary and should be avoided.
Egg masses can be safely disposed of in your trash, composted or simply buried in your yard.
How to Report
If you find spotted lanternfly, please report your findings through the mobile app iNaturalist. You can also report your findings by email at ReportSLF@fairfaxcounty.gov. Provide photos and an address with your report.