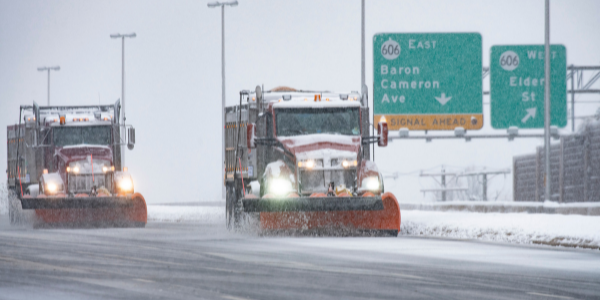 Winter can bring delight or fright.
We're not in the weather prediction business, so all we can do is be prepared and encourage you to get ready for whatever this season may throw our way. We've compiled some of the more frequently accessed winter information below.
And for those unfamiliar, we offer this friendly reminder about snow removal: Fairfax County does NOT remove snow from most roads. The Virginia Department of Transportation (VDOT) has that responsibility in nearly every Virginia county.
GUIDE TO SNOW WEBSITE
Our guide to snow website (fairfaxcounty.gov/snow) is your comprehensive place to get key information about:
VDOT Snow Removal Information (and plow tracker)
Weather Forecast and Expected Snowfall (updated daily)
Who Maintains Roads/Sidewalks
8 Places to Consider Shoveling Snow
Tips for Creating a Neighborhood Snow Removal Plan
The Trick to Properly Shovel Your Driveway for When Snow Plows Pass
WINTER ROAD SAFETY
Winter weather + cars + roads. Those three topics were highlighted by Ellen Kamilakis of the Virginia Department of Transportation during a recent webinar. 
HYPOTHERMIA
When it's especially cold outside, anyone can be affected by hypothermia if you don't dress in layers and seek shelter when you can. However, not everyone in our county has a home, and therefore they are vulnerable to hypothermia.
The main thing to remember is to call the county's non-emergency phone line at 703-691-2131 , TTY 711, if you see someone at night who is unsheltered and you think could be at risk of hypothermia.
Everyone should watch out for signs of frostbite and hypothermia. If you must be outside, either for work or leisure, take precautions such as dressing in layers.
The signs of hypothermia include:
Uncontrollable shivering, memory loss, disorientation, incoherence, slurred speech, drowsiness and apparent exhaustion.
If symptoms of hypothermia are detected, get the victim to a warm location, remove wet clothing, warm the center of the body first and give warm, non-alcoholic beverages if the victim is conscious. Get medical help as soon as possible.
BEST SLEDDING SLOPES
Visit Fairfax has compiled a fun list of some of the top sledding locations across the county. 
WINTER AND WATER AROUND YOUR HOME
When the weather outside is frightful and cold, water can pose a significant risk to property. Check out this handy list from Fairfax Water about a variety of topics, including frozen water meters, frozen pipes, water spigots and more.
COUNTY GOVERNMENT STATUS UPDATES
Is the county government open or delayed?
You can find out county government status updates this winter from a variety of sources:
Channel 16 TV crawl
Emergency Information Hotline at 703-817-7771, TTY 711
Local media
Our Pubic Meetings Calendar will also note specific cancellations. 
Also note: The three courts in the county make their own operating decisions separate from county government to you know whether you have jury duty, cases are postponed and if court services are available.
FAIRFAX COUNTY PUBLIC SCHOOLS
Our public school system determines its own operating status, which can be a different decision than county government. Learn more about the school decision-making process.