Is someone you love learning to drive? The Fairfax County Police Department Youthful Driver Program can help. Police instructors will help your "young driver":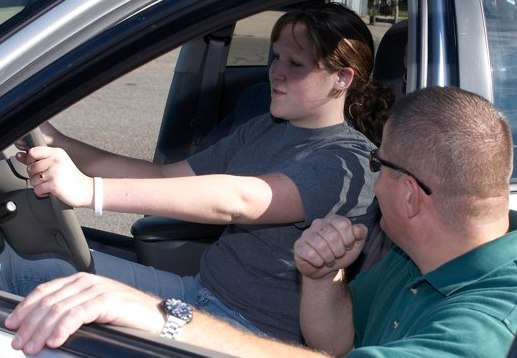 Learn what it means to be an "inexperienced" driver       
Identify the risks and realities of being teen driver
How to ignore peer pressure behind the wheel
Spend a Saturday learning the rules and risks of the road. Dangers of the road aren't confined to teenagers; everyone on the road will be safer once they learn:
How to recover from skidding on a wet roadway
How to adjust your driving when road surfaces vary- hard surface to soft shoulders
How to judge distance while driving at highway speeds
The Youthful Driver Program is a one day, hands-on course, running one Saturday each month from 7 a.m. until 4 p.m.
PLEASE NOTE:
Program dates are not publicized. Dates are scheduled on a first come first serve basis upon receiving the applications and payments. Students will be notified at the e-mail address provided on your application, one month prior to your scheduled class date.
This is not a Virginia DMV approved driver improvement course. If DMV is requiring you to attend a driver improvement course, please refer to the DMV website for a list of approved classes. If you have been directed to attend this course by the Fairfax County Juvenile and Domestic Relations Court, please submit your application as soon as possible as there is a several month wait for the course."

Location:   Fairfax County Criminal Justice Academy, 3725 Stonecroft Blvd.,Chantilly, Virginia 20151
Cost:          $200.00, please attach a check to the application, made out to COUNTY OF FAIRFAX.
Eligibility:  Teens aged 16-19 with a valid driver's license (non-Fairfax County residents are eligible on a space-available basis)
Sign up:     Print, complete and mail the registration form along with your payment to the address below.
Youthful Driver Registration Form; attach a check for $200.00 made payable to County of Fairfax and mail to:
Fairfax County Criminal Justice Academy
Emergency Vehicle Operations Center
3725 Stonecroft Boulevard
Chantilly, Virginia 20151-1008 
If you have further questions about the program, contact the track by email at Richard.mattison@fairfaxcounty.gov.
Check out this video on Youtube to learn more about this dynamc training experience for all young drivers you care about!