To accommodate the new models for senior living facilities, Fairfax County created new zoning rules for continuing care facilities.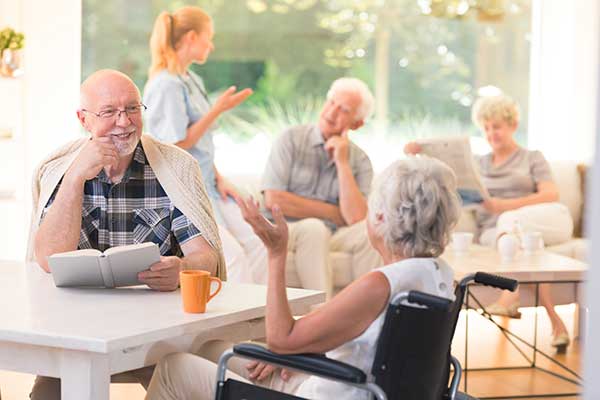 The Board of Supervisors adopted the zoning changes on Dec. 4, 2018. The action establishes a new zoning district—the Planned Continuing Care Facility District—and it also creates continuing care facilities as a new land use category.
Zoning officials said the change was needed to meet more modern operational needs of retirement communities and nursing facilities. They often provide multiple types of housing and services in a single facility, from independent living to assisted living to nursing or medical care. These combined uses were previously not allowed in a single, integrated facility, but now the new rules give senior living companies the flexibility to determine the features and services best suited to serve their residents.
Previously, the county's zoning rules made distinctions between independent living, assisted living and nursing homes, regulating them as separate uses. The ordinance imposed limits based on housing features, such as whether kitchens are provided; type of person living at the facility; and type of services provided.
The change is akin to how the county's zoning rules treat colleges and universities, zoning officials say. Rather than separately regulating each individual use at these institutions—which can range from housing to restaurants to sports stadiums—zoning rules look at colleges and universities as a whole that's a sum of its parts.
The new zoning district makes continuing care facilities the primary use, but it also could allow for secondary, accessory uses in these districts like offices, restaurants, retail and recreation in certain circumstances. The new district also includes limitations to ensure they are compatible with surrounding neighborhoods, including:
Located in areas with adequate road capacity.
Located in areas with public water and sewer service.
Located on properties that are a minimum of five acres unless modified by the Board of Supervisors.
Be up to 75 or 100-feet tall and provide 30 or 50-foot setbacks, depending on what kind of development is adjacent to the continuing care facility.
Set aside a minimum of 20 percent of the site as open space unless modified by the Board of Supervisors.
Allow the Health Care Advisory Board to provide recommendations to the Planning Commission on proposed continuing care facilities in rezoning cases.
The adopted new zoning rules also allow continuing care facilities in planned districts like Burke, Tysons or Reston.
The zoning changes support the county's 50+ Action Plan. As demographic experts forecast a major uptick in the numbers of older adults in the county, there will be an increasing demand for senior housing. By 2040, people age 50 or older will make up about 33 percent of Fairfax County residents—or about 452,000 people. In the next 22 years, the number of residents between ages 70-79 will more than double compared to 2010.
For more information, contact the Zoning Administration Division of the Department of Planning and Zoning, at 703-324-1314, TTY 711.
#  #  #