Pat Herrity was raised in the Springfield District of Fairfax County. He attended St. Bernadette's grade school in Springfield, graduated from West Springfield High School in 1978, and earned a Bachelor's degree in Accounting in 1982 from Virginia Tech. Having grown up in the eastern part of the Springfield District and now raising his family in the western part, Pat has a unique understanding of Fairfax County.
As the son of former Fairfax County Board of Supervisors Chairman Jack Herrity, Pat grew up attending community meetings and budget hearings; he was raised with regular discussion of issues concerning Fairfax County at home giving him a deep understanding of our County and the issues we face today.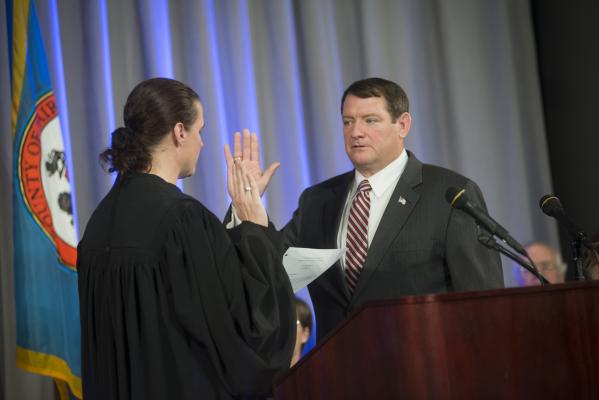 Additionally, Pat is the Chief Financial Officer of Delex Systems Inc. and has over 30 years of experience in leadership positions for a number of fast growing, small to mid-sized government contractors.
He is active in youth sports and has coached swimming, soccer, basketball, rugby and hockey. He has also served in leadership positions of several civic associations and business organizations including the Fairfax County Chamber of Commerce and the Northern Virginia Technology Council.
Pat has always been active with transportation issues and is a strong believer in transportation enhancements that support our growing community. He was a leader in the push for the Techway, was a strong early advocate for telework/telecommuting programs, and has been an outspoken supporter of the beltway HOT lanes and their carpooling and mass-transit benefits. He is currently leading the effort for solutions to congestion on I-66 and the Fairfax County Parkway. Pat was a co-drafter of the first Northern Virginia Transportation Compact, which was signed by most of the business organizations in Northern Virginia in 2000.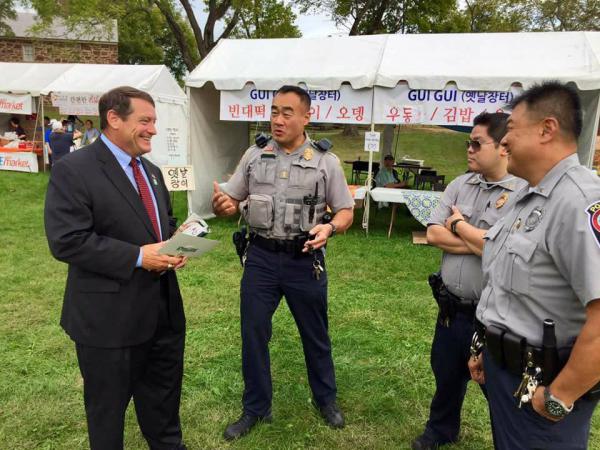 Pat regularly travels to Richmond to work with legislators on tax and transportation issues. He was appointed by Governor McDonnell and subsequently elected Chairman of Governor's Task Force for Local Government Mandate Review which works to reduce state mandates on local governments. Under his leadership the Task Force has eliminated a historic number of mandates and has eliminated a number of other "mandates" by engaging state agencies in common sense discussions with local governments.
Pat has also had extensive leadership experience with Northern Virginia civic associations and business organizations. He has served on many committees, councils and boards including:
                The Northern Virginia Technology Council
 
                REGION, an association of Northern Virginia business organizations
 
                The Fairfax County Chamber of Commerce (as treasurer, as a member of the Executive Committee/Board of Directors, as a Founder and the first Chairman of Transportation Choice--an effort to promote use of HOT lanes and mass transit, and as a Founder and the first Chairman of the Northern Virginia Government Contractors Council)
 
                The Professional Services Council
 
                Pat is also a current member of the American Institute of Certified Public Accountants
 
                The Clifton Lions Club
 
                The White Oaks Civic Association  
Pat has also been recognized for his leadership experience. He is known for being an innovator and a leader in the business groups with which he has been involved. As a result, Pat has received some of the highest awards of recognition that the groups offer, including:
 
                Fairfax County Chamber of Commerce's Chairman's Award
 
                Northern Virginia Technology Council President's Award
 
                SmartCEO Magazine's Chief Financial Officer of the Year Award
 
                Northern Virginia Technology council's CFO of the Year Community Service Award
 
                Fairfax County Federation of Teachers President's Award
Pat has served Fairfax County on the Information Technology Policy Advisory Committee and the steering committee for the first annual Washington Area Conference on Telework. He currently serves on the Northern Virginia Regional Commission as well as:
Inter-jurisdictional Committees:
                Fort Belvoir/BRAC Board of Advisors
 
                Prince William Co.
Intra-governmental:
                Audit Committee
 
                50+ Committee (Chairman)
 
                Economic Advisory Committee (Vice-Chairman)
MWCOG Committees:
                Board of Directors (Alternate)
 
                Transportation Planning Board (Alternate)