About the Pilot Study
Fairfax County conducted a 3-year pilot research study to test the use of 4-Poster deer treatment station technology as a novel method to control tick infestations on white-tailed deer (Odocoileus virginianus) in Fairfax County, Virginia. Dense deer populations are inferred to be a principal factor in the increase of ticks in many urban and suburban environments. White-tailed deer are primary hosts for adult blacklegged ticks (Ixodes scapularis) and lone star ticks (Amblyomma americanum) that may transmit tick-borne illnesses, although deer themselves are not competent reservoirs of the Lyme disease bacterium (Borrelia burgdorferi).
This research was conducted by the Fairfax County Wildlife Biologist Office, of the Police Department, in collaboration with the Health Department's Disease Carrying Insects Program. Funding for the pilot study was provided by Fund 40080, Integrated Pest Management Program. Virginia does not currently permit legal commercial use of 4-Poster deer treatment stations.  The Fairfax County pilot study was conducted under a scientific collections permit issued by the Virginia Department of Game and Inland Fisheries. This research was an extension of the Fairfax County Deer Management Program. The Fairfax County 4-Poster pilot study was a tick control study only, and did not examine transmission of tick-borne illnesses or tick prevention.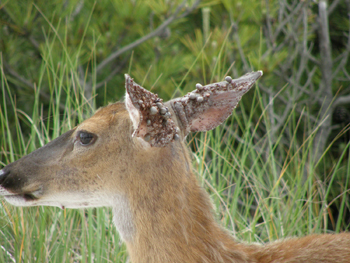 Credit: Peter Priolo
What is a 4-Poster Deer Treatment Station?
A '4-Poster' deer treatment station is a feed station that uses corn to bait deer and treat the deer with a pesticide to kill ticks.  A total of 4 posts, that resemble paint rollers, are placed on the corners of the station next to two shallow feeding troughs located on both sides of the station. The posts are saturated with a pesticide (10% permethrin) used to kill ticks on the deer. A deer rubs its head and neck against the rollers as it lowers its head to the trough to feed on the corn at the station. This direct contact results in a self-application of the pesticide on the deer. The pesticide is further spread on the deer's body during regular grooming activity. 
The '4-Poster' technology was first developed in 1996 by the United States Department of Agriculture to control tick infestations on cattle.  The device and specially formulated pesticide was registered with the U.S. Environmental Protection Agency for commercial use in 2004 following several years of extensive research.  Gibson Island, Maryland became the first locality to commercially use these deer treatment stations, in 2005.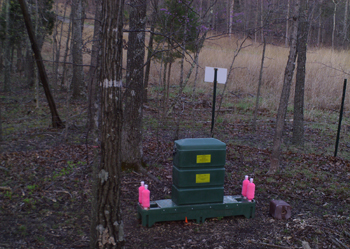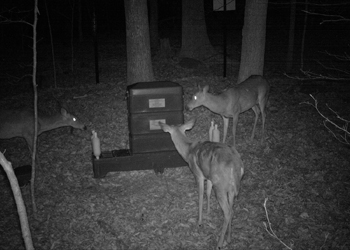 Research Goals
Over the course of the pilot study, biological and environmental data were collected and analyzed in an effort to:
Determine the effect of the 4-Poster station on abundance of local tick populations,
Assess the effect of baiting deer year-round through use of the 4-Poster station,
Evaluate impacts of deer on vegetation characteristics surrounding 4-Poster stations, and
Provide a recommendation for future use of 4-Poster stations in Fairfax County. 
Deer Treatment Station Locations
Twenty 4-Poster deer treatment stations were deployed from February 2012-March 2015 at two test sites on public parkland: five stations at Hemlock Overlook Regional Park (NOVA Parks) and fifteen stations at Sully Woodlands (Fairfax County Park Authority).
Fences were constructed around all twenty treatment stations. Signs were clearly posted at each fence plot site and park patrons were prohibited from handling any equipment or entering the fence plots. Each station was monitored by Police Department personnel.
Two control sites were also selected on Fairfax County Park Authority property: Laurel Hill Golf Course and Twin Lakes Golf Course. No 4-Poster deer treatment stations were deployed at the control sites.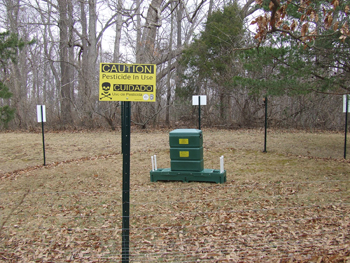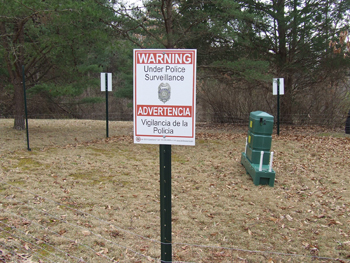 Marking Treated Deer
Pink dye was added to the rollers at each station to mark and identify deer that were treated with pesticide as they fed on corn from the station.  The non-toxic dye left a temporary bright pink mark on all treated animals that faded within 3 - 4 days.  Non-target wildlife including raccoon, red fox, gray squirrel and Virginia opossum, among others, were found to use 4-Poster stations and may have come into contact with the rollers while feeding.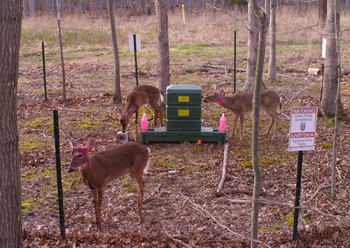 Pesticide Safety Information
Each 4-poster deer treatment station device uses a specially-formulated pesticide, 10% permethrin, to kill ticks on deer.  Although deer treated with permethrin are safe to be handled and the venison safe to be consumed, it is advisable to avoid direct exposure to permethrin.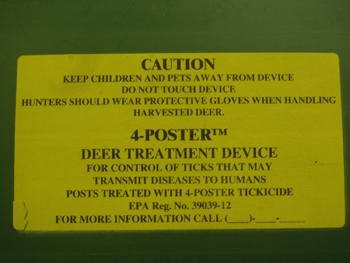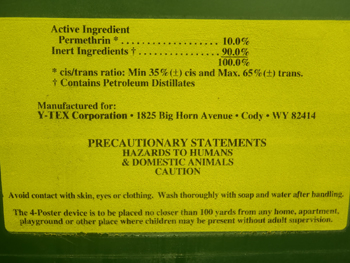 Gloves should be worn at all times if in direct contact with a treated (pink) deer, or other wildlife, during the pilot study.
Permethrin is labeled as "Likely to be Carcinogenic to Humans" and other mammals.
Permethrin is not harmful if applied directly to skin, but is toxic if ingested.
Permethrin is toxic to fish, and 4-poster devices must be placed away from streams, rivers, and other bodies of water.
Permethrin dissipates rapidly if absorbed by plants, soil, and the environment in general. Permethrin use is of little concern for lasting impact on the environment.
More information about this specially formulated pesticide is provided by the U.S. Environmental Protection Agency.
Study Results
The 2016 'Study Report on the Use of 4-Poster Deer Treatment Stations to Control Tick Infestations on White-tailed Deer (Odocoileus virginianus) in Fairfax County, Virginia' has been prepared in two formats:  an Executive Summary report and a detailed Final Report.  Copies of the complete reports are available for download in Portable Document Format (PDF) below.  To request this information in an alternate format, call the Fairfax County Police Department, Animal Services Division – Wildlife Section: (703) 246-6868
TTY 711.