Distribution of fish across the county can vary depending on the biology, tolerance of urbanization and habitat preference of the fish. For instance:
The American eel is a type of fish that lives in fresh water and breeds in the ocean (also known as a catadromous fish) whose distribution in the county is limited by Great Falls on the Potomac River and by the dam at the Occoquan reservoir.
The margined madtom is a small catfish species whose intolerance of urbanization has limited its distribution to parts of the county with less development and to the larger rivers where the effects of urbanization are lessened by the size of the stream.
The eastern mudminnow lives in slow moving streams with muddy bottoms and dense vegetation.
At least 60 different fish species make Fairfax County their home. Some of the species are native to the county, such as the American Eel. Other species are non-native, which means they have been brought into the county from other parts of the country or different countries. The Largemouth Bass is an example of a non-native species brought to Fairfax County for sport fishing.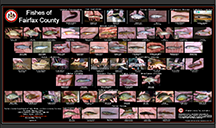 The Fishes of Fairfax County poster is available online for download as a PDF (sized to print 35 inches long by 19.5 inches high). To request a hard copy, please email the Stormwater Planning Division or call 703-324-5500, TTY 711. One copy per household, please.
The fish listed below were collected by the staff of Fairfax County's Stream Quality Assessment Program from 1999 thru 2014. The fish are listed by common and scientific names.