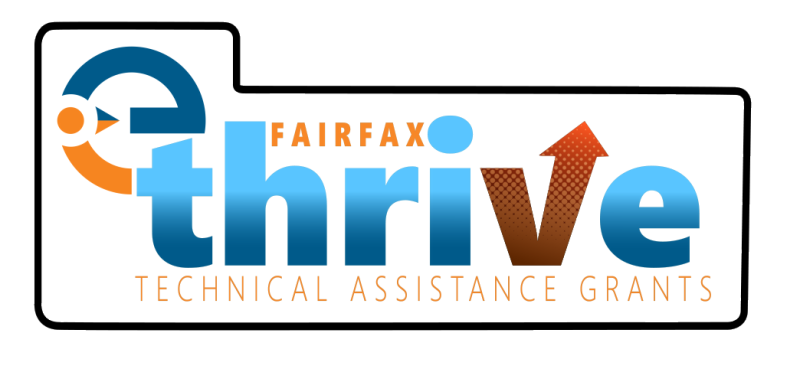 County Seeking Business Coaches and Consultants to Power the Program

[Fairfax County, VA June 12] — Fairfax County, renowned for its commitment to community well-being and progress, announces the launch of its groundbreaking initiative, THRIVE. Designed to empower and sustain local businesses. THRIVE represents the county's continuing commitment to strengthen small businesses and encourage economic growth. 
THRIVE is a technical assistance program dedicated to small business growth. Through this program approximately 600 businesses will receive targeted consulting services valued up to $10,000 to help them achieve unique business goals and continue their post-pandemic recovery. Fairfax County's Board of Supervisors allocated $7,000,000 from Fairfax County's share of the American Rescue Plan Act (ARPA) to fund THRIVE. The Latino Economic Development Center (LEDC) will serve as the program grant administrator. The first phase of THRIVE begins on June 26, 2023, to recruit business Coaches and Consultants via several RFPs to serve as technical advisors to THRIVE businesses. Links to the RFPs can be found on the THRIVE website.
Specifically, the county, through its grant administrator LEDC, is seeking:
Small business Coaches who will serve as eligible applicant case managers and help determine the targeted assistance.
Business Consultants who will provide eligible applicants with up to $10,000 of technical assistance in their area of expertise.
Areas of expertise being sought include:
Hiring and Employee Retention
Marketing and Brand development 
Financial Planning 
Online Sales or wWbsite Creation/Improvement 
Real Estate, including lease negotiation, etc
The second phase of THRIVE, the application period for businesses to receive technical assistance services, will open in mid-fall 2023.
Key Dates
June 26- August 4, 2023: Business Consulting and Business Coaching RFPs open
Early Fall 2023: Business Consultants and Business Coaches Selected
Mid-fall October 2023: THRIVE Program Opens to Small Business Applicants
For more information on the THRIVE program and how to get involved, please visit Fairfax THRIVE!
 Join us in shaping a vibrant future for Fairfax County!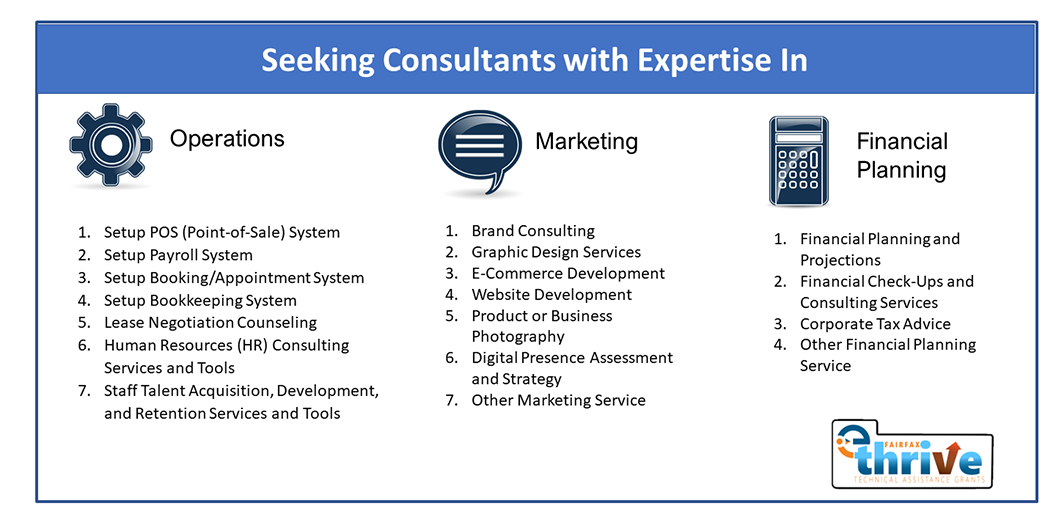 _________________________________________________________________

Fairfax County Department of Economic Initiatives (DEI) is a department of Fairfax County Government dedicated to fostering economic growth and positioning Fairfax County to be an economically competitive and prosperous community. DEI leads programs to cultivate a diverse and thriving local business community, facilitate place-led economic development, and strengthen entrepreneurship and the innovation economy.
Fairfax County, located in the Commonwealth of Virginia, is a dynamic and diverse community known for its exceptional quality of life, robust economy, and commitment to sustainability. Home to a thriving business community, top-rated schools, and abundant recreational opportunities, Fairfax County has consistently been recognized as one of the best places to live and work in the United States. 
Contact Name
Wendy Lemieux
Contact Information
wendy.lemieux@fairfaxcounty,gov
703.424.1805