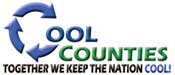 Fairfax County led a national effort for counties to reduce global warming emissions called Cool Counties. The Board of Supervisors signed the Cool Counties Climate Stabilization Declaration on July 16, 2007.
The Cool Counties pledge contains three key elements. It asks local governments to:
Create an inventory of their own "operational" greenhouse gas emissions first, as well as work to reduce these emissions.
Work closely together on a regional basis with local, state and federal governments to reduce the D.C. region's overall greenhouse gas emissions to 80 percent below 2005 levels by 2050.
Urge Congress and the President to enact multi-sector, mandatory, market-based limits and incentives to reduce greenhouse gas emissions and enact within 10 years an average fuel economy standard of at least 35 miles per gallon for cars and light trucks.
For more detail and background on the pledge and what the county agreed to do, read:
Accomplishments
We conducted a baseline inventory of the county, schools, and community's greenhouse gas emissions, as stated in the first element of the pledge. We are continuing to reduce energy use in county operations, as documented in our annual Sustainability Initiatives report.
 
We have been working with the local, state and federal governments through the Metropolitan Washington Council of Governments to create a regional emission inventory and plan to reduce emissions by 2050. The regional plan sets short, mid and long-term emissions reduction targets. Fairfax County cut its per capita emissions by 20 percent,  and the region also reduced its emissions by 10 percent. This means both the county and the region have met its first target.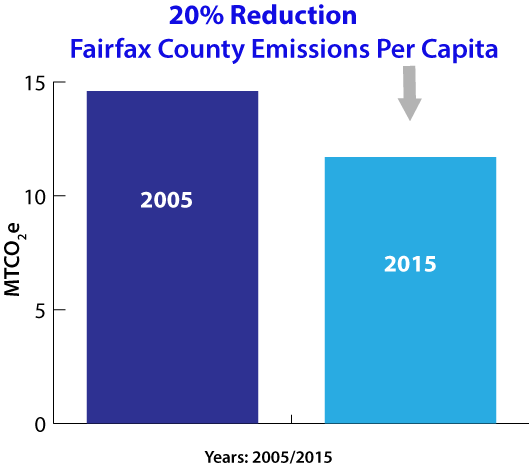 We urged the federal government to adopt a cap-and-trade program to reduce emissions—but this plan was not adopted. We also urged the enactment of a minimum 35 mile per gallon Corporate Average Fuel Economy standard by 2015. The Obama Administration finalized a new 54.5 mpg standard CAFE standard in 2012.
The county government and public schools account for only 3 percent of total greenhouse gas emissions in Fairfax—the other 97 percent are generated by homes and businesses, according to the county's emissions inventory. This means that we must work together to combat global warming, and you can play a critical role.
Just as the county measured its emissions, you can estimate your own carbon footprint to find out how to cut your greenhouse gas emissions.
Get expert advice through our Energy Action Fairfax program. We can help you identify energy experts to help homeowners and neighbors learn about common places where energy is wasted, steps they can take, energy audits and more