(Posted 2021 June)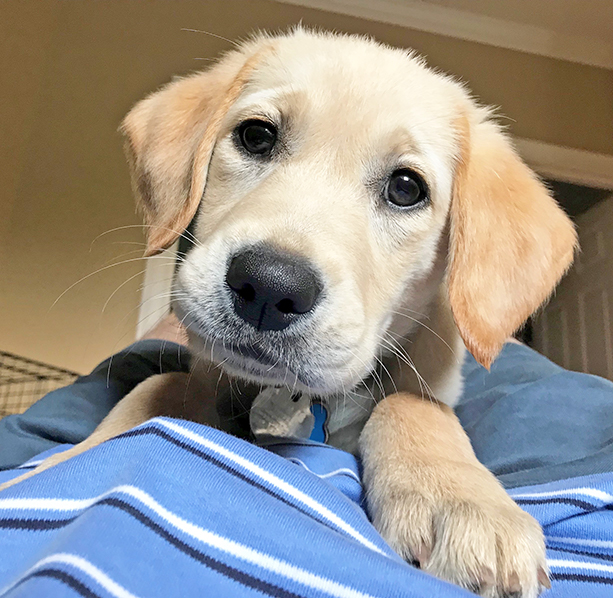 Rylynn, a 2-year-old Labrador Golden Retriever mix, has recently joined the staff of the Fairfax County Department of Family Services. This furry four-legged friend is the first facility dog to be assigned to work within the department's Children, Youth and Families Division. Rylynn was bred and trained by Canine Companions®, a non-profit organization that has been providing highly trained facility dogs for 45 years.
Rylynn will help reduce trauma and decrease the re-victimization of the children and families we serve.
Facility Dogs, like Rylynn, are working dogs who provide support to more than one person in professional settings such as courts, schools or hospitals. Rylynn has been through a two-year intensive training program, in which she learned over 40 commands such as "lap" and "hug," which can help to sooth and encourage children going through a difficult time.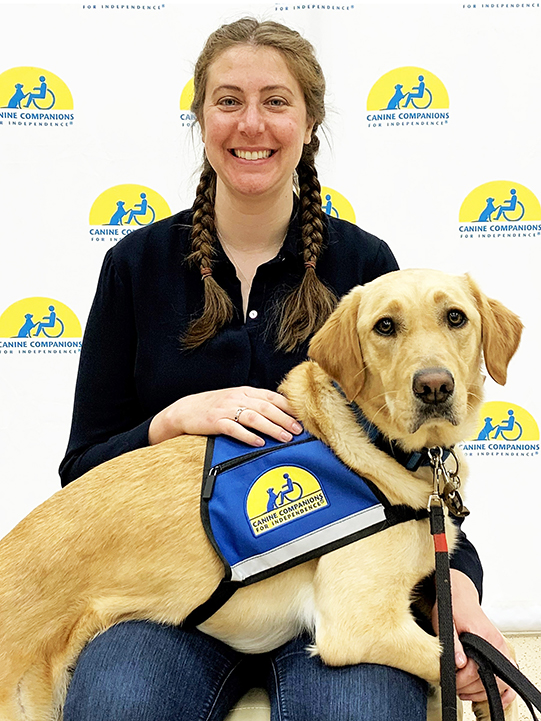 Rylynn was specifically matched as a facility dog team with her handler, Samantha "Sam" Carrico, LCSW in DFS's Child Protective Services Sexual Abuse Unit. Rylynn's two-year program culminated in a two-week, full-time training course with her handler who describes Rylynn as "very affectionate and gentle. She loves people and is great with the children and families we serve."
In Fairfax County/Falls Church in FY2020, Child Protective Services investigated 167 alleged cases of child sexual abuse. Carrico explained, "Rylynn's job is to provide much-needed comfort and emotional support as she accompanies children throughout their experience in working with CPS. Rylynn will support these vulnerable children and their families and help them to heal."
Amazingly, there is no charge for a Canine Companions assistance dog. Everything is funded through donations.
We are grateful to the many local community partners and donors who have generously helped with items Rylynn needs such as dog crates, dog beds, dog bowls, grooming care, preventative medical care, food, dog treats and toys. Thank you for the huge outpouring of support. 
Donations are being coordinated by Volunteer & Partner Services.
Rylynn is already a valuable part of the team in Children, Youth and Families, and staff look forward to her long career.
Learn more about Rylynn and the work she's doing and Like and Follow our Facebook.
---
This posting is part of the Department of Family Services' Community Corner where you'll find timely information about upcoming events, parenting and wellness tips, programs and services, and more! Share these helpful posts with your friends and family. Don't miss out on future postings! Sign up today!
For
media inquiries
, contact Department of Family Services' Public Information Officer
Amy Carlini
by
email
, office phone 703-324-7758 or mobile phone 571-355-6672.
---