(Posted 2021 June, Updated 2022 November)

Meet Our Facility Dog
Rylynn, a Labrador Golden Retriever mix, joined the staff of the Fairfax County Department of Family Services in May 2021. She is the first facility dog to be assigned to work within the department's Children, Youth and Families Division.
Initially brought on to provide emotional support to families throughout a sexual abuse investigation, Rylynn's role has expanded to serve all children and families involved with CYF. She gives her unconditional love and comfort to help reduce trauma and decrease the re-victimization of these vulnerable children and their families.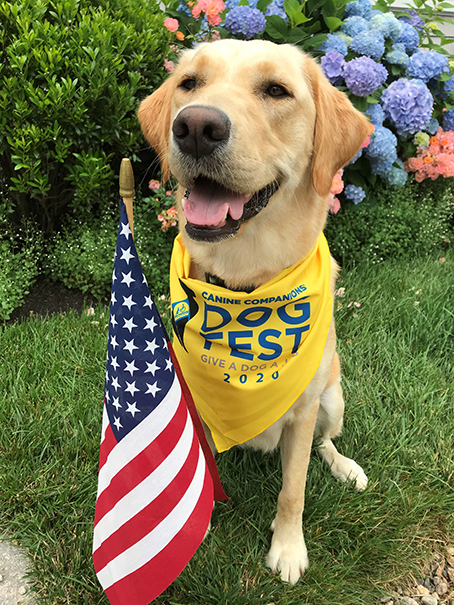 Rylynn's birthday is March 10, 2019. She is super affectionate! She gives kisses on command and wet willies, out of nowhere! She loves people! Bred and trained by Canine Companions®, she is a great match for our program and the families we serve.
Rylynn is part of a certified facility dog team with Samantha "Sam" Carrico, LCSW, who is currently the supervisor of the Volunteer & Partner Services Program.
If you happen to see Rylynn out and about, there are some guidelines you should remember:
Rylynn is required to be properly identified at all times as a working facility dog with a vest.
Rylynn remains with Sam while on property. When she is not providing services, she is in her bed or crate.
Please always ask before you pet Rylynn; she loves to shake hands but it's important to ask first because she's working, and we don't want to distract her. 
Please don't try to call Rylynn over to you and away from her handler.
Assistance dogs do get time to relax and play, but when they are working, they need to be focused and serious about what they are doing. Following these guidelines is greatly appreciated and will help set the team up for success. 
Training and Graduation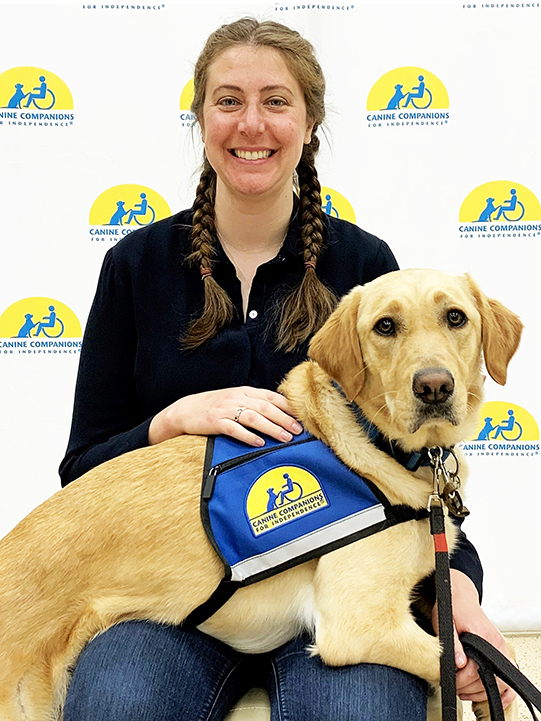 Rylynn was bred and trained by Canine Companions, a non-profit organization that has been providing highly trained facility dogs for 45 years.
Rylynn spent the first 18 months of her life with a Canine Companions' volunteer puppy raiser being trained and socialized in public and private settings. Once she returned to Canine Companions, Rylynn entered professional training for six months, where she learned the advanced commands that support the work of an assistance dog.
In her final two weeks, Rylynn and her handler, Carrico, completed a two-week, full-time training course to be certified through a national standardized practical test before Rylynn graduated as an assistance dog.
Carrico said, "There was a lot to learn throughout my training, which included field trips, classroom lecture and learning how to communicate in the unique way that dogs do. It was life-changing."