About the Volunteer & Partner Services Program
The Volunteer & Partner Services (VPS) Program engages volunteers and builds partnerships to support families with children who are at risk of abuse, neglect or placement in foster care or with relatives. The program builds volunteer capacity in the division, implements programs, and directs activities that promote positive relationships within the community. Together, Volunteer & Partner Services Program and Children, Youth and Families staff, support workers by providing the most efficient, safe and stable service to our clients. We appreciate our volunteers very much! For more information about the Volunteer & Partner Services Program, email Samantha Carrico or call 703-324-7576.
Volunteer Opportunities
This program provides light administrative support in the Alexandria, Annandale, Fairfax and Reston offices of the Department of Family Services.
---
Help provide clothing, food and toys to children and families who are in need during the holidays.
---
Consider being a mentor for children who are experiencing difficult life circumstances, such as the loss of a parent, abuse and/or neglect.
---
This child abuse prevention education program focuses on teaching children the skills needed to stay safe - to prevent sexual abuse, to deal with bullies and how to handle sad or angry feelings.
---
Facilitate parenting classes for fathers who struggle with parenting and engaging with their children. Help fathers develop skills that can lead to better family relationships.
---
This program provides parenting education classes for families. Volunteers can facilitate sessions, provide meals or host classes at your facility.
---
Impact a Child's Life for the Better – Join Volunteer & Partner Services
Make an Impact for Children and Families
In addition to the programs mentioned above, we rely on individuals, businesses, faith-based organizations and community groups to contribute time, talents, donations and funds to help us accomplish this work.
Learn more about how you can make an impact for children and families.
---
The Volunteer Post Newsletter
We have many wonderful volunteers and donors helping children and families in Fairfax County.
The Volunteer Post Newsletter provides a glimpse into the many ways to get involved in making a difference and supporting families in our community. Check out the latest issue!
---
April is Child Abuse Prevention Month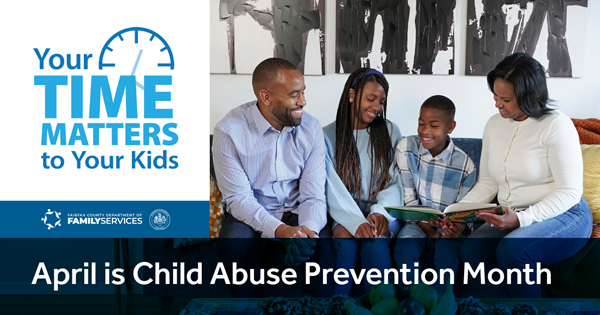 Visit our 2023 Child Abuse Prevention Month website. It's full of community resources and services that help build strong families and keep children safe and healthy. This year's theme for Child Abuse Prevention Month is Your Time Matters to Your Kids. We're encouraging parents and caregivers to make regular time every day for quick activities that bring joy to them and their children. Learn how to raise awareness through planting pinwheel gardens, how to support families and promote an end to child abuse and neglect in our community. 
---
---
Thank You to Our Sponsors

Alan Young Family
Alice's Kids
Barber DME Supply Group LLC
BB&T
Cameo Kitchens, Inc.
Chroma Portraits LLC
Clarence T. Brown and family
Client Solution Architect CSA
Commonwealth Consultants Foundation
Cross Fit
Fairfax Church of Christ
Fairfax County Park Authority
Gerald Kirwin Family
Girl Scouts of America

Grace Presbyterian Church
Harmony Road Music & Art
Information Technology Strategies LLC
Joyce Geater
Korean United Methodist Church
LiveWell
McLean Bible Church
Most Valuable Kids, Inc.
MyProMovers
Namita Magoon
Nema Djavadi
Olive Garden Italian Restaurant - Fair Lakes

Omega Psi Phi Fraternity, Inc
One Umbrella Foundation
Pajama Program
Popeye's Clifton
Sanwaree Robinson
Soteropoulos Family
St. Mary's of Sorrow
Starbucks
Strongmove
Sundance Vacations
TAFFY Presents
The Mighty Movers
TriCrest
Wegmans Food Market Company
Young Rembrandts of Loudoun/Fairfax
For information about how to become one of our sponsors, email Samantha Carrico or call 703-324-7576.