Our leadership is dedicated to ensuring that the Fairfax County Health and Human Services System fulfills its mission to create opportunities for individuals and families to be safe, be healthy, and realize their potential.
 
DEPUTY COUNTY EXECUTIVE TISHA DEEGHAN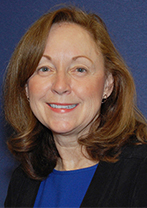 Appointed Fairfax County Deputy County Executive in December 2017, Ms. Deeghan's leadership portfolio includes ten Health and Human Services agencies. In addition to providing strategic direction and guidance to the agencies, she chairs or is the county's liaison for many Boards, Authorities, and Commissions appointed by the Board of Supervisors to include the Human Services Council, Successful Children and Youth Policy Team, and Community Policy and Management Team.
Ms. Deeghan received her Bachelor of Science in Psychology and Master of Social Work from Michigan State University in East Lansing, Michigan.  She received her Master of Health Services Administration/Public Health from the Department of Health Management & Policy, University of Michigan School of Public Health. Ms. Deeghan has worked in the field of mental health and substance use disorder treatment and prevention for 36 years with more than 30 years in leadership roles, including Executive Director of the Fairfax-Falls Church Community Services Board.