Dominion Energy Share program benefits low-income residents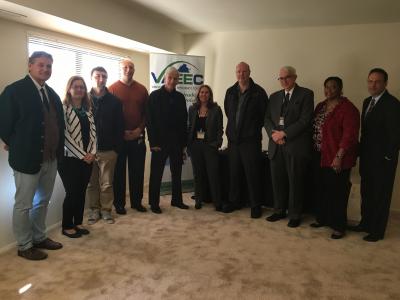 Energy efficiency upgrades that cut costs for low-income Virginia residents were on display today at a tour of an affordable housing complex in northern Virginia. Held in recognition of National Energy Efficiency Month, the walk-through gave state Senator Richard "Dick" Saslaw and other Virginia officials a chance to see, first-hand, the direct benefits of efficiency programs expanded under the recently passed Grid Transformation and Security Act.

"It's not often you can see such concrete, positive results of recent legislation with your own eyes," said Chelsea Harnish, Executive Director of the Virginia Energy Efficiency Council (VAEEC). "But as Senator Saslaw saw today, residents of Rosedale Manor will soon have healthier, more comfortable homes – and lower energy bills."

Rosedale Manor, a 96-unit affordable housing complex owned by the Fairfax County Redevelopment and Housing Authority (FCRHA), is currently undergoing a complete weatherization retrofit, including new attic insulation and installation of efficient LED light bulbs, provided by LEAP (the Local Energy Alliance Program) using funds from the newly expanded Dominion Energy Share Weatherization program.
"We are thrilled to be able to reach more of Virginia's low-income families," said Lesley Crowther Fore, Executive Director of LEAP. "When a family starts saving money on their energy bills, it makes so many other things possible. For some Virginians, saving even a few dollars a month can mean the difference between a bag of healthy groceries or a bare cupboard."

Rosedale is one of many Virginia affordable housing complexes benefiting from the Dominion Energy Share program, expanded under a bill passed in the last legislative session, the Grid Transformation and Security Act (SB966), which went into effect July 1. VAEEC joined LEAP to offer state and local decision-makers a hands-on opportunity to see how their efforts are helping low-income Virginians.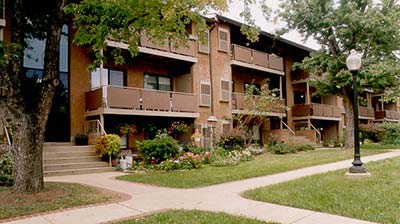 "We are honored to have VAEEC showcase the wonderful work LEAP is doing here at Rosedale Manor to make the community more energy efficient" said Mason District Board Supervisor Penny Gross. "This effort supports the county's commitment to renewable energy and innovative energy technologies."  The Fairfax County Board of Supervisors adopted its first ever Operational Energy Strategy earlier this summer. The strategy aims to reduce energy use in county buildings and facilities by 20 percent per square foot over the next 10 years.

Virginia is the most expensive state in the Southeast and the 11th most expensive in the country for energy costs for renters. While all utility customers share in the cost of energy efficiency programs through their monthly bills and all Virginians save money from reduced statewide energy consumption, utility programs traditionally only reach single-family, owner-occupied homes. Dominion's Energy Share program is one of the few ways for residents of apartments and other multi-family homes to access all the benefits of energy efficiency.

# # #

About VAEEC:
Founded in 2012, the Virginia Energy Efficiency Council is the voice for the energy efficiency industry in the Commonwealth. We are a nonprofit headquartered in Richmond. Our members include Fortune 500 companies, small businesses, universities, nonprofits, local governments, state agencies, and utilities. The Council's goal is to ensure energy efficiency is recognized as an integral part of Virginia's economy.
About LEAP:
Since its inception, LEAP has established itself as a trusted leader in Virginia for home and business energy efficiency and renewables thanks to the relationships we have developed with our customers, contractors, local governments, and many other partners. As a trusted nonprofit, LEAP delivers direct education and services for improved energy performance to address climate change; create cost savings for families and businesses; healthier, safer, and more durable buildings; and local jobs and economic growth.