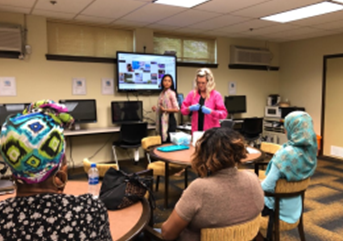 Are you interested in pursuing a career in the healthcare industry? The Avenues to Career Training program (ACT) offers a free 8-week training series to prepare participants to pursue a medical certification program and enter a career field with a strong labor market demand. 
During the 8-week course, students will learn medical terminology, general healthcare knowledge, participate in computer and financial literacy training, and undertake a career exploration project to learn about job opportunities they would like to pursue.
The next course session will run from September 13 through November 5, 2021. Classes will be held weekdays from 1 to 3 p.m.
 
Find out if Avenues to Career Training is the program for you!
Staff will be hosting three Information Sessions via ZOOM throughout the month of August. If you're interested in finding out if ACT is for you, join us at one of the following sessions:
Tuesday, August 10 (1 p.m.)
Tuesday, August 17 (1 p.m.)
Tuesday, August 24 (1 p.m.)
 
Registration is required to attend. You may register by calling 703-704-6101 or by emailing info@FECsoco.org. The Zoom link for each Information Session will be emailed to registered participants 24-hours prior to the beginning of the session.
Print and Share the Information Session Flyer
About Avenues to Career Training
Avenues to Career Training is provided in partnership with Britepaths, the United Way of the National Capital Area, Computer Core, and the Financial Empowerment Center at South County. Course eligibility requirements and commitments include:
Be a Fairfax County Resident
Have intermediate English proficiency
Have the ability to read a textbook (grade 9 reading level)
Have basic computer skills
Have internet access and access to a computer, tablet, or smartphone with camera and microphone.
Be willing to actively participate (camera on) and attend every class on-time
Have a positive attitude