At their October 20 meeting, the commissioners of the Fairfax County Redevelopment and Housing Authority (FCRHA) voted to approve an Interim Agreement with developer, Foulger-Pratt, for the proposed redevelopment of the Bowman Towne Court affordable housing community and the construction of a new facility for the Reston Regional Library.
The proposed project was submitted and reviewed in accordance with the requirements of the Virginia Public-Private Education Facilities and Infrastructure Act of 2002 (PPEA). With the approval of the Interim Agreement, the project enters a new phase of consideration marked by extensive community engagement scheduled to begin this winter.
"In consideration of the Interim Agreement, we received and considered a great deal of feedback from the community," said FCRHA Chairman Melissa McKenna. "We are eager to continue the discussion, as we have with communities across the county in PPEA projects such as this, in order to further explore the opportunity for expanding affordable housing on the FCRHA's property, and deliver well-integrated, high-quality housing in one of the largest activity centers in the county."
The Interim Agreement authorizes Foulger-Pratt to initiate a robust Community Outreach Program and to begin working with the public and Fairfax County staff in addressing a variety of project elements that would be required should the project move forward for rezoning and land use approvals. This agreement is not final approval of the proposed project, but does begin the process of getting community feedback on the concept and potential impacts.

About the Proposed Project: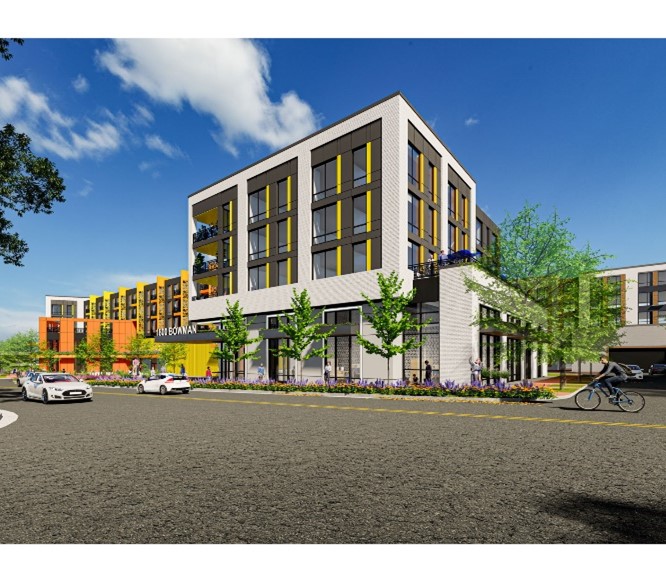 The Foulger-Pratt proposal would include the redevelopment of 30 existing units of affordable housing at Bowman Court and a portion of the North County Governmental Center parking lot with up to 350 units of multifamily affordable housing, a new replacement facility for the Reston Regional Library, and structured parking. The proposal currently includes:
Affordable Housing
Up to 350 affordable multifamily apartments serving households between 30 percent and 70 percent of area median income.
Structured parking
Public space amenities
Landscaping
Library
40,000 square-foot library space
240 spaces of dedicated library parking
Drop-off area for library patrons and book return
 
If ultimately approved, Foulger-Pratt will finance, design, construct, and operate the affordable housing community. Fairfax County would finance, own, and operate the public library.
###
Information about the proposed Bowman Towne Court project can be found online at www.fairfaxcounty.gov/housing/projects. Details regarding additional public engagement opportunities will be published on this site as they become available. Questions about the proposed project can be directed to BowmanTowneCourt@fairfaxcounty.gov.