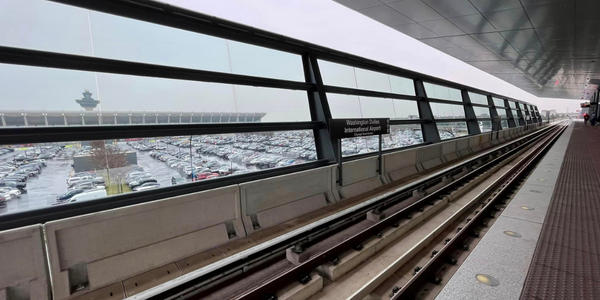 Three new stations now open in Fairfax County, as well as the long-planned connection to Dulles International Airport.
Enhanced bus service has now started in the Reston-Herndon area.
Many pedestrian improvements already completed around new stations; more planned in future.
(Updated Nov. 21)
The second phase of Metro's Silver Line – from Reston through Dulles International Airport and on to Ashburn in Loudoun County – is now open for riders.
A few more scenes from today's great opening day of @wmata's Silver Line extension from Reston to Herndon to Dulles International Airport and beyond. It's a day decades in the making! Doors opening… pic.twitter.com/Hkewx6bnlv

— Fairfax County Government 🇺🇸 (@fairfaxcounty) November 16, 2022
Here's what you need to know about the new segment of service.
Opening Celebrations
Several celebrations occurred Nov. 15 to open the extension. Watch the recap video about events at Dulles International Airport, Innovation Center Station and Reston Town Center Station. 
Watch the full opening celebration program
Three New Metro Stations in Fairfax County
Beyond the current Silver Line stations in Tysons and Wiehle-Reston East, three new stations are now open in Fairfax County:
Reston Town Center Station
12023-A Sunset Hills Road
Kiss & Ride // 40 bike racks, 22 bike lockers
No commuter parking
585-A Herndon Parkway
Kiss & Ride // 162 bike racks, 18 bike lockers
3,500 space parking garages (including electric vehicle charging stations)
Innovation Center Station
13747-A Sunrise Valley Drive
Kiss & Ride // 177 bike racks, 10 bike lockers
2,000 space parking garage (including electric vehicle charging stations)
Dulles International Airport Station
Of course, the new Washington Dulles International Airport Station – long envisioned and planned for decades – will finally connect the airport to the region by rail. The Metro station is a short walk from the baggage claim area via an underground tunnel.
The station also features a Kiss & Ride and airport parking available, but no bike racks or bike lockers.
Last Stop: Ashburn
Loudoun County will be home to two stations – Loudoun Gateway Station and Ashburn Station.
When catching a Silver Line train from points east, including D.C., you'll now hear "Ashburn" as the ending point for all the stations listed above, so look for those trains to be sure you're headed in the right direction.
Enhanced Bus Service
Bus commuters now have more options to get to work, school, Dulles International Airport, and entertainment options around the region. While incorporating connections to the new Silver Line Stations, Fairfax Connector will offer new, convenient bus routes to help transit users get to their destinations.
The changes in the Reston-Herndon area include 19 modified routes, 12 replacement service routes and 4 new routes.
On a related note, Metrobus 5A and Silver Line Express Bus service (operated by the airport) have been discontinued. 
Pedestrians and Bicyclists
We've spent years building up the pedestrian and bicycle infrastructure in the Reston and Herndon areas in preparation for the Silver Line extension. Learn what's been completed so far and what's planned in the months and years ahead:
Plan Your Trip
Use the tools and links below to plan your trip on the Silver Line and elsewhere in the region:
Take a Moment for Safety
New station locations will lead to more people moving to and from these transit hubs. Please take a moment – drivers, pedestrians and bicyclists – to keep each other safe.
Drivers:
Slow down near the new stations and avoid distractions while driving (such as looking at your phone)
Make eye contact with pedestrians and bicyclists
Virginia law requires drivers to stop (not just yield) to pedestrians in marked and unmarked crosswalks until the pedestrian has cleared the lane
Pedestrians:
Don't assume drivers can see you
Use your phone's flashlight when walking in the dark to increase your vision and visibility
If there is no sidewalk yet, walk facing traffic and as far from traffic as possible
------
Photo credits: WMATA