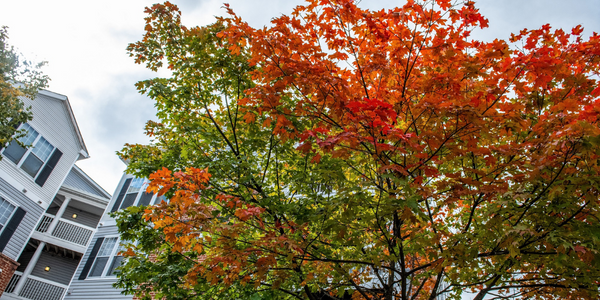 Leaves will soon change colors everywhere. And we do mean everywhere – did you know there are approximately 44 million trees in our county?
Trees are an important part of our community that provide a lot of benefits to us beyond shade on a hot summer day. There's a lot you should know about trees (and why more native trees are needed).
 
Fall Foliage
Autumn is officially here and our estimated 44 million trees will be putting on a spectacular show of colors lasting a few weeks in October (though this year's drought-like conditions may impact some colors). Headliners include the county's most common species: red maple, American beech and the tulip tree.
Check out Visit Fairfax's best locations for leaf peeping, including:
GW Parkway
Burke Lake
Huntley Meadows
Meadowlark Botanical Gardens
Fall colors are popular everywhere, so check out the Virginia Fall Foliage Report to track where colors are changing across the Commonwealth.
4 Fairfax County Tree Facts
Tree cover in Fairfax County is 57 percent.
Trees in the county remove 4.5 tons of pollution each year (valued at $1.8 billion/year).
Our trees produce 232,000 tons of oxygen per year.
Trees in the county provide building energy savings of more than $34 million per year.
Protecting Trees
We each have a role in protecting trees – residents, government, business and the whole community. We want to preserve and expand our tree canopy. Here are a few ways you can help:
Take care of the trees in your yard, including the correct use of mulch (no mulch mountains!).
Remove invasive plants, such as vines, that could harm the health of trees.
Volunteer as a neighborhood tree rescuer.
Have questions about trees? We have an urban forester available to answer questions at 703-324-1770 (TTY 711), Monday through Friday, 8 a.m. to 4:30 p.m.
 
Planting Trees
Fall is the perfect time to plant trees. We encourage you to increase the county's tree cover and consider planting trees (or adding more trees) to your property.
Native trees are the most beneficial for a few reasons:
They are adapted to our local climate.
They provide habitat and nesting sites.
They soak up storm runoff and clean our water.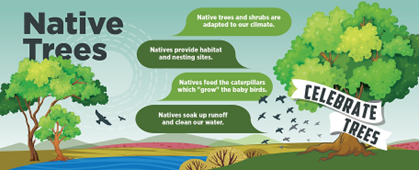 Plant NOVA Trees is a regionwide effort by over 100 local organizations and thousands of individuals to promote native trees and shrubs in Northern Virginia. There are many ways to participate. The simplest is to identify every appropriate site and plant young trees or shrubs there now, preferably canopy trees if there is room. They may not look like much the first couple years, but soon they will grow and provide shade and cooling for humans as well as shelter and food for our birds and butterflies.