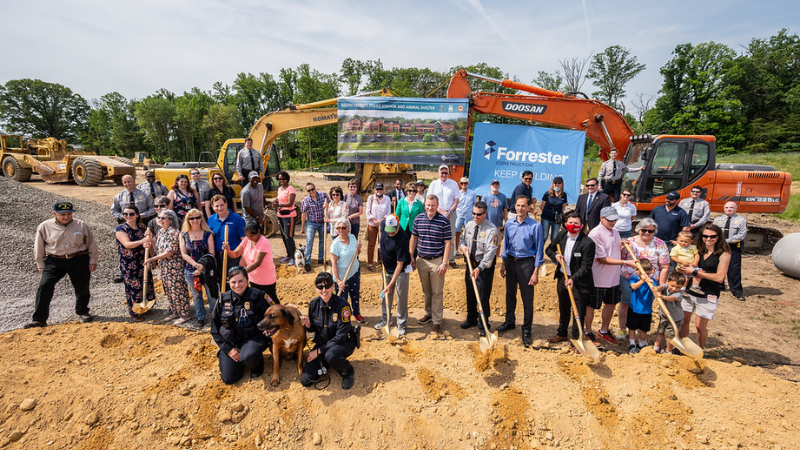 There will be some new uniformed and furry neighbors in South County come 2023.
The community came together on May 22 to break ground on the new South County Police Station and Animal Shelter.
"All corners of the county have to succeed if the county is to succeed, and part of that success is having access to the amenities and opportunities in your own neighborhood," said Board of Supervisors Chairman Jeff McKay during the event. "Certainly, that is true in South County."
Watch a video of highlights from the groundbreaking ceremony:

The additional police station will allow the department to organize smaller patrol areas and decrease response times throughout the county. The site will also be home to the county's second animal shelter, which will be much more convenient for residents who wish to adopt, foster, volunteer or participate in shelter programs.
The facility will be built on the newly widened Lorton Road on a parcel known as the "Triangle" between the intersection of Workhouse and Hooes Roads. The project includes an approximately 31,000-square-foot police station and an approximately 23,000-square-foot animal shelter. The site will also include 20,000 square-feet of outdoor space for the animal shelter, a fuel island to support fleet vehicles and associated parking.
 
A groundbreaking ceremony was held Saturday for the new @FairfaxCountyPD South County Police Station and @fairfaxanimals Animal Shelter in Lorton estimated to open in 2023. Funding was approved by voters in a 2015 bond referendum.
🏗️🚔🐶😻
Learn more: https://t.co/BpKJGVURhn pic.twitter.com/So8zmOLsjN

— Fairfax County Government 😷 🇺🇸 🌸 (@fairfaxcounty) May 24, 2021

Project highlights include a satellite office for the Mount Vernon District Supervisor; a community room; a training and educational rooms; an enhanced veterinary clinic and state-of-the-art shelter facilities; and open space for passive community use and provisional spaces for public art.
The building is also designed with sustainability features, including a bio-retention enhancement and underground stormwater facility; infrastructure for solar panels and electric vehicle charging stations; energy efficient systems and materials that promote indoor air quality; tree protection and preservation measures; and will include native plants and a bird-friendly design.
Voters approved funding for the South County Police Station and Animal Shelter in the 2015 Public Safety Bond Referendum. The new facility is projected to cost $30 million to design and construct with estimated completion in Spring 2023.
Related Information: South County Police Station and Animal Shelter