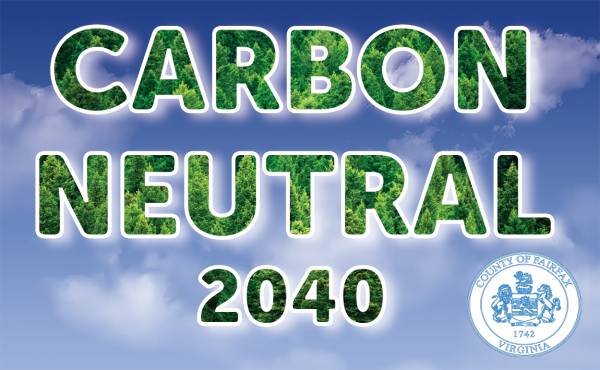 Fairfax County government operations will be carbon neutral by 2040.
The county created and signed a Carbon Neutral Counties Declaration that offers other local governments an opportunity to formally join together to halt climate change.
To achieve its transformational goal, Fairfax County will reduce its carbon emissions, generate green energy and use carbon offsets. The updated Operational Energy Strategy also adopted today lays out the path forward to a carbon neutral future.
Fairfax County committed today to become carbon neutral by 2040 in its energy use for government operations, including buildings, facilities and transportation.
As pledged, the county will remove as much carbon dioxide, methane and nitrous oxide from the atmosphere as emitted from its operations. Carbon dioxide accounts for about 80% of U.S. greenhouse gas emissions while methane and nitrous oxide collectively make up another 17%, according to the EPA.
To achieve this transformative goal, the Board of Supervisors adopted an updated Operational Energy Strategy on Tuesday. In concert, they issued a formal declaration, dubbed "Carbon Neutral Counties," that also encourages other local governments to take action to halt climate change.
To become carbon neutral, the county pledged to meet specific targets to reduce energy use, generate or buy green energy and shift its fleet to non-carbon emitting buses and vehicles. These targets include:
Decrease total energy use from all existing county facilities by 25% by 2030 and 50% by 2040, as compared to the FY 2018 baseline.
Produce 25% of electricity use from renewable energy generation by 2030, and 50% by 2040, using FY 2018 as the baseline.
Achieve net-zero energy standards for all new buildings and major renovation projects greater than 10,000 occupied square feet, beginning planning and design in 2021 and beyond.
Transition Fairfax Connector's diesel buses, along with other county vehicles, to electric or other non-carbon emitting alternatives by 2035. By 2035, 99% of Connector bus fleet miles traveled will be made with non-carbon emitting vehicles.
End the purchase of diesel Fairfax Connector buses after FY2024 unless approved by the Board of Supervisors.
"This commitment to carbon neutrality is a critical step to slow climate change, and it extends our long -standing commitment to reducing our greenhouse gas emissions," said Board of Supervisors Chairman Jeff McKay. "As we confront this existential challenge, we all must act with a true sense of urgency, and this is just one of the steps that the county is taking to meet this global crisis head on."
The carbon neutrality declaration commits signatories to the following three actions:
Being energy carbon neutral by 2040 while significantly reducing operational greenhouse gas emissions in the building and energy, transportation and solid waste sectors.
Urge federal and state lawmakers to provide incentives, requirements or other such measures to meet the carbon neutral goal.
Ensure equitable implementation of the goal so that no communities are disproportionately impacted by the transition to a carbon neutral economy, and all have access to the incentives that may arise.
The declaration was jointly introduced at today's meeting by Mount Vernon District Supervisor Daniel Storck, Mason District Supervisor Penny Gross and Chairman Jeff McKay.
"Climate change is a global concern, but it must be addressed at the local level if we are going to make real progress in reducing greenhouse gas emissions," said Supervisor Daniel Storck. "The Carbon Neutral Counties declaration formalizes our commitment to responsible, sustainable county operations, and encourages other counties to do the same. The power of this declaration lies in its potential to serve as a roadmap for others, to create real forward momentum."
Currently, there is no organized alliance for U.S. counties dedicated to carbon neutrality, although some have independently made their own public pledges. The new declaration creates an opportunity for counties to formally join together in this goal.
Fairfax County's move to carbon neutrality resulted from the work by its Joint Environmental Task Force which was created by the Board of Supervisors and School Board. The group's final report laid out the transformational goal to become carbon neutral by 2040, along with supporting recommendations on energy, transportation, waste management and recycling and workforce development.
The School Board is anticipated to consider these carbon neutrality goals at its July 15 meeting.
"The actions adopted today are additional steps forward in our joint effort with the School Board to reach the goals supported by the community," said Mason District Supervisor Penny Gross who sat on the task force's executive board.
While the task force included two representatives each from the Board of Supervisors and School Board, the majority of the group's 13 members were county residents. It was created to engage the community on how the county and schools can work collaboratively to take on climate change and environmental sustainability.
For more information, visit the Fairfax County Office of Environmental and Energy Coordination.
#  #  #