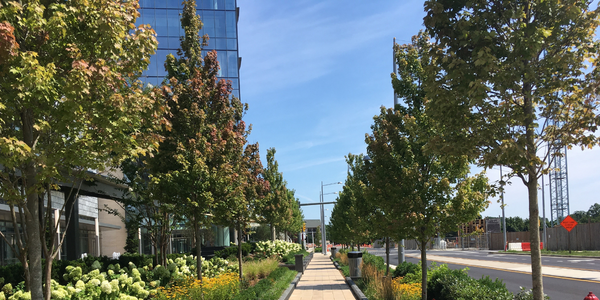 Future developments in Fairfax County's activity centers may see more street trees, after the Board of Supervisors approved a new appendix for the Urban Design Guidelines at its meeting today. The additional guidelines award credit to street trees to help achieve canopy requirements. Previously, street trees were not included in tree canopy calculations.
The activity centers where these changes will apply, include:
Tysons Urban Center
Annandale
Bailey's Crossroads/Seven Corners
Huntington
Lake Anne
Lincolnia
McLean
Merrifield
Reston
Springfield
West Falls Church
Existing regulations expect new developments to achieve a set amount of tree canopy coverage across their site within 10 years of planting. The policy change provides greater flexibility with tree planting standards to account for the variety of existing conditions within county roadways.
Recent Resilient Fairfax data shows that the county's activity centers have higher temperatures than other parts of the county. In the county's activity centers, there is a higher propensity for walking and transit use and fewer residents owning vehicles. Increasing the number of trees in these areas is intended to create more equitable, sustainable communities while also improving property values and neighborhood appeal.
The new standards reflect extensive community engagement over a six-month period with input from the development community, county staff, senior county leadership, the Planning Commission's Environmental Committee, the Tree Commission and the Environmental Quality Advisory Council.
The new appendix is available online; learn more about the county's Urban Design Guidelines by visiting the website. Contact 703-324-9300 or revitalization@fairfaxcounty.gov with questions.