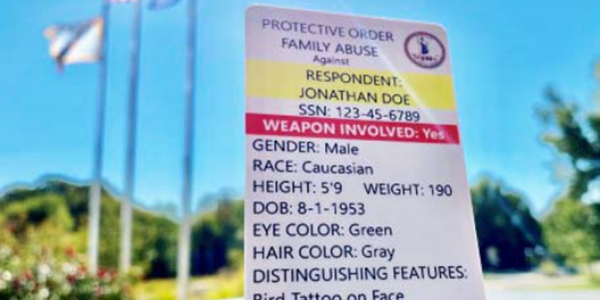 Fairfax County has joined more than five dozen jurisdictions in Virginia in offering the Hope Card program — a way to enforce a civil protective order and a handy resource for victims of family abuse.
What Is the Hope Card?
A Hope Card is an easy to read and carry laminated, wallet-sized card that contains all the essential information of an existing, permanent civil protection order.
Though not a substitute for protective orders, a Hope Card lets law enforcement know there is a valid, permanent protection order in place. In case of a potential violation of an order, a law enforcement officer can refer to the Hope Card for more information.
The card includes relevant information, including identifying characteristics of the person being ordered to stay away (name, sex, race, eye and hair color, height, weight, and any distinguishing features like scars or tattoos), as well as information about the person and any children protected by the order.
Hope Cards were created in Montana in 2004 and have been in use in Virginia since 2016. They are a new resource in Fairfax County for victims of family violence, intimate partner violence, stalking or sexual assault.
Why Get a Hope Card
The Hope Card can reduce the time on scene for officers responding to incidents of protection order violations, allow officers to verify if there is a valid protective order in place and provide a sense of security to victims. It also helps keep officers safe by informing law enforcement about weapons involved in the incident resulting in a protective order. The Hope Card can also make it easier for carriers to disclose information about their situation.
"The HOPE card helps eliminate the burden of carrying around a lengthy protection order which can be cumbersome, unsafe and embarrassing for victims/survivors," says Angela Yeboah, Advocacy Services program manager in the Domestic Violence Action Center. "With the HOPE card, victims and survivors can provide critical information about their protection order to law enforcement in a discrete manner."

 
How to Get Your Card
For more information about the Hope Card or to find out how to obtain one, contact:
More Information
Information about obtaining a protective order in Fairfax County can be found here.
Learn more about the services and resources Domestic and Sexual Violence Services provides by calling its 24-hour hotline at 703-360-7273.