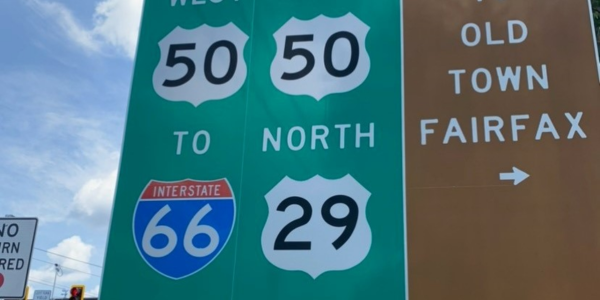 Lee Highway (Route 29) and Lee Jackson Memorial Highway (Route 50) names will change to their route numbers 29 and 50 in Fairfax County on July 5.
The county is committed to creating an inclusive and welcoming community for all residents and visitors, and the renaming of these highways is a significant step towards achieving that goal. The Board of Supervisors recognize that the current names of the highways no longer align with the county's values. The decision to change the highway names was made after careful consideration and input from community members and business owners.
"The renaming of both roadways signifies our unwavering dedication to acknowledging the experiences of our community, especially our African American neighbors. Thanks to the dedicated work of all the community members who participated in the Confederate Names Task Force, we can put these divisive names behind us and continue to move our County in the right direction," said Board of Supervisors Chairman Jeffrey C. McKay.
Name Change Impacts
Residents and business owners on Route 29 and Route 50 will need to update their address records. The address change will occur automatically on July 5, for county-related records, including Fairfax Water, property tax and voter registration. Below are the typical items that need to be updated when an address or street name is changed (this list is not intended to be all inclusive):
Driver's license, information with utility companies, postal service and any additional entities that provide material goods and services.
Business owners will have to update all local and state business licenses, procurements with retail and/or wholesale companies, advertisement listings, mapping and other goods and/or services associated with business operations.
All property owners may also wish to consider and would be responsible for updating all legal documents that contain the address. This would include but would not be limited to land records, financial documents for mortgages, leases, loans, trusts and wills, as appropriate.
Grant Program
The county is developing a grant program to provide financial assistance to those impacted by the name change. If approved by the Board of Supervisors, the program will provide grants to assist with the costs associated with updating marketing materials, signage and other expenses related to the name change.
The county will pay all the costs associated with updating Virginia Department of Transportation signage along both highways.
For more information about the highway name change, visit the Confederate Names in Fairfax County webpage.