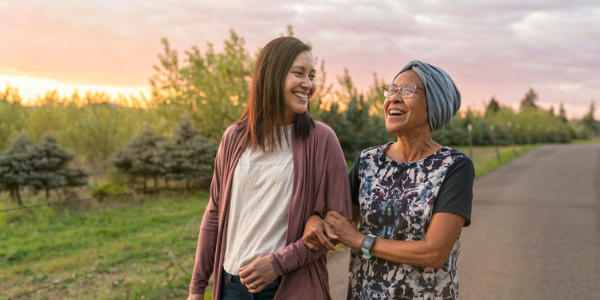 During May, Fairfax County joins the national movement to raise awareness about mental health, fight stigma, educate the public and provide support for individuals and families struggling with mental health issues. According to the National Alliance on Mental Illness (NAMI), nearly one in five people experience a mental health concern each year. If you or someone you know is struggling with a mental health issue, you are not alone. 
Recently, the Virginia Department of Health launched a new epidemiology report on self-harm and suicide among Virginia youth aged 9-18 years, from 2015-2021. Key findings from this report include:
Self-harm emergency department (ED) visits and nonfatal self-harm hospitalizations are increasing, however there was no comparable increase in suicides among youth 9-18 years in Virginia noted.
Most persons with self-harm ED visits (68%) and nonfatal self-harm hospitalizations (74%) among Virginia youth were female. However, most deaths (71%) by suicide were among males.
More than nine out of 10 nonfatal self-harm hospitalizations among youth were due to drug poisonings, compared to 7% of all youth suicides. Guns were the most common cause of youth suicide (51%).
Knowing signs and symptoms of mental or emotional crisis, and accessing quality treatment and care, are critical to preventing suicide in Fairfax County. The tips and resources below can help.
Mental Health Matters
Throughout the month of May, we will feature videos from subject matter experts on a variety of mental health topics including mental health and substance use, suicide prevention, services available through the Fairfax-Falls Church Community Services Board (CSB) and more to encourage our community to prioritize their mental health and remind ourselves that there is no health without mental health. These videos are available through the Fairfax County Health Department's Facebook Page.
Help is Available 
In a mental health or substance use emergency, help is just a phone call away. Call 703-573-5679, TTY 711.
For non-emergency CSB services, call our Entry & Referral Services during normal business hours, Monday through Thursday, 9 a.m. to 3 p.m., and Friday 10:30 a.m. to 3 p.m., at 703-383-8500, TTY 711. Staff can take calls in English and Spanish and can access interpreters for other languages when needed.
Learn more about accessing quality care for children and youth on the Healthy Minds Fairfax website.
Resources
CSB also offers in-person and online training courses and tools to all residents of Fairfax County and the cities of Falls Church and Fairfax:
Free, confidential online mental health screenings are also offered by the CSB. Completing these anonymous screenings will help determine if recent thoughts or behaviors may be associated with a common, treatable mental health issue. Remember that promoting positive mental health and creating good habits to support our mental health takes practice and awareness. Together we can help shine a light on mental health and eliminate stigma surrounding mental health issues.
Tell Us How We Can Improve
Healthy Minds Fairfax is seeking community input to inform our plan to make it easier for families in Fairfax County to get the mental health supports and services their children need. Take a minute to provide your input in these ways by May 13.
Take this three-minute survey.
Send a text to or leave a voicemail at 703-249-9402 with your response to: If there is ONE thing you would add/change to your school/neighborhood/community so fewer kids struggle with mental health or use drugs/alcohol, what would it be & why?
The Virginia Young Adults Survey (YAS) is a statewide survey that will collect data at a local level.  Obtaining local data will support prevention planning to help meet local needs and target strategies accordingly. The YAS is anonymous and will be open until May 30. To access the survey, text Virginia to 855-632-2201. If you have questions or concerns about YAS, email YAS@omni.org.