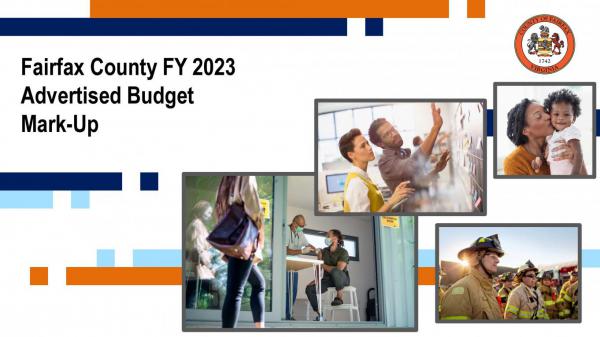 Real Estate Tax Rate reduced from $1.14 to $1.11 per $100 of assessed value.
 
FY 2023 Budget allocates $44.7 million for Affordable Housing, including $10 million added in mark-up.
 
Pay step added for uniformed public safety employees to address retention, recruitment, compression.
UPDATE: On Tuesday, May 10, the Board of Supervisors adopted the FY 2023 Budget, which incorporates changes reflected in the approved mark-up package outlined below.  The Board also set the FY 2023 Real Estate Tax Rate at $1.11, a three-cent reduction from FY 2022.
Relief for taxpayers, an additional step for uniformed public safety employees, and increased funding for affordable housing, parks, the arts and economic initiatives are among the changes in the FY 2023 Budget mark-up package approved by the Board of Supervisors on Tuesday, April 26. The board will adopt the budget on Tuesday, May 10.
The board used a $96.42 million balance, including $17,159,457 identified since the FY 2023 Advertised Budget was released (from updated revenue projections) to fund a three-cent tax rate reduction and additional adjustments as part of mark-up.
"I'm proud of what we were able to achieve with this budget. This was a year of balance. We know our residents are suffering from the strain of soaring property value increases and staggering inflation, and we also know how vital our excellent services are in the county. Thanks to the tremendous feedback from so many of our residents, I was proud to put forward a responsible budget that tackles so many important issues," said Fairfax County Board of Supervisors Chairman Jeffrey C. McKay. "We have successfully balanced the urgency to provide real estate tax relief, which includes a three-cent reduction in the proposed tax rate, with the need to maintain, and in some cases expand, the funding for programs and services that our community members rely upon. We also fully funded the schools request, added millions for affordable housing, boosted funding for our parks, and increased the compensation package for our deserving county employees, including our brave public safety officers."
Tax Relief
In total, more than $199 million in revenue reductions or "unrecognized" revenue are included in the budget to support tax relief, including the new $1.11 tax rate. The change results in a revenue decrease of more than $88 million. With the rate reduction offset by rising property value assessments, the average tax bill will increase by $465 or 6.7 percent over last year.
Additional tax relief measures by the board include assessing vehicles at 85% of market value. This change to personal property or "car" tax assessments will save taxpayers a total of almost $98 million. High consumer demand for new and used cars, and low supply due to the pandemic, have driven vehicle values up on average by 33% since Jan. 1.
To help businesses like craft breweries and other small-scale producers, the board also cut the Machinery and Tools Tax by more than half, and recommended accelerating the depreciation on tools and equipment for the first time since 2004. The rate was slashed from $4.57 to $2 per $100 of assessed value, for a total of $1 million in tax relief.
The board also recently expanded the tax relief program for seniors and people with disabilities, including increasing income and asset limits, which is estimated to make an additional 2,000 residents eligible for the program.
Affordable Housing
In keeping with their doubled goal of 10,000 net new affordable housing units by 2034, the board has committed additional funding including a $2 million balance from the FY 2022 Third Quarter Review and an additional $10 million on top of the $5 million increase included in the FY 2023 Advertised Budget. This increased investment was possible through collaboration with the Fairfax County Public Schools on this joint priority. The FY 2023 budget allocates $44.7 million in total for this goal, including $29.7 million in baseline county funds and $15 million allocated from federal American Rescue Plan Act funds.
Parks
In addition to feedback on the need for tax relief, many residents testified during the budget public hearings about the importance of the county's parks system. The board has provided significant resources for the Fairfax County Park Authority, and the mark-up package includes an additional $751,954 for new positions and other support for natural resources sustainability efforts. In their budget guidance, the board has also directed staff to work closely with FCPA to develop a 2026 referendum that meets the parks system's needs and fits within overall county limitations. The budget guidance also provides direction on the use of a $500,000 allocation from the Advertised Budget package for a pilot equity program. Extensive community outreach and consultative support will be utilized to develop and implement the pilot.
Public Safety
To address retention, recruitment and compression issues felt significantly across uniformed public safety positions, the mark-up package includes an additional $6,103,382 to advance eligible uniformed employees one additional step on their respective pay plans. The adjustment almost exclusively benefits employees at the first two steps on their pay plans. In total, eligible public safety employees who also qualify for an FY 2023 step or longevity increase will see total increases of up to 14.01% in FY 2023.
Additional Funding
The mark-up package also includes $825,000 for contract rate increases for direct service providers in health and human services, representing a 50% increase from the increase included in the Advertised Budget. This adjustment will help to address the concerns raised by non-profits during budget testimony regarding rising personnel and operating costs.
Also in the approved package is $250,000 for ArtsFairfax to supplement the organization's existing grant program and assist arts organizations that have been impacted by the pandemic. Budget guidance urges the organization to focus outreach efforts to include organizations that have been historically underrepresented.
The package also provides an additional $180,000 and one new position for the Department of Economic Initiatives to develop a platform to assist small businesses in navigating available resources to help them succeed.
For more information visit the Department of Management and Budget.