Project News and Updates
Community Meeting Held February 23; Public Comments Due March 9, 2017
Fairfax County Department of Transportation hosted a community meeting to discuss proposed bike lanes on Braeburn Drive on Thursday, Feb. 23, 6:30 to 8 p.m., in the cafeteria of Little Run Elementary School, 4511 Olley Lane, Fairfax. Representatives from FCDOT and VDOT presented plans for the project, which includes sharrows/shared lane marking, bike lanes, pedestrian improvements and overall safety.
The public is invited to comment on the project by using the comment form on this page, writing the FCDOT Bicycle Program at 4050 Legato Road, Suite 4050, Fairfax, VA 22033; or calling 703-877-5600 by Thursday, March 9, 2017.
Project Background
As part of the Virginia Department of Transportation's (VDOT) summer road repaving program, there are several bicycle projects proposed for Fairfax County. This Braddock District project is planned for Braeburn Drive from Guinea Road to Olley Lane. Click on the image to enlarge.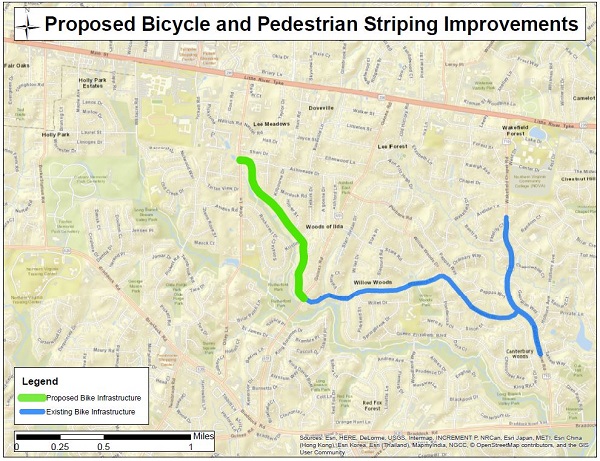 FCDOT ensures nondiscrimination in all programs and activities in accordance with Title VI of the Civil Rights Act of 1964 and the Americans with Disabilities Act (ADA). If you need this information in an alternate format or would like to request reasonable accommodations for persons with disabilities or limited English proficiency, contact FCDOT at 703-877-5600, TTY 711. Requests for assistance must be received at least 7 business days in advance of an event.