Project News and Updates
Community Meeting Held Jan. 31; Public Comments Due Feb. 17, 2017
The Fairfax County Department of Transportation held a community meeting on Tuesday, Jan. 31, 6:30 - 8 p.m., at the Mason District Governmental Center, 6507 Columbia Pike, Annandale, to present information regarding proposed pedestrian and bicycle enhancements that can be implemented with road repaving this year. The purpose of the meeting was to gather input on various proposals to improve traffic safety, bicycling and the pedestrian environment in Annandale.
To provide feedback on this project, please use the comment form on this page; send mail to FCDOT Bicycle Programs, 4050 Legato Road, Suite 500, Fairfax, VA 22033; or call 703-877-5600.
Project Background
As part of the Virginia Department of Transportation's (VDOT) 2017 repaving schedule, two areas in Mason District currently are under review:
Hummer Road from Annandale Road to Little River Turnpike

Sleepy Hollow Road from Columbia Pike to Bay Tree Lane
The proposed improvements are limited to changes that can be made with roadway striping as part of the repaving process. Proposed improvements include: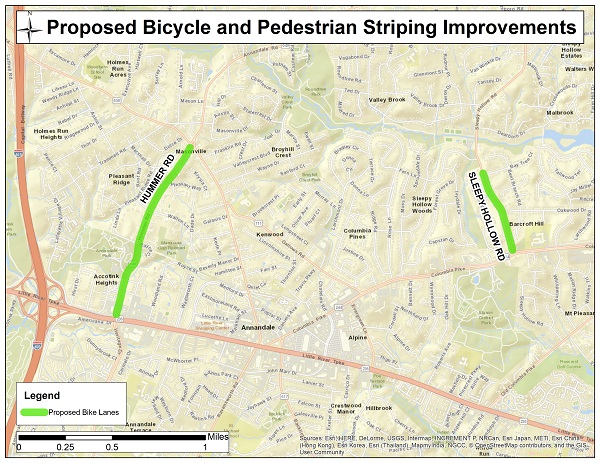 This work would add to the already-existing bike network in Mason District: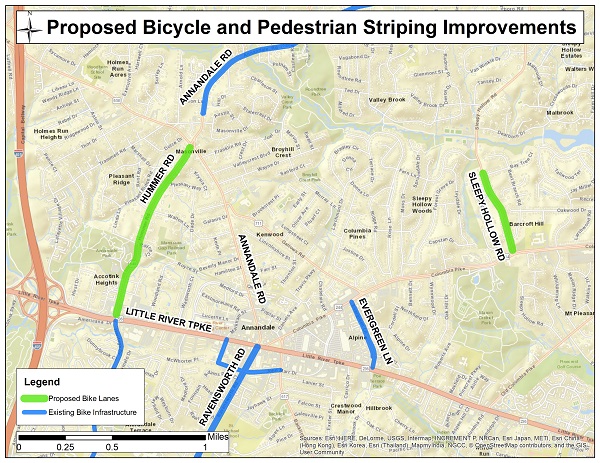 FCDOT ensures nondiscrimination in all programs and activities in accordance with Title VI of the Civil Rights Act of 1964 and the Americans with Disabilities Act (ADA). If you need this information in an alternate format or would like to request reasonable accommodations for persons with disabilities or limited English proficiency, contact FCDOT at 703-877-5600, TTY 711. Requests for assistance must be received at least 7 business days in advance of an event.