#007_18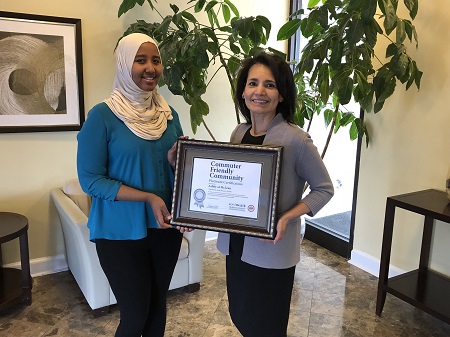 Last month, the Fairfax County Department of Transportation Commuter Services Program presented The Ashby at McLean with a Commuter Friendly Community honor at the Platinum Level. The apartment complex was recognized for its numerous services in helping commuters connect with transportation options from their apartments.
While The Ashby lists bike racks and public transportation as a community amenity, the property also earns its Community Friendly designation by providing real-time bus and weather information on a digital transit display. In addition, The Ashby encourages alternative transportation and promotes ride matching and the Guaranteed Ride Home program to its residents.
"We often think of the places that we commute to when getting to work, but encouraging smarter commuting from an employee's home is the goal of our Commuter Friendly Communities program," says Walter Daniel, head of Fairfax County's Commuter Services Program. "With more transportation infrastructure coming to the county like Silver Line and I-66 improvements, the Commuter Friendly designation is one more way that our residents know about the transportation alternatives that are available to them."
The Ashby, located at 1350 Beverly Road, McLean, joins four other Fairfax County properties as a Platinum Honoree in the Commuter Friendly Community program. For more information, contact Nicholas Robb at 703-877-5707.
### 
Contact Name
Robin Geiger