This week, the Fairfax County Department of Transportation installed new signs designating the honorary Valluvar Way on Brentwall Drive in Chantilly.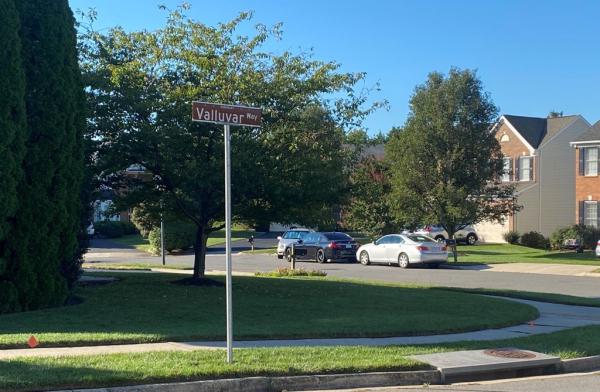 A thriving Tamil community of over 50,000 residents in Virginia, including 10,000 residents in Fairfax County, celebrates the Tamil poet, ThiruValluvar, also known as Valluvar, a respected poet and philosopher. He is best known as the author of the Tirukkural, a collection of work on ethics, political and economic matters. Several members of the Tamil community contacted Fairfax County to request that a street within the county be named Valluvar Way in honor of the distinguished poet. 
"I was pleased to work with the Tamil community and Virginia Delegates David Bulova and Dan Helmer to designate a street in the Sully District, Valluvar Way," said Sully District Supervisor Kathy Smith.
The Fairfax County Board of Supervisors approved a resolution for the designation on February 8, 2022, while related legislation passed the General Assembly in February and was signed into law on April 11, 2022.