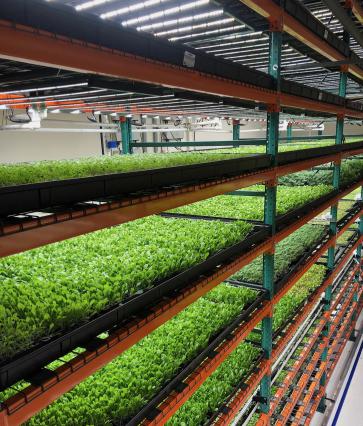 Governor Northam and Fairfax County announced today that the agtech company, Beanstalk, is receiving a $100,000 grant from the Governor's Agriculture and Forestry Industries Development Fund, and Fairfax County will contribute $100,000 as a local match to expand its innovative vertical farming company. Beanstalk will invest over $2 million and create 29 new jobs as it moves its headquarters to a former data center in Herndon.

"I am pleased to support a project that brings together Virginia's oldest and largest industry, agriculture, with one of our newest and fastest growing sectors, technology," said Governor Northam.  "Innovative entrepreneurs like Mike and Jack Ross are demonstrating how STEM fields can bring together exciting, new growing techniques cultivated from advancements in biology and technology.  

Beanstalk uses proprietary hydroponic technology and heirloom seeds to produce leafy greens, herbs and vegetables, which it currently sells to Harris Teeter and also sells via a storefront in its current location. In addition to growing crops in the new location, the new facility will house a larger storefront; a retail presence; space for research and development; and will offer spectators tours and a glimpse of the growing process through a large picture window into the farm. Their headquarters will also breathe new life into an empty space in the heart of Herndon. Beanstalk is also a member of the Made in Fairfax network, which connects local small production manufacturers to networking groups, marketing opportunities and potential customers.

"We are always looking for innovative investments to move our economy forward in Fairfax County. Beanstalk's new facility will not only bring new jobs to the community, but it also is a creative solution to using advancements in technology to increase access to fresh food options," said Fairfax County Board Chairman Jeffrey C. McKay.
For Fairfax County, investing in technology companies like Beanstalk reinforces the role of technology to  address community needs, in this case the need for healthy foods. By making strategic  investments in emerging industries the county can find and test solutions that can make a difference in the lives of county residents.  This also parallels the county's commitment to sustainability. As a local company Beanstalk supports the regional food chain with eco-friendly produce.  The firm produces its goods using 95% less water, 99% less food miles and lower CO2 emissions, when compared to processed foods. Finally, the county seeks to cultivate more agtech businesses as part of its strategic plan to grow and diversify the economy. Agriculture is a major employer and economic driver. The industry is responsible for 6,021 jobs in Fairfax County, and it produces $780 million in economic impact, according to a University of Virginia study.  And Fairfax County is a leader in tech, with 8,900 technology-focused enterprises and growing. Agtech is the intersection of these two industries and a strategically poised to expand.  
"We are thrilled to support the expansion of Beanstalk, an innovative technology company committed to very high standards of sustainability. Beanstalk's expansion is an example of how ground-breaking companies are recognizing our very talented work force and the potential opportunities for productive collaboration," noted Dranesville District Supervisor John W. Foust.
Beanstalk's founders are brothers Mike and Jack Ross who co-founded the company from their apartments in Charlottesville in 2017. Jack, a computer engineer from University of Virginia, and Mike, an Aerospace Engineer from Georgia Tech, used their engineering knowledge and skills to invent hardware, software, and robotic technology that to grow pesticide-free heirloom produce year-round. 
While the brothers lived in Charlottesville, the local restauranters' emphasis on produce and healthy food changed their diets and brought to light the need for better produce. So, they set about building technology that would create farms that were sustainable, produced nutritious food, and made better use of water and land. In addition, as crops are grown closer to the consumer, Beanstalk allows for a shorter distribution chain which preserves the nutrients in food sold. After winning an entrepreneur competition at UVA, they went on to participate in Y Combinator in Silicon Valley, the accelerator behind companies like Airbnb and Stripe, before returning to their mid-Atlantic roots to expand Beanstalk. 
"The Town of Herndon is thrilled to welcome Jack and Mike Ross' Beanstalk Farms to our community," said Mayor Sheila Olem. "Theirs is exactly the kind of innovative, jobs-producing business we are looking to attract to our town's commercial sector, and we applaud their application of technology toward provision of healthy, locally-grown produce."
The move to Herndon is expected to be completed in the fall. Beanstalk is equipping the space with the growing towers, processing rooms, environmental controls, harvesting machines, and packaging systems necessary for production. In the meantime, they expect to launch their first food truck, operated by Chef Daniel Penningroth, that will serve their produce in healthy salads to people all over Fairfax County. 
As their business grows, they continue to keep engineering at the forefront and are building new robotics to grow more crops – which creates the question: Are they a technology company who grows food or farmers who creates technology? Regardless Jack and Mike Ross are setting a course for all of Fairfax to have healthy, nutritious food only a short walk away. 
 
Contact Name
Wendy Lemieux
Contact Information
Department of Economic Initiatives
703.324.5194
Wendy.Lemieux@fairfaxcounty.gov