(Posted 2023 May)
Stalking's Devastating Impact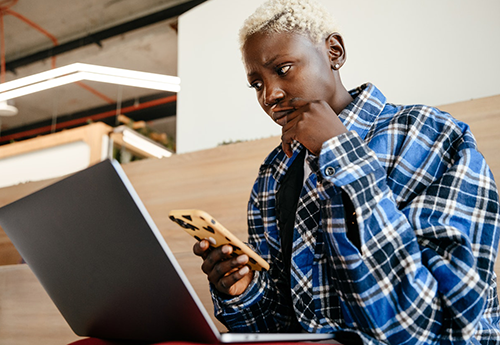 Stalking, repeated unwanted contact that causes fear, is a crime. Most of the time, stalkers use unwanted text messages, phone calls, social media posts, and emails as their weapons of choice. Sometimes they send unsolicited gifts or threatening items (i.e., dead animals, wilted flowers, or bullets). Stalkers also might loiter near a victim's house or workplace, spy on them, follow them, or accost them in public. This behavior can go on for years, with potentially devastating effects. 
Of course, stalking's impact on a victim can vary. Circumstances, past experience, and how the stalking is handled by authorities can influence the overall effect stalking has on its victim. Despite the complexities that may vary a person's reaction to being stalked, research shows common patterns of response. Although women tend to report greater levels of fear, studies have found male victims experience similar symptoms.
The list below is not exhaustive but highlights some of the more common effects stalking victims experience:
Physical Health
Fatigue from being constantly on guard
Sleeplessness
Chronic stress
Headaches
High blood pressure
Digestive problems 
Development of or worsening of pre-existing conditions (i.e., asthma, psoriasis, or ulcers)
Dizziness, shortness of breath, heart palpitations, sweating
Impact on health of increased use of alcohol, cigarettes, or drugs
Sexual dysfunction
Injuries
Emotional Well-Being
Apprehension, fear, terror of being alone or that they, other people, or pets will be harmed 
Denial, confusion, self-doubt
Guilt, embarrassment, self-blame
Feeling isolated and helpless 
Depression
Anxiety, panic attacks
Difficulty concentrating, forgetfulness
Irritability, anger
Insecurity and inability to trust others, problems with intimacy
Symptoms of Post-Traumatic Stress Disorder (i.e., hypervigilance, flashbacks, or easily startled)
Personality changes due to becoming more suspicious, introverted, or aggressive
Self-medication through alcohol or drugs, including prescribed medications
Suicidal thoughts or suicide attempts
 The longer the duration of stalking, the more significant the mental health impact.
Work, School, or Social Life
Deteriorating performance
Increased sick leave
Being fired
Dropping out of school 
Avoiding usual activities (i.e., going to dinner with friends or a morning run)
Having to move or change a phone number
If you or someone you know has experienced stalking, call the Domestic and Sexual Violence 24-Hour Hotline at 703-360-7273 for support.
---
This posting is part of the Department of Family Services' Community Corner where you'll find timely information about upcoming events, parenting and wellness tips, programs and services, and more! Share these helpful posts with your friends and family. Don't miss out on future postings! Sign up today!
For
media inquiries
, contact Department of Family Services' Public Information Officer
Amy Carlini
by
email
, office phone 703-324-7758 or mobile phone 571-355-6672.
---