(Updated 2022 May)
Millions of women around the world suffer unspeakably brutal forms of sexual and gender-based violence. Much of this happens in regions of the world where there is armed conflict, and sexual violence is the weapon of choice, used to inflict terror and silence opponents.
Creating a world free of gender-based violence is of the utmost importance to the Department of Family Services' Division of Domestic and Sexual Violence Services (DSVS). In fact, it's sewn into the fabric of the division's mission, which states, "Everyone has a right to live free of violence." But the folks on the counseling team still spend their days in therapy sessions with traumatized survivors.
To provide compassionate interventions in the meantime, they've created Story Cloth Groups.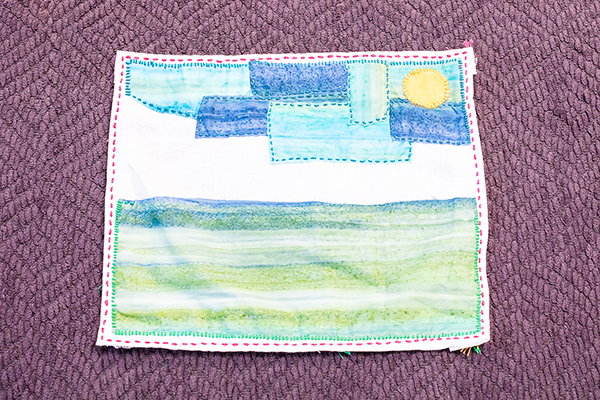 According to Kathryn Harlow, sexual violence counselor in DSVS, story cloths are as simple as the name suggests: They are hand sewn visual narratives depicting someone's trauma story or their journey to healing.
"There are some stories that are just too scary to tell," Harlow said. "The way trauma imprints in the body, in the brain, is not with a beginning, a middle and an end that's well organized. It might be sights, sound, touch, flashes of memory, and we need another way to process the story besides vocally. Visual mediums give an alternative way. It's a different way to tell those stories, to feel seen, to feel heard."
Of course, group therapy is not new to the county.
"We've always reached a certain part of the population with our groups," said Chris Davis, Counseling Services supervisor. "There are groups in the county in English and in Spanish that have been operating for years, and which mostly focus on a combination of psychoeducation and support [talk therapy]. In a county this big, clearly many people could benefit from a group. But for a lot of people, talk therapy is not that culturally relevant."
Story cloths, which have a deep connection to a culture, have been telling survivors' stories for centuries. One such story comes from Chile while the citizens of the country were living under the dictatorship of Augusto Pinochet. "There wasn't really a space for people to speak out against the government," Harlow said. "Women didn't have as many rights. They would send in food rations in potato sacks. The women would use the potato sacks and pieces of old clothing to sew their stories--some were about the trauma and the things they were enduring, or victories of the rebellion."
Other famous examples of stories told through fabric include Amazwi Abesifazane, an archive of more than 3,000 story cloths made by South African women depicting their experiences under apartheid, and the AIDS Memorial Quilt, which honors loved ones lost to the epidemic.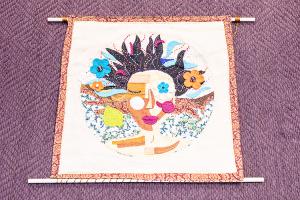 "Textile art has a rich history, and it tends to be about expression," Harlow said. "The origin has probably always been about healing and telling a story. It was just a safer way to have a voice."
The goal of Fairfax County's Story Cloth Group (modeled after the Common Threads Project that works almost exclusively with women overseas) is to heal and empower survivors.
"It's a really slow process, which kind of mimics the healing process from trauma, very rarely a quick fix," Harlow said. "It's a slow journey where a person can go at their own pace and not be pressured to heal too fast."
So, too, with story cloths. "It's very tactile. The movement of the needle. The feel of the fabric," she said. "We're giving them a safe space to heal with others who know what they've been going through.
"I hope they will learn to build a sense of community with the other women. I hope they will feel heard. And seen. While learning there's lots of ways to tell their story. I hope that if they like to sew, they will continue and build their own group and keep enriching their lives."
Fairfax County's Story Cloths Group is a 12-week group therapy starting Monday, Sept. 12, 2022, in Herndon, Virginia. The group, open to all women, will be led in English and Spanish, but all languages are welcome. For information on joining the group, call Kathryn Harlow at 703-246-3169 or Jeannette Aleman (Spanish) 703-704-6737.
Learn more about the Department of Family Services Domestic and Sexual Violence Services.