Nov. 19, 2019—The Fairfax County Board of Supervisors has approved the Fairfax County Redevelopment and Housing Authority (FCRHA) to make loans totaling $6.5 million to SCG Development Partners to finance the construction of the One University Apartments in Fairfax, Virginia.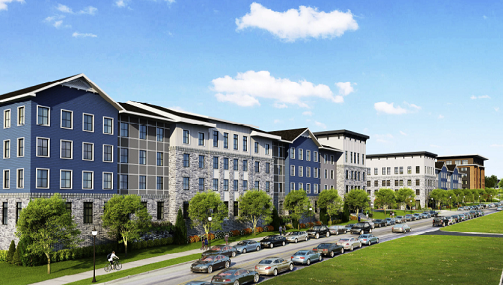 "This financing is an important part of our effort to bring more affordable housing to our county," said Braddock Supervisor John Cook. "I thank my colleagues for their support."

The project will include the construction of a total of 240 affordable housing units—120 units for individuals and families with incomes between 30 and 60 percent of the area median income (AMI) which equates to approximately $36,390 to $72,780 for a family of four. The project will also include the construction of 120 units for seniors ages 62 and older with incomes at 60 percent AMI or below.
In addition to the creation of 240 units of affordable housing in a highly cost-burdened Fairfax/Fairfax City area—including 24 three- and four-bedroom units that are in high demand—the project will also provide the following benefits:
The development is in close proximity to public transportation, shopping and restaurants, grocery stores and George Mason University campus amenities
Units will have long-term affordability
Design will incorporate multiple universal and sustainable features
Ten percent of the units in each building will be compliant with the Americans with Disabilities Act
Common area amenities including business center, cyber lounge, outdoor courtyard, underground parking, bike storage, fitness center and more.

"The Apartments at One University project is a forward-thinking and vital investment in an area of our county with a significant need of affordable housing options – both for low to moderate income families and seniors," said FCRHA Chairman Robert Schwaninger. "Located in one of the county's major activity centers with access to public transit and amenities, One University is a prime example of how affordable housing can successfully be enhanced not only in Fairfax County but throughout the Washington Metropolitan Region."
Currently, the FCRHA-owned One University property, immediately adjacent to George Mason University in Fairfax, includes 46 affordable townhomes as well as FCRHA office space. The existing structures will be demolished as part of this project and current tenants will be provided replacement housing and given the option to move into the new multifamily or senior units after they are completed.

In addition to the One University Apartments, a portion of the property will be leased to RISE Development for the construction of 333 units of student housing. None of the requested Blueprint Funds will be used for this purpose.