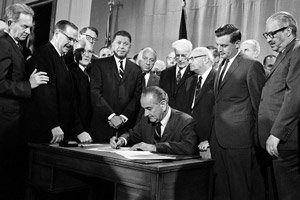 This year marks the 52nd anniversary of the Fair Housing Act, landmark legislation that makes it unlawful to discriminate in housing transactions based on race, color, national origin, religion, sex, disability, or family status.
Every year, the U.S. Department of Housing and Urban Development (HUD) and its fair housing partner organizations pursue enforcement actions, work to enhance the public's awareness of their housing rights, and emphasize the importance of ending housing discrimination. Last year alone, nationally, HUD and its partner agencies received almost 8,000 complaints alleging discrimination based on one or more of the Fair Housing Act's seven protected classes: race, color, national origin, religion, sex, familial status, and disability.
In March 2019, the Fairfax County Redevelopment and Housing Authority (FCRHA) adopted the county's One Fairfax Policy, which provides a framework to advance equity in alignment with the county's visions and priorities. The One Fairfax Policy defines equity as:
"The commitment to promote fairness and justice in the formation of public policy that results in all residents – regardless of age, race, color, sex, sexual orientation, gender identity, religion, national origin, marital status, disability, socio-economic status or neighborhood of residence or other characteristics – having opportunity to fully participate in the region's economic vitality, contribute to its readiness for the future, and connect to its assets and resources."
The adoption of this policy ensures that the FCRHA considers equity when making decisions about the development and delivery of housing policies, programs and services.
The Fairfax County Office of Human Rights and Equity Programs (OHREP) enforces the County's Human Rights Ordinance and Fair Housing Act. Through its role in enforcement and education and outreach activities, the agency works to prevent discrimination in the residential market and ensure fair and equitable access to housing opportunities for all people in Fairfax County.
Persons who believe they have experienced discrimination may file a complaint by contacting Fairfax County's Office of Human Rights and Equity Programs at 703-324-2953 (711 TTY). Housing discrimination complaints may also be filed at www.hud.gov/fairhousing.